NBC Insider Exclusive
Create a free profile to get unlimited access to exclusive show news, updates, and more!
Sign Up For Free to View
Jesse Lee Soffer's New Pics From the Chicago P.D. Set Will Get You Excited
Jay Halstead is back on Chicago P.D (behind the scenes, at least).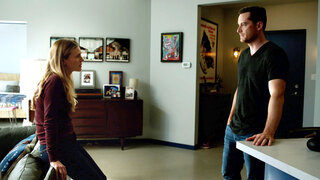 Jesse Lee Soffer has returned to Chicago P.D. for some behind-the-camera action!
On February 6, the actor posted a glimpse of himself directing Season 10, Episode 16 of Chicago P.D. In the first snapshot, he's seen smiling towards the camera, wearing a beige baseball cap while sitting next to producer Brian Luce. In the second pic, we see Soffer posing in front of an arrangement of photographs from the show.
"This guy ❤️ Second pic is from his office 😂," Soffer captioned the post.
Soffer seems to be on a roll with his behind-the-scenes Instagram posts lately. The day before, he shared pictures of himself in full director mode with former co-stars Tracy Spridakos, Jason Beghe, and LaRoyce Hawkins.
"Back at it. Just different," Soffer captioned.
This isn't Jesse Lee Soffer's first taste of the production life. He previously shadowed the director of the episode "Sympathetic Reflex" in order to prepare for his Chicago P.D. directorial debut.
"To have him on the sidelines coaching me up, that's a dynamic we've always had," Hawkins eagerly told ET about that episode. "He gave me something in this episode that I think I'm going to keep with me for the rest of my career, and that's how you know you're a good director. There was a moment in the episode where it almost seems like, yeah, we're about to do this scene, but to be honest, this may be a scene that might be cut. Then he told me something interesting. He was like, 'It might get cut, but make them need it.'... Now that's my approach for scenes that seem frivolous."
"Over 30 years of experience in the business, and he's learned so much and he has so much to offer. He's one of my favorite storytellers that I've been able to work with over the years because of his approach. So the directing pivot for me, it feels appropriate," he continued, praising Soffer.
"We were a little nervous because Jesse is a leader on and off set, and when you lose leadership in a certain capacity, it's hard to know where things might go. But I think the way everybody's responded and stepped up to the plate and the way that it looks like Jesse's gone, but he's still there, in more ways than one. Over time, we'll see exactly why," he added.  
Watch Chicago P.D. on NBC Wednesdays at 10/9c and next day on Peacock.