NBC Insider Exclusive
Create a free profile to get unlimited access to exclusive show news, updates, and more!
Sign Up For Free to View
What That Heartbreaking Update on Jay's Chicago P.D. Return Means for Hailey
Is Halstead ever coming back to Chicago P.D.? You may not like the answer.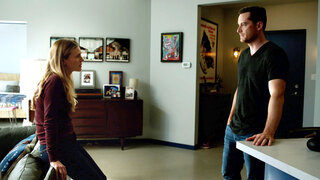 It's been a while since Chicago P.D. fans have had any update on Jay Halstead (Jesse Lee Soffer) since he left the Intelligence Unit—and Hailey Upton (Tracy Spiridakos)—for Bolivia. However, in Season 10, Episode 12 ("I Can Let You Go"), we finally got news about the former detective, and it isn't great.
Is Jay coming back to Chicago P.D.? 
After weeks of being unable to contact her husband, by the end of the episode, an anguished Upton calls Halstead's boss. The good news? He's OK. The bad? He's extended his tour overseas without telling her and is not coming back to Chicago any time soon. A heartbroken Upton breaks down in tears, perhaps finally realizing that their marriage is in trouble.
Spiridakos told Variety that that moment was a definite turning point for Upton.
"This ultimately will change her in some way, which I'm interested to see how," she said. "We're still in the change. She finds out that he's extended his stay and has that breakdown moment of having this hope and then all of a sudden, that's gone. It's the first time we see her break down since he's left, since their goodbye. I think there's gonna be some changes for her over the next little while."
Eagle-eyed fans may have also noticed that Upton is still wearing her black wedding band despite Halstead's absence, but that may not last much longer.
"She still considers herself still married," she says. "I think her taking [her ring] off, I'm sure there will be a moment that will come. I assume that's coming. I'm interested to see what that will be like. Is that a goodbye? Is that self preservation?... I'd like to explore what that feels like to have been in such a raw place and she's not overly open anyway. I feel that she probably will just shut that door for a long time."
As far as Upton moving on into another relationship, Spiridakos predicts that won't happen any time soon as her character will "shut down emotionally" and "keep people at a distance." 
Instead, we'll continue to see her put all her focus on work and get closer to Voight (Jason Beghe) in the process.
"We have had more intimate moments, and when I say intimate, I mean personal revelations," Beghe told Variety. "One thing that Voight insists on and admires—and it's hard for his team to do—is he always wants you to be you. Don't be me. He doesn't want a team of Voights. Hailey, even though they might clash, she stands up for herself and isn't afraid to say who she is and what she thinks. So that creates trust. It can create some tension but it does create trust."
Continue to watch Upton fight through heartbreak on Chicago P.D., airing Wednesdays at 10/9c on NBC and next day on Peacock.