NBC Insider Exclusive
Create a free profile to get unlimited access to exclusive show news, updates, and more!
Sign Up For Free to View
LaRoyce Hawkins Reveals How Kevin Could Get Promoted to Detective
He also spilled on a budding new Investigative Unit partnership and the drama surrounding Chief O'Neal's son.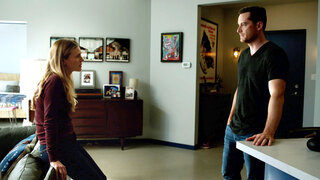 Atwater (LaRoyce Hawkins) was dealt yet another difficult hand in Chicago P.D. Season 10, Episode 6, titled "Sympathetic Reflex." He nearly lost his job following the accidental fatal shooting of a teen. And the only thing that could prove his innocence? A smart phone video of the tragedy that was recorded (and hidden) by the case's leading suspect.
In the end, the cop's name was cleared with the help of the Investigative Unit. "I think Atwater knows more than anybody that he's the last one that can go off the books," Hawkins tells NBC Insider. "What makes him such a dynamic character to pay attention to is how he does find creative ways to stay on book but still do what needs to be done. I think he's an example of how it's not impossible, it's not easy, but it's not impossible.
So with such an intense case behind him, could a promotion to detective be next for the officer? Hawkins reveals that and more about his character's future in an interview with NBC Insider.
NBC Insider: In both "Sympathetic Reflex" and Episode 4's "Dónde Vives," we see a new partnership forming between Atwater and Torres. Will we see this duo again this season?
LaRoyce Hawkins: Yes, you will. Over the course of the season we try to switch the dynamics up as often as we can and really see what sticks the most. So we'll see Torres paired up with all kinds of people. I think it's 'gonna be up to the audience and for the writers to really find where we're the most comfortable.
I think since Atwater and Torres come from such a similar place and since both of their beginnings are so humble, that's the connection that we see. They feel good together because in their hearts and in their minds they connect better on a deeper level. And their intention on why they want to be cops is very similar. They know how important it is to bridge the gap between law enforcement and their community in order for them to protect certain people in certain ways.
When all that goes south, you have to really do your best at that point and you got to be creative. You might lose some people along the way, everybody isn't 'gonna understand, and you might have to sacrifice a few lives here in order to save a few lives later. It's hard, but Atwater is familiar with that dynamic and so Atwater does his best to show this to Torres.
There's a big storyline unraveling with Chief O'Neal's son. How will that unfold?
The chief's son, boy. It's 'gonna be interesting.
If this is the case and the chief's son is up to what we think he is, we have to be just as delicate with this information, even more, than we were with Los Temidos in Season 9. It's the perfect Ponzi because at the beginning of the season, the same chief whose son allegedly might be up to no good, gave us all medals of honor for our outstanding work. And he's about to see how outstanding the work can be. 
We're having fun with that piece. But Atwater, similar to Los Temidos situation, is 'gonna find his role and how to take down those forces that may or may not be trafficking women.
What can you say about what's to come for Atwater's storyline?
Atwater wants to be a detective, and we don't know if that's 'gonna happen. But we know it's only going to happen if he can prove himself to be a dynamic leader in situations similar to "Sympathetic Reflex." So I think we can expect more situations similar to that, and we'll just watch Atwater do his best to navigate those effectively. He has to prove to the unit, he has to prove to the 'Sarge, that he deserves that detective slot that's open, 'cause it's open.
Watch Chicago P.D. on NBC Wednesdays at 10/9c and next day on Peacock.