NBC Insider Exclusive
Create a free profile to get unlimited access to exclusive show news, updates, and more!
Sign Up For Free to View
Benson and Stabler Reunited on a Case and Talked About That Almost-Kiss
You can always trust Benson to get to the bottom of something.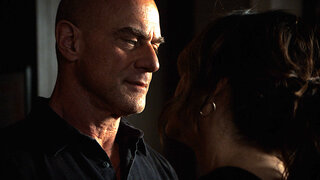 The two-week Law & Order crossover event kicked off with a grand-slam Law & Order: Special Victims Unit episode. OG fans may have experienced a bit of déjà vu while watching it because by the nail-biting conclusion, Captain Olivia Benson (Mariska Hargitay) and Detective Elliot Stabler (Christopher Meloni) partner up to crack an elaborately horrific case. 
Just when you think SVU has tackled every harrowing case that could exist, another bone-chilling situation makes its way to their desks. Granted, Benson has put away serial rapists, disbanded massive sex trafficking rings, and collared countless perps throughout her years. But a revenge-for-hire network? That sounds like anyone's worst nightmare, but that is, indeed, the focus of Benson's attention for Season 24, Episode 21 ("Bad Things"). 
Luckily, Benson had the Law & Order: Organized Crime Control Bureau at her disposal once the dots began to connect. Here's everything that happened: 
Law & Order: Special Victims Unit Season 24, Episode 21 recap
The episode began with Benson looking at a "mosaic of cases" that were desperately in need of a connection. It began with a woman being assaulted by a man who knew her name in her hotel room (he notably took a selfie during the incident). She mentions that she broke up with her boyfriend a week prior, but before the squad can make any traction in her case, another woman is assaulted while working at a nearby cafe. 
The barista echoes the first victim's statement; the assailant knew her name and took a selfie during the assault. When Fin (Ice T) asks if anyone she knows would have done this, she reveals she used to have a customer who stalked her. She admits she knows the assault wasn't him because she saw him watching through the window.
The M.O. at both crime scenes matches but with no apparent connection between the women. Fin gets an update identifying two other cases in the database where the perp was a stranger but knew the victim's name and took a selfie during the assault. Carisi (Peter Scanavino) and Benson go to Staten Island to talk to a real estate agent and another survivor, while Fin and Detective Velasco (Octavio Pisano) chat with a nanny whose assault happened only a week prior.
On the car ride to Staten Island, Benson and Carisi deduce that in all the women's cases, there's a man tangentially connected whom they upset. The hotel guest had recently broken up with her boyfriend, the barista had filed a complaint about the persistent customer, and the real estate agent abandoned her fiancé at the altar shortly before the assault. 
The real estate agent also tells Benson she got back together with the ex due to the support he showed after the support. Carisi and Benson decide to interview him. 
"You know what I think?" Carisi asks Benson after the suspicious conversation. 
"He hired someone to do the rape," Benson correctly guesses.
"So did the others," Carisi pushes. 
"Yeah," Benson sighs. "This is starting to feel like a pattern." 
While interviewing the nanny, Fin and Velasco catch many details that mirror the other victims; a stranger confirmed her identity and took a selfie during the assault. As far as scorned men, the nanny reveals she'd previously hooked up with an employer and quit her job shortly after out of regret. The only outlying detail in the nanny's case is that the Brooklyn SVU found a DNA match at the scene; however, they ruled it a mistake for being a match for an inmate at a nearby prison. 
As Carisi and Benson visit yet another victim with a previously-peeved man in her rearview window, the reality of the assault-for-hire ring dawns on them. That said, they know they need a mountain of evidence to prove these men have anything to do with the assaults. So, where to even begin?
Organized Crime viewers know Stabler has been handling a murder-for-hire prison ring that leverages prisoner furlough to carry out massive hits. The nanny case matches the description of Stabler's latest headache but also indicates that they're looking at something much more elaborate than a string of assaults and murders. The connection is confirmed when Officer Tonie Churlish (Jasmine Batchelor) gets a call from the lab about the OC team working on two open cases with the same DNA evidence from the nanny case. 
"I've got a call to make," Benson says. After all, she knows the OC lead detective best! 
Later, a leather-jacketed Benson waits to meet up with her original SVU ride-or-die, Stabler. The last time the former partners saw each other, Stabler went in for a kiss, but Benson told him she wasn't ready for that. It was a delicate and jaw-dropping scene for Bensler fans everywhere, and finally, they reconnect after the steamy moment. Benson thanks Stabler for meeting her before swiftly addressing the elephant in the room. 
"You know the last time we saw each other," Benson starts. "That was a bad time for me."
Stabler gazes into her eyes for a weighted moment. "Worse timing for me," Stabler quipped.
"I know that you were just trying to make me feel safe," Benson continues. " I think we both felt that."
But is that what they felt? Stabler smirks while giving away nothing before saying, "Just not the right moment." 
The old friends share a loving glance, but before Bensler fans can dig their fingers into that interaction, Benson pulls out a picture of their latest perp. 
Business as usual, Stabler confirms that the SVU is looking for an ex-BX9 gang member named Junior Suarez, who commits horrific crimes after being granted furlough. The puzzle begins forming a clear picture when they realize the nanny's assault took place within the same window as Suarez's last murder, and he seems to be trying to prove to someone the job has been done by taking photos.  
"I've heard of murder-for-hire," Benson reflects. "I've never heard of rape-for-hire."
"Revenge-for-hire," Stabler volleys. 
"That's why I called you," Benson explains. "I think you and I are working the same case from opposite ends."
Despite the mind-boggling case and sinister circumstances, Stabler can't help but break out into a huge grin.
"OK, partner," Stabler teases, instantly giving every Bensler fan a shot of SVU nostalgia.
"OK," Benson smiles. 
The episode ends with the former SVU partners staring meaningfully into each other's eyes, taking a professional step forward. It's official: Benson and Stabler are back in action!