NBC Insider Exclusive
Create a free profile to get unlimited access to exclusive show news, updates, and more!
Sign Up For Free to View
Why Mariska Hargitay Thinks Intense True Crime Shows Like SVU Are 'Actually Calming'
"I think that we're all fascinated with the human condition," the longtime Law & Order star said.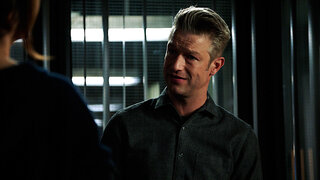 If there's anyone that knows a thing or two about crime dramas, it's certainly Law & Order: Special Victims Unit's Mariska Hargitay. The SVU actress has been playing the dynamite Captain Olivia Benson for over two decades, so naturally, she has some fascinating insight into why audiences love adrenaline-inducing crime dramas. 
While chatting with Fox News Digital, Hargitay began by throwing some credit toward the esteemed penmanship within Law & Order creator Dick Wolf's writer's room. Wolf is the mastermind behind numerous thrilling crime dramas that fans have come to consider cozy viewing. Police shootouts and horrific murder scenes aside, many fans unwind and relax on Thursday nights with the NBC nail-biter.
"Dick Wolf is truly a visionary," Hargitay gushes. "And I think that's a very singular thing to be a true visionary who understands our culture in a very deep way but also understands it's sort of ironic that a crime show would be actually calming in a way to our nervous system, knowing that somebody is out there taking care of it. That our voices are heard, and there are people that are on it. So that is it."
Hargitay further reflected on why shows like SVU have such an avid following. "It's a very sort of interesting dichotomy," Hargitay explained. "Because you think about a crime show, which normally should sort of upset your nervous system, actually can settle it down because of that."
It's true. Nowadays, a standard self-care practice is tuning in to the latest tell-all crime documentary or listening to a beloved true crime podcast. Hargitay thinks that morbid curiosity is just what makes humanity so beautifully complex.
"I think that we're all fascinated with the human condition. We don't understand how people can do the things that they do," Hargitay explored. "But it's a very deep question, which is we are very complex beings, and we all have a lot of parts, and we're all capable of a lot of things. That's why working on ourselves and integrating ourselves and integrating our shadow and our light is one of the most important things we can do in our evolution."
In summary, Hargitay is a firm believer that we all play a role in why crime dramas like the Law & Order franchise maintain such a firm chokehold on audiences. We love seeing people make things right despite harrowing odds, just as Benson has done hundreds of times.
Hargitay concludes, "So I think that's the key to it — is that we all know what we're capable of, and we all have to take responsibility for our humanity."
Watch Law & Order: Special Victims Unit Thursdays at 9/8c on NBC and the next day on Peacock.