NBC Insider Exclusive
Create a free profile to get unlimited access to exclusive show news, updates, and more!
Sign Up For Free to View
The Very Good Reason Ice T Wants to Stay on SVU Forever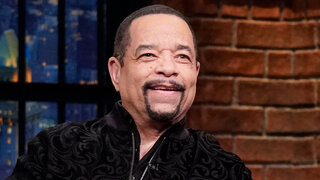 Long-running Law & Order: Special Victims Unit star Ice T sat down on Late Night With Seth Meyers this Halloween to discuss his time on the show. In the new interview, he explained the very good reason he wants to stay on SVU forever.
"When I first got on the show, I was doing movies and stuff, and I didn't understand residuals," he said. "And so the first year I did the show,  I'm like, 'I don't know how long I'll do this show. I don't know how long.' And then my accountant showed me this number after a year, and I'm like, 'What's that number?' and she said, 'That's residuals.' You don't make residuals from movies unless you're, like, Brad Pitt or somebody. You get, like, a dollar for a movie."
Seeing his SVU residuals, Ice T playfully told Meyers, got him board with staying on the show for as long as possible.
The omnipresence of SVU still astounds the actor 24 seasons later. "We're on Peacock...we're on now. Right now," Ice T said, and he's absolutely right. Try turning on the television and not finding an SVU marathon! 
If you don't find one, though, there's still a way to make sure you're getting your Law & Order: SVU fix weekly. New episodes premiere on NBC Thursdays at 9/8c and next day on Peacock. Previous episodes are also available on Peacock. 
Also: Be sure to watch Late Night With Seth Meyers on NBC weeknights at 12:35/11:35c and next day on Peacock.