NBC Insider Exclusive
Create a free profile to get unlimited access to exclusive show news, updates, and more!
Sign Up For Free to View
A Look Back At Benson and Noah's Emotional Adoption Story On SVU
Fans can't get enough of the Benson family's whirlwind origin story.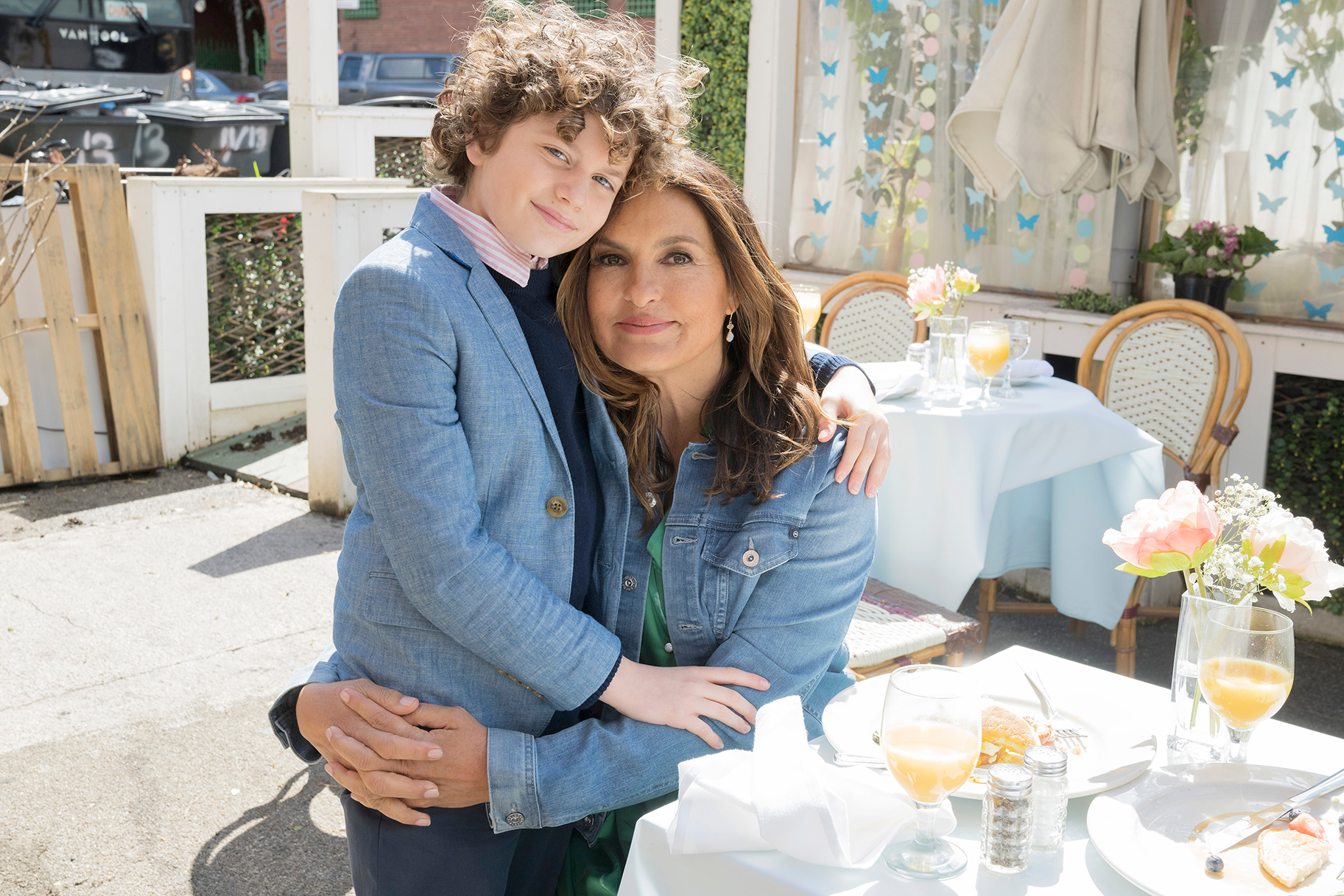 Olivia Benson (Mariska Hargitay) is many things in Law & Order: Special Victims Unit: a fearless Captain, an empathetic advocate, a loyal friend and colleague. But when the work day is done, Benson is the loving mother of her adopted son, Noah Benson (currently played by Ryan Buggle).
Noah has been at the epicenter of numerous nail-biting storylines since his introduction in Season 15 of Law & Order: SVU. Many fans are aware that Benson wanted to be a mother for years, at one point looking into adoption, but her chaotic work life often held her back. But fate had other plans for SVU's leading lady because she ended up rescuing her future son from a horrible situation. Meanwhile, Noah has saved Benson in more ways than one, and is living proof she's always been capable of being a loving and ferociously affectionate mother.
Noah and Benson are thick as thieves, and naturally Buggle and Hargitay have also grown quite close throughout the years. 
"Working with her is like a dream," Buggle told People about working with Hargitay. "My favorite part of being on set is definitely creating the friendships that I have, the friends and family. Something recently I learned about acting—from Mariska, actually—is to always act with your heart and come from a real natural place. My favorite thing about her is that whenever we're on set, it's always an acting class. I really love her kindness."
But how exactly did Benson end up adopting Noah, and how did the Bensons initially connect? Explore the Benson family's heartwarming adoption story, below.
Who is Olivia Benson's son, Noah Benson?
While Noah and Benson are two peas in a pod on Season 24 of SVU, Noah's origins are less light-hearted. Noah is the biological son of Ellie Porter (Emma Greenwell), a sex worker who was sexually assaulted by Johnny Drake, who quickly sold her away. Unaware of who the father of her child was, Ellie gave birth to Noah while working for a pimp named Aguilar. Aguilar allowed Ellie to keep Noah as long as she agreed to keep working. 
After Ellie overdosed, Aguilar promptly sold Noah to a pornography producer. When Ellie made a shocking recovery, Aguilar lied and told her Noah died, with his actual whereabouts unknown. In Season 15, Benson and Amanda Rollins (Kelli Giddish) found Noah in the motel room of the aforementioned producers.
What happened to Ellie Porter?
Unlike the other children held captive, Noah was left unclaimed, known at the time as simply "Baby Boy Doe" due to the mystery of his identity. Noah was then placed in foster care, going through four different yet equally horrible living situations, until the squad learned his mother is Ellie Porter, and the boy's name was Noah. When these updates reached Ellie, she attempted to testify against Aguilar and regain custody of Noah, but that went poorly. Ellie relapsed and fled her sober house to score, and was tragically assaulted and killed that night.
How did Benson adopt Noah?
With Noah a Ward of the State yet again, Ellie's attorney Trevor Langan (played by Hargitay's hubby, Peter Hermann), represented him in court in honor of Ellie. During this time, the Judge noted Benson's effortless chemistry with the young boy and granted Benson temporary custody of Noah while completing Ellie's investigation. After a year, Benson could decide whether or not she wanted to formally adopt Noah. Based on their adorable embrace in "Spring Awakening," their Benson-family bond was written in the stars. 
It is eventually revealed that Noah has one living relative, a grandmother named Sheila Porter (played by iconic SVU guest star Brooke Shields). Benson initially allowed Sheila to be a part of Noah's life, despite not trusting the mysterious relative. Benson's hunch to be apprehensive toward Sheila proved correct after Benson refused to give up Noah, leading Sheila to kidnap the young boy. No one messes with mama bear Benson!
Sheila messed with the wrong SVU-leading mother because Benson quickly tracked her down. But as soon as Benson arrived at Noah's location, she found herself staring down the barrel of Sheila's gun. Sheila demanded Benson give Noah up, but became distraught after Noah was elated to learn his mother (BENSON) arrived. Sheila broke down and was arrested for her actions, and mother and son were reunited.
Noah was able to move past the kidnapping, albeit suffering from the occasional nightmare as a result. But Benson is the mother of the year (decade, century, era), so Noah had the support he needed to start a new chapter. 
Has Benson introduced Noah to Stabler?
SVU continues to pull back the curtain on Noah's distant relatives, with his half-brother named Connor McCann introduced in Season 24's midseason finale. Connor is another child conceived by Drake, who Noah managed to find online under the guise of finding a Christmas gift for his mom. Benson hesitantly agreed to allow the boys to meet, but it ends up being a lovely connection, with both boys instantly getting along and scheduling future playdates. It's a refreshing remix to Noah's typical rodeo with his relatives. 
Another important connection Noah has made is with Law & Order: Organized Crime's Detective Elliot Stabler (Christopher Meloni). Stabler has made it clear that he hopes to build a connection with Benson and her son. A great example is this adorable scene where he invites the Benson's over for Christmas dinner, below.
Benson is understandably protective of Noah, dedicated to giving him a smooth upbringing compared to his rough beginnings. So she hasn't exactly opened the door for Stabler to hang out with Noah, but it seems that progress has been made. In Season 24's "Blood Out," Benson asks Stabler to pick up Noah from Connor's house after she got tied up at work. Trust is being built, even if Stabler made things a little awkward by admitting his feelings for Benson. Bensler fans don't care, we're just happy the jig is up! 
While it may be obvious to say Benson is one of the best things to ever happen to Noah, we'd be remiss to neglect Noah's transformative place in Benson's life, as well. Benson is a happier woman with Noah in her orbit, as she continues to prove that having a career and being a badass mother doesn't have to be mutually exclusive. 
Watch Law & Order: Special Victims Unit Thursdays at 9/8c on NBC and the next day on Peacock.