NBC Insider Exclusive
Create a free profile to get unlimited access to exclusive show news, updates, and more!
Sign Up For Free to View
What Happened to Natalie Manning on Chicago Med?
After leaving in the Season 7 premiere, Torrey DeVitto's character made a shocking return in the Season 8 finale.
Many talented doctors have come and gone on Chicago Med, but saying goodbye to Dr. Natalie Manning (Torrey DeVitto) was particularly difficult. 
Natalie Manning was the Wonder Woman of Chicago Med for six nail-biting seasons and, while she made a brief cameo in the Season 8 finale, it's been a while since Manning has brushed shoulders with Gaffney's finest.  
Manning was never afraid to speak up for her patients and always tended to their needs, meanwhile also helping many of her Med colleagues whenever an emergency arrived through the ER doors. As one of the series' O.G.s, Manning has been at the center of many nail-biting Chicago Med plot lines. 
In honor of DeVitto's recent One Chicago reprise, look back at what happened to Natalie Manning on Chicago Med and why she originally left Gaffney Medical Center.  
Who was Natalie Manning on Chicago Med? 
Dr. Natalie Manning was an Emergency Department pediatric physician who graced Chicago Med screens from the series debut in 2015 until her departure in 2021. Manning was a member of the original Chicago Med cast, assisting in dozens of high-stakes procedures and helping countless patients throughout her tenure. 
Viewers first met Manning in Season 1, Episode 1 ("Derailed") as a pregnant and single mother-to-be. Manning's husband, U.S. Army Captain Jeff Manning, was killed in action during his deployment overseas only a few months prior to the events of Med's pilot episode, and tragically never met his son.   
RELATED: Marina Squerciati and Torrey DeVitto Reunited, and Fans Are Loving It 
She had a hand in dozens of diagnoses but was exceptional in cases involving women or children. As a widow and dedicated mother, Manning's empathy knew no bounds, and her big heart was seen as a consistent emotional asset to the hospital.
When did Natalie Manning give birth to her son, Owen?
Manning gave birth to her son in Season 1, Episode 6 ("Bound"); fellow fan favorite Maggie Lockwood (Marlyne Barrett) helped her deliver.
RELATED: Is Maggie (Marlyne Barrett) Leaving Chicago Med? 
Surrounded by her Chicago Med friends and loved ones, Manning shared a toast to her newborn son, whom she named Owen. Among these colleagues was Dr. Will Halstead (Nick Gehlfuss), a Med doctor instantly captivated by the magnetic Manning. 
Natalie Manning and Will Halstead's Relationship 
Throughout Halstead's Chicago Med tenure, Manning was Halstead's primary love interest, and their flirty Season 1 banter eventually escalating into more. From the moment the two Med doctors connected, their chemistry was off the charts... but One Chicago loves a slow-burn romance
Manning and Halstead failed to launch an official relationship in Season 1 of Chicago Med, despite their constant flirtation and emotional connection. In Season 1, Episode 10 ("Charity'), Halstead and Manning shared an emotional kiss but didn't move forward with a relationship due to Manning navigating the challenges of being a new mom and moving on from her marriage. 
In Season 2 of Chicago Med, we saw Halstead and Manning struggle to conceal their true feelings for each other and, in Season 2, Episode 8 ("Free Will"), they both found themselves jealous of each other's new love interests. Their "just friends" plan wasn't working out too well, and even their respective new flings found themselves jealous of Manning and Halstead's undeniable tension. 
The couple began officially dating in Season 3, Episode 1 ("Speak Your Truth"), after Halstead and Manning finally fessed up and confirmed their undeniable connection. A Chicago Med power couple was born! 
Halstead in particular knew he'd found a keeper with Manning, so it didn't take long for him to want to pop the question. But his proposal in the Season 3 finale ("The Tipping Point") ended on an emotional cliffhanger after Halstead got down on one knee and proposed but the episode ended before Manning answered Halstead's question.  
In Season 4, Episode 1 ("Be My Better Half"), Manning and Halstead were confirmed to be engaged.
All of their colleagues were thrilled for their big day — but it ended up being a disastrous event.  
In Season 4, Episode 9 ("Death Do Us Part"), Halstead was kidnapped and held hostage at gunpoint on his wedding day, leaving a heartbroken Manning confused and abandoned at the altar. Halstead's Chicago P.D. brother, the fearless Jay Halstead, managed to get him to the church, but the wedding was nonetheless called off after Halstead was thrown into witness protection.   
Needless to say, Halstead struggled to acclimate back to day-to-day life following his kidnapping, leading to many issues in his relationship with Manning. In Season 4, Episode 13 ("Ghosts in the Attic"), Halstead effectively destroyed any trust Manning had in him after she discovered he was hiding a stolen gun.
Manning couldn't sit back and encourage the way Halstead was acting, so she ended their engagement and relationship. 
Natalie Manning's Wild Fling with Phillip Davis 
After Manning and Halstead ended their passionate relationship, Manning ended up in a rebound relationship with Phillip Davis (Ian Harding). Manning and Phillip met in Season 4, Episode 16 ("Old Flames, New Sparks") after his wife passed away in the middle of childbirth. That sparked a connection between the new widower and the widowed Manning, much to Halstead's dismay. 
RELATED: This Polarizing Character Could Be Will Halstead's New Love Interest on Chicago Med 
Halstead's suspicions about Phillips proved more valid, though. In the Season 5 premiere ("Never Going Back to Normal"), Manning was in a car accident that led her to suffer from a traumatic brain injury. While incapacitated, Philip arrived to attend to Manning, informing her Med colleagues that they were engaged. Sound shocking? That's because it was all a lie concocted by Phillip, who was taking advantage of Manning's memory loss from the crash.  
RELATED: Marina Squerciati & Torrey Devitto Reunite for a Gorgeous Vaca: "Crossover in Israel" 
Manning never felt as deeply for Phillip as he did for her, and in Season 5, Episode 6 ("It's All in the Family"), Phillip's disturbing plan was revealed. Always there to step in when the time is right, Dr. Crockett Marcel (Dominic Rains) confirmed to Halstead that Phillips had slipped the ring on Manning's finger while she was unconscious. Once Manning woke up and learned this fact, she ended Phillip's makeshift attempt at matrimony and broke up with him.   
Natalie Manning and Dr. Crockett Marcel's Relationship 
Season 6 marked the final season for DeVitto as a cast member and, during this time, fans saw Manning explore a spark with another exceptional physician, Dr. Marcel.  
At the top of Season 6 of Chicago Med, the flirtation between Manning and Marcel was firing off on all cylinders. In Season 6, Episode 3 ("Do You Know the Way Home?"), Manning and Manning shared an intimately steamy moment on the rooftop balcony, launching a season-long romance. In Season 6, Episode 11 ("Letting Go Only to Come Together"), Marcel met Natalie's mother and they worked together on an incredibly grueling surgery. The events were stressful but led to the couple saying "I love you" to each other for the first time.  
Why did Natalie Manning leave Chicago Med? 
Manning left Chicago Med in the Season 6 finale ("I Will Come to Save You") after Manning made a career-jeopardizing decision to save her mother. With her mom's medical condition worsening, Natalie chose to steal a drug still in its trial period to help combat her mother's symptoms.  
Once the meds were reported missing, Manning's ex-fiancé, Halstead, tried to assume the blame. Never wanting her decision to hurt others, Manning came clean about her role in the theft to preserve Halstead's career. But doing so destroyed any trust between her and Sharon Goodwin (S. Epatha Merkerson), annd Manning was fired from Gaffney Medical.  
In the Season 7 premiere ("You Can't Always Trust What You See"), Halstead helped Manning and Owen pack up the car to move to Seattle. She assured Halstead that her next chapter would be bright, and the former flames promised to stay in touch despite the cross-country distance.  
Natalie Manning and Will Halstead Reunited in Chicago Med Season 8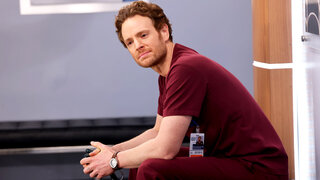 Halstead and Manning kept that promise: /in Season 8 of Chicago Med, viewers learned that Halstead was pen pals with Manning and Owen.
It took Halstead a while to acclimate to life without Manning, and many argued that he'd never truly moved on from their whirlwind romance.
That was confirmed in the Season 8 finale ("Does One Door Close and Another One Open?") when Halstead resigned from the hospital and moved to Seattle to reconnect with Manning.  
RELATED: Torrey DeVitto Reveals Why She Really Returned for Chicago Med's Surprising Finale 
As soon as Manning and Halstead reunited, it was clear their flame never died. Natalie and Will shared a warm embrace, and it was the beautiful full-circle conclusion the Chicago Med couple always deserved. Manning and Halstead are sorely missed, but at least Chi-Hards know they're living happily ever after together. 
This story was originally published on June 7, 2023. It was updated August 7, 2023.