NBC Insider Exclusive
Create a free profile to get unlimited access to exclusive show news, updates, and more!
Sign Up For Free to View
Nick Gehlfuss Reveals Why He Left Chicago Med — and If He'll Come Back
Dr. Will Halstead bid farewell to Chicago Med in Season 8's "Does One Door Close and Another One Open?"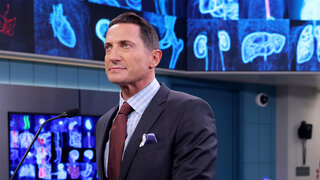 The Season 8 finale of Chicago Med was heartwrenching for O.G. fans as we bid farewell to the beloved Dr. Will Halstead, played by Nick Gehlfuss. Chicago Med's latest departure is bittersweet. As a fan favorite since the show's debut in 2015, many were sad to see Dr. Halstead leave, but he did so in a very fitting way: alongside his former fiancée, Dr. Natalie Manning (Torrey DeVitto).
The high-stakes circumstances leading to Halstead's exit were thrilling to see unfold as the Chicago Med doctor pulled off one last renegade tactic against the nefarious Jack Dayton (Sasha Roiz), Chicago Med's latest owner. The entire Chicago Med staff gathered to give Halstead a tear-jerking standing ovation for all his hard work, and it was an emotional scene that will stick with Med fans forever.
Why did Nick Gehlfuss leave Chicago Med?
Gelfuss recently opened up about Dr. Halstead's decision to leave Chicago Med and the personal reason he has for exiting the One Chicago universe. 
"It was a difficult decision, but ultimately, I felt I'd taken Dr. Halstead as far as I can go with him," Gehlfuss tells Variety. "I think that comes down to a creative part of you, or the energy or spirit you have that you're either built for a very long time with one person or not. I am attracted to the profession for the variety in it, and eight years is a long time. It's two college degrees! I'm joking now that I basically have a doctorate in television."
"It's overwhelming, because of all the emotions. It wouldn't be that way if it didn't mean so much," Gehlfuss continued. "It's like with love, if you truly love somebody then you're going to have very high moments and very low moments, because it's just so important to you."
After Halstead got his heartwarming farewell from his colleagues he arrived at the Seattle airport, reuniting with his former flame, Natalie. It's a perfect send-off, as Natalie and Halstead were one of the most beloved will-they-won't-they plotlines in all of One Chicago. Gellfuss said that reconnecting with DeVitto's Natalie was the best way he could imagine Halstead's story wrapping up. 
"I've kept in touch with her, so it wasn't as if we hadn't seen each other since she left the show. But it was great to see her. We fell right back in to our work rhythm as if we didn't have any time off," Gehlfuss explains. "It was a beautiful moment, and one that I hope bring some closure to the fans. Because this relationship has come full circle for Will and Natalie. I think Will was seeking elements of Natalie in every relationship that followed their breakup. He never really got over her."
Will Nick Gehlfuss return to Chicago Med as Dr. Halstead?
It's safe to say that after watching the Season 8 finale, the same question is on all Chi-Hards' minds: Could Halstead ever return? After all while Halstead seems pretty content in Seattle with Natalie, his roots are in the Windy City. Gehlfuss reveals it was a hot topic among showrunners once he announced his departure.
"We were all in agreement on that, thankfully, as I talked with Dick [Wolf] and the writers," Gehlfuss said. "Whenever it makes sense again for important moments, I'd love to don the white lab coat once again."
That's great news for Halstead fans! Notorious for not spending much time on social media, the actors had some heartwarming words for One Chicago fans that have been following along with Halstead's journey throughout the years.
"It's no secret, without you, we would not have jobs. One of the most important things we can give to one another as our time. So thank you all for your time and your support," Gehlfuss shared. "I have been so flattered by the amount of people that have come up to me to say something positive about One Chicago and my work. That is the best confirmation of the contract between audience and storyteller. While Will Halstead is leaving, One Chicago is not. Enjoy the seasons to come!"