NBC Insider Exclusive
Create a free profile to get unlimited access to exclusive show news, updates, and more!
Sign Up For Free to View
Chicago Med's New Mystery Owner Jack Dayton Could Spell Trouble for the Team
Is Dayton a friend or foe?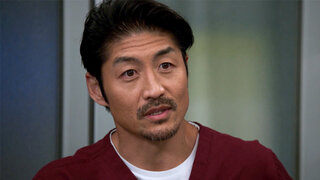 Chicago Med Season 8 has been tackling some real-world scenarios this season, including understaffed emergency rooms, administration changes, and widespread supply shortages in hospitals. But one of the most daunting changes the Chicago Med doctors and nurses face is the hospital group's new owner, Jack Dayton (Sasha Roiz).
Med fans first meet Dayton in Episode 4, "The Apple Doesn't Fall Far From the Teacher," when Dr. Crockett Marcel (Dominic Rains) jumped in the line of danger to save lives after a subway train went off the tracks. The train, known as the Hypertrain, was created by the Dayton Corporation to minimize transit time in the city, but it backfired. Luckily, Crockett saves the lives of the Dayton Corp. employees with the help of the multi-millionaire CEO Jack Dayton himself. 
After witnessing Crockett's superhero stunt in the subway crash and touring the hospital afterward, Dayton began to express interest in Gaffney Medical and started investing in the hospital. After an early season of supply shortages and fighting tooth and nail to have uniforms for the staff, Sharon Goodwin (S. Epatha Merkerson) initially welcomed the changes that Dayton spurred. Among these massive investments is a brand new (and incredibly fancy) operating room, known as "O.R. 2.0.," which Crockett will run. 
At the end of the day, though, Dayton is still a fairly mysterious guy, and more importantly, he isn't a doctor. Sure, he has money and investments in the hospital, but he is used to having his money speak for itself. In Season 8, Episode 9 ("This Could Be the Start of Something New"), Crockett and Dayton got into an argument about the new operating room when Dayton invited a large group of media folk to watch a man's high-risk operation. Despite Crockett's protests, Dayton is all about the fame and fortune the new OR will bring, and Crockett ultimately buckled. 
There's no doubt that the biggest surprise from Dayton came after the wedding between Ethan Choi (Brian Tee) and April Sexton (Yaya DaCosta) when Sharon learned that Dayton bought the controlling interest in the hospital group. This means that Dayton, despite often placing his investments higher than his morals, is technically everyone's boss. And in Season 8, Episode 10 (which aired January 4), fans are finally beginning to learn a bit more about this mysterious millionaire who's now in charge of the hospital.
In the opening moments of the episode, the entire crew of doctors and nurses arrived to work apprehensively. The hospital has some fresh features: dozens of advertisements for the new operating room, daily donuts in the lounge, and a brand-new espresso machine. It appears Dayton has already hit the ground running. "As long as he keeps us ahead of the supply shortages, I am not complaining," Sharon tells Dr. Charles (Oliver Platt), but tensions are high.
While Dayton's entrance brings some benefits, the question on many of the doctors' minds is whether or not there's a catch. Dr. Archer (Steven Weber) compares Dayton to the witch from "Hansel & Gretel," insinuating that Dayton is only gifting the hospital staff with goodies before enacting his sinister secret plan. The more the doctors hear about Dayton, the more he seems like a wolf in (designer) sheep's clothing. 
This all comes to a head when Dr. Will Halstead (Nick Gehlfuss) deals with a patient named Sophia, a competitive swimmer with Brugada syndrome, who needs an implanted defibrillator. Sophia refused surgery because it would interfere with her swimming practice, going as far as threatening emancipation if her parents signed off on the procedure. Knowing Sophia could die without the surgery, Sophia's refusal placed Dr. Halstead in a complicated situation. 
Halstead learns that outside of swimming, Sophia  is also a fan of Jack Dayton. Like Dayton at the beginning of his career, Sophia is a software developer and even knows that Dayton recently purchased the hospital. At a loss for options, Sophia's idolization of Dayton inspired Dr. Halstead to ask the hospital's illusive new owner for assistance. 
Halstead explained Sophia's situation to Dayton. At first, Dayton is confused about what Halstead needs, unsure about why the patient would listen to him (because he isn't a doctor!). Plus, Dayton has a plane to catch for an important meeting, so he wasn't interested. That is until Halstead hit him with one of his iconic verbal slapdowns.
"Why'd you even buy a hospital if you don't care about the patients in it?" Halstead asked Dayton. Dayton was bewildered as Halstead continued to explain that it feels like the hospital is just another one of Dayton's fancy toys to play with and that the patients are inconsequential. Halstead admitted he hoped Dayton would bring good things to patients, but he was wrong. As Halstead huffed away, it was immediately clear Dayton was moved by his scathing monologue.  
Dayton ended up visiting Sophia and asked her about her interest in computers and software development to help her consider her passions outside of swimming. Because of Dayton's help, Sophia decided to change her mind and have the surgery. Halstead thanked Dayton for his help in giving Sophia a new perspective. Halstead then apologized for how he spoke to Dayton earlier, but Dayton shocked him by appreciating the sentiment.
"No one ever talks to me like that," Dayton said. As Halstead began to apologize, Dayton cut him off and said, "Save it. I can respect a straight-shooter, especially one so committed to his patients. Glad to know I have you on my team, Dr. Halstead. Now, if you'll excuse me, I have a plane to catch."
And like the mysterious James Bond character that he is, Dayton disappeared as quickly as he showed up. It's safe to say that Dayton has big dreams and a bigger wallet to back his aspirations, but no on-ground experience with patient care or running a hospital. He may have come in clutch during the latest case, but what does Dr. Halstead being on Dayton's team fully entail? Will Dayton's ownership be fortuitous, or will the doctors be forced to deal with another Dayton trainwreck?
Find out what Dayton has planned by watching Chicago Med Wednesdays at 8/7c on NBC and the next day on Peacock.