NBC Insider Exclusive
Create a free profile to get unlimited access to exclusive show news, updates, and more!
Sign Up For Free to View
Dr. Archer's Estranged Son Just Became His Patient on Chicago Med
"There are reasons for his personality, for as tough as he can be," Weber reveals about Dr. Archer.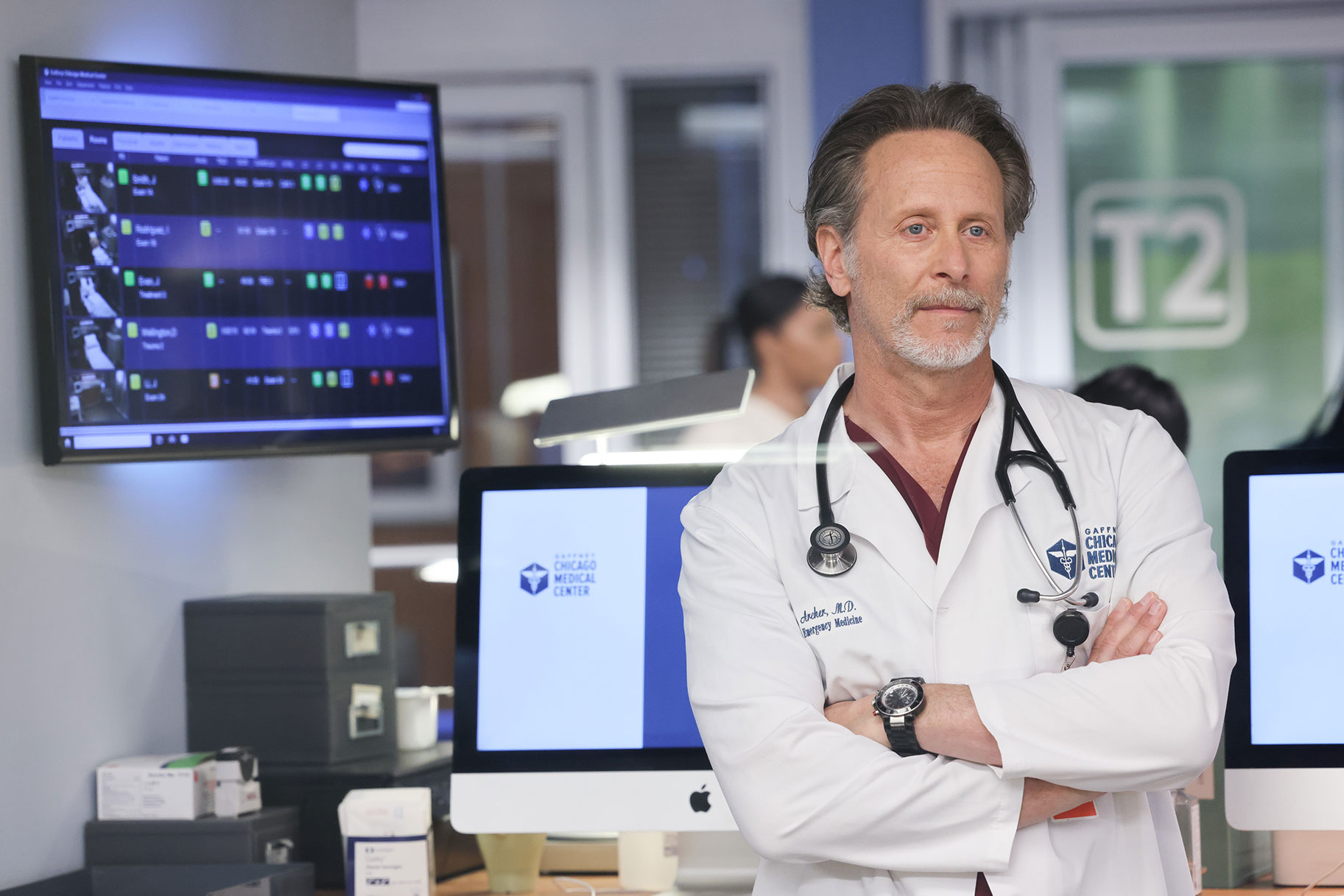 Chicago Med Season 8 is finally here after a stressful Season 7 finale that left viewers reeling. Through it all, the mindful watchman of that conflict has been Dr. Archer (Steven Weber), Chicago Med's tough-as-nails Head of the Emergency Department.
Besides knowing about his military background, viewers have yet to learn why Archer is so rough around the edges. The first moment of vulnerability we see from Archer is when viewers learn he has a son — a son he hasn't spoken to in 15 years. Despite their long-term hiatus, Dr. Archer begins to defrost when he makes a phone call to his estranged son in the Season 7 finale. The moment raised questions about the reasons for the distance. Luckily, Season 8 is beginning to bring long-awaited answers.
Who is Sean Archer, Dr. Archer's son on Chicago Med? 
We begin to understand Dr. Archer's vulnerable side throughout the Season 8 premiere. In the episode's final moments, Archer receives a call from Cook County Jail, noting an incoming collect call from Sean Archer. Archer quickly accepts the call, and we hear the long-time mystery son say, "Dad?" While Archer may have started out as a jaded opposing force within Chicago Med's landscape, those walls are beginning to break down as his son re-enters the picture. Chicago Med fans now know Dr. Archer's son's name (Sean) and the reason why they haven't spoken in 15 years (his incarceration). But why is Sean in prison? 
Sean Archer appears on Chicago Med
Dr. Archer's unexpected phone call from his son in the premiere episode opened the door to the possibility of meeting him. Dr. Archer and his personal life have been kept primarily off-screen since his arrival at Chicago Medical Center in Season 6, but his son coming out of the woodwork is bound to provide more understanding of Dr. Archer's brazen personality.
We finally meet Sean in the episode "(Caught Between) a Wrecking Ball and The Butterfly" when Dr. Archer visits him in prison. They stare at each other in silence before reflecting on the time they've spent apart. While things seem smooth at first, they quickly get into an argument after Dr. Archer asks Sean if he is still using drugs. While the pair is able to rectify their disagreement by the end of the episode, it's clear that the reunion between father and son isn't going to be a simple one. Dr. Archer wants to do everything he can to get Sean out of prison, while Sean seemed comfortable where he was.
Dr. Archer and Sean get closer in the Emergency Room
Since meeting his son again, Archer has gone through his fair share of challenges at Gaffney Medical. While we can tell Archer is having a tough time, he predictably bottles it up rather than talk to his colleagues. But that plan is quickly thrown to the wayside in Episode 7, "The Clothes Make the Man...or Do They?" when the paramedics bring in a 36-year-old inmate who has been horrifically stabbed.
As Dr. Choi and the group jump into action, Archer approaches one of the paramedics, about "hearing something about an inmate from Cook County." 
"He got shanked in the neck," the paramedic tells him. "You'll love this coincidence! His last name is Archer. Sean Archer."
Archer has one true friend in the hospital, Dr. Choi, who instantly clocks that Archer is panicking. Archer doesn't reveal the patient's true identity to the others, mechanically requesting specific tests to get done, barking at residents, and yelling at the cops to take off Sean's shackles. After demanding Sean get taken to the OR, Choi finally takes him to the side. 
"Sean's in prison?" Choi asks. "The last time I asked, you said he was out West. What's going on?"
"It's a whole story," Archer tells him. "I promise I'll get you caught up."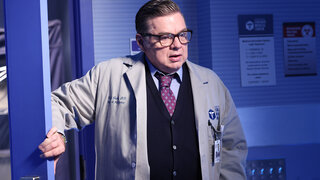 Archer tells Choi that he needs to focus on scrubbing up for surgery, but Choi stops him. He explains that there is no way Archer should do the surgery, knowing he'd be too involved. Archer finally snaps out of his panic to agree with Choi but looks horrified. It's the first time Chicago Med fans have seen Archer so helpless and have his issues laid bare. But if there's anything this moment reveals, it's how afraid Archer is of his colleagues finding out his son is an inmate. 
To make matters worse, Sean's assailant is later admitted to the ER. Who is in charge of saving his life? Archer, of course! Meanwhile, Archer notices that Choi has started calling the shots with his patient behind his back. Archer confronts Choi, who explains that there are too many dangers to Archer being the doctor on file, admitting that he would struggle to be objective if he was in Archer's shoes. This all comes to a head when Archer steps in to save the inmate's life, a remarkable feat considering he had tried to take Sean's life earlier that day. 
Later while taking a break, Choi and Archer have a thoughtful chat. 
"Boy, some father I turned out to be, huh?" Archer asks. "My son dropped out of my life for 15 years and dropped into addiction, prison. Just today, I helped save the life of a guy who tried to kill him and very well may try to kill him again. I had exactly one job. Protect my boy. And I failed."
"How come you didn't let me know what was going on with Sean?" Choi asks.
"I was ashamed," Archer admits. Ethan then got a text about Sean, and the two rush inside to be there when Sean woke up. 
Instead of allowing the other doctors to remove the breathing tube, Archer insists they step aside.
"Please," he insists. "This is my son."
Sean finally wakes up and sees his father staring down at him. The episode ends with Archer finally being there for Sean when he needs him most. While the father-son duo will remain separated by Sean's incarceration, it's relieving to see Archer finally have a moment to address how much he cares for his boy. That opportunity has been a long time (15 years) coming.
Sean Archer gets released from prison
The tides turned in Episode 11, "It Is What It Is Until It Isn't," when the episode kicked off with a frazzled Archer visiting prison to see his son. As soon as they are connected on the phone line, Dr. Archer is firing off questions to Sean, wondering why his son requested his presence so urgently. That's when Sean drops a major development on his father: He's getting out of prison.
Due to overpopulation and good behavior, Sean's sentence was dropped, so everything is about to change. Dr. Archer is elated while also a tad concerned. With Sean's history of drug abuse, Dr. Archer immediately begins to ask Sean what his plan is after getting out. In the episode's final moments, Sean tells his father he plans to "do it all": school, a career, all of the things he missed out on. Dr. Archer seems proud of his son, and now that he's out of prison, they finally have the chance to connect after so many years of estrangement. 
NBC Insider chatted with Steven Weber about Dr. Archer's estranged son and where he thinks Dr. Archer's heading on Chicago Med. 
Read on to learn more about Dr. Archer's estranged son and Season 8 of Chicago Med.
NBC Insider: Where do you think Archer is going in Season 8 considering where he has been?
Steven Weber: Dr. Archer kinda crashed onto the train. It was kind of a violent introduction in many ways. I think, since then, the character has become a little softer in a good way. He's still flinty, and he doesn't have great bedside manner a lot of the time. But he's definitely lost that borderline psycho edge, which was his calling card in the beginning. And what he has become...he still has depth, and there are reasons for his personality, for as tough as he can be. 
We get a clue about that at the end of the last season when we realize he has a son, and he calls his son with whom he hasn't spoken in 15 years. And we start to hear more about that, what that world is like, and what that story is. 
Speaking of vulnerable moments from Dr. Archer, we see that in his romantic interest in Dr. Blake (Sarah Rafferty) last season. Do you see Archer as ready to have a love life in future seasons?
Weber: My understanding of the character makes something like that difficult to imagine. He's pretty fractured. He's a great doctor, but he's a mess, personally. I don't think he likes himself. Especially in regards to his son and the reasons that we might discover as to why they don't speak. Maybe he thinks he's a failure with people, maybe he thinks he doesn't deserve love. He's a tough loner and has a real streak of bitterness. That would be a lot to ask of a potential mate. It might be possible, but I don't see it happening easily, it might happen accidentally. Who knows?
Now that you've become a main fixture within Chicago Med, do you think Archer's behavior toward patients and colleagues changes in Season 8? Does he continue to defrost?
Weber: Well, he's still known for being unpleasant from time to time, and impatient. And I think that's actually kind of a cool quality to have on a show that is populated by such gorgeous people. We need a few obstacles, and that's why they called me. He continues to get better at relating to people, but he suffers no fools. He is who he is, ultimately. He's not going to suddenly become a sweet angel, no. He's been hardened by his past, by his experience during the war, God knows what else. There was a while where I know fans were just not having it, but hopefully, they can understand him more. 
A fun Chicago Med dynamic is the frequent opposition between Dr. Archer and Dr. Charles (Oliver Platt). Do you have a favorite scene with Dr. Charles, and can we expect to see more of that push and pull in Season 8?
Weber: I love working with Oliver Platt, and I think it's fun to get these two opposites together. They're like the sunshine boys, they're kinda two sides of the same coin. They both want to help people. But one is very abrupt, and one is understanding. We do have a couple of scenes, Oliver and I, it was fun to act, where we were really talking over each other. He gives me a latitude as an actor where he can't be thrown. He's not gonna say, 'Stop making that noise, I can't remember my lines.' He likes to play ball, play ping-pong in a way. We've had a couple of scenes, and I hope they write more, where we can kinda' bounce off each other. They're so enjoyable. It's great for me to work with him even if I have little to say because he so much fun to watch. 
Do you have a character from Chicago Fire or Chicago P.D. you'd love to see Archer have a scene with?
Weber: I love [Chicago Fire's David] Eigenberg, I think David Eigenberg is a great dude. We're old buddies. It would be fun to get these two characters that have been through a lot together, and they're gray around the edges —more than the edges, they're just gray. And see them, hear them, swap war stories. That would be a fun thing to do. That's where I'd like to go. Can you make that happen, please?
Chicago Med airs Wednesdays at 8/7c on NBC and next day on Peacock.
Reporting by Jessica White