NBC Insider Exclusive
Create a free profile to get unlimited access to exclusive show news, updates, and more!
Sign Up For Free to View
Brian Tee and Steven Weber Reveal Why It's Great Fans Hate Archer on Chicago Med
"Archer's a person you love to hate," Tee says.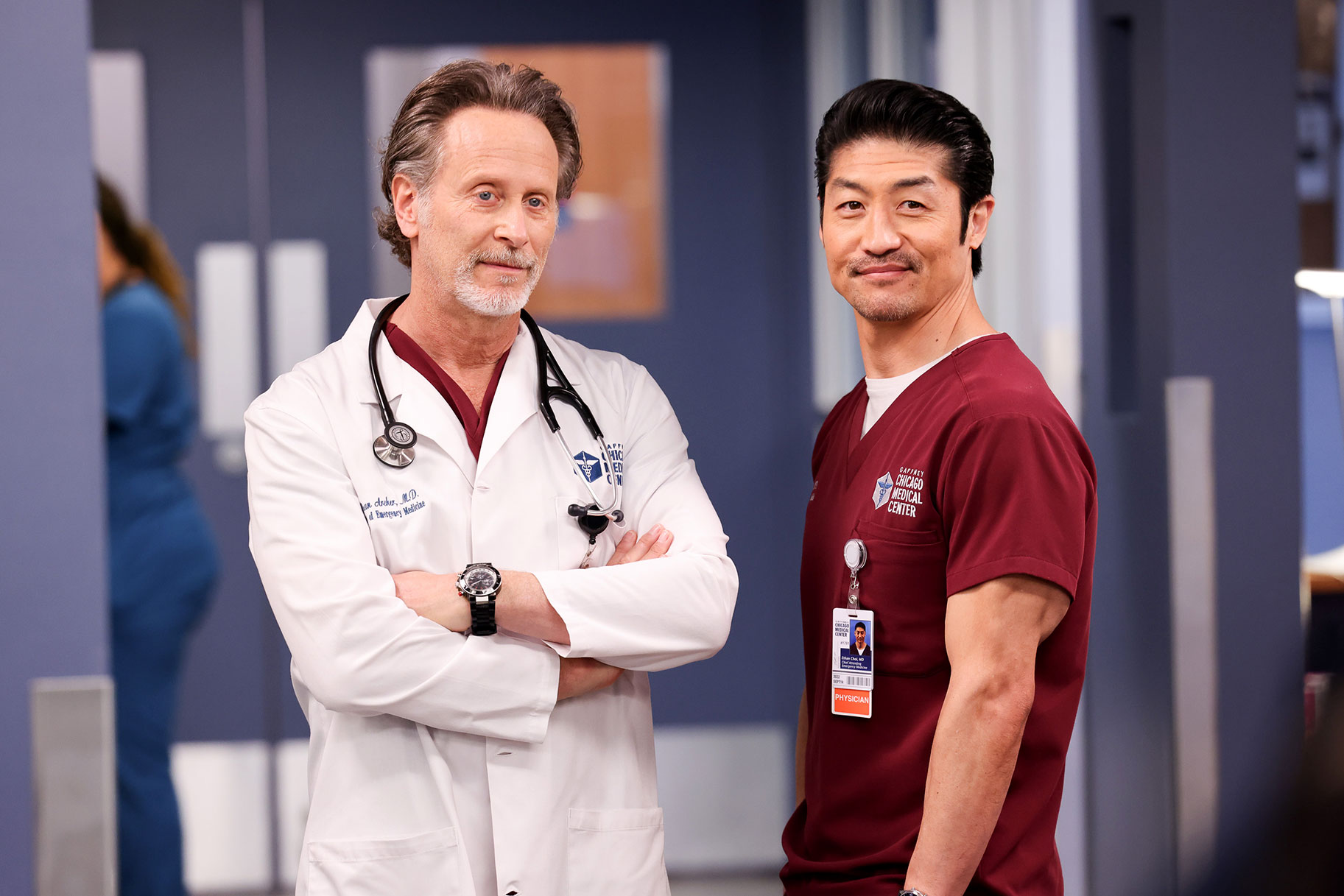 Chicago Med Season 7 had an explosive finale—literally. We left Dr. Halstead (Nick Gehlfuss) and Dr. Scott (Guy Lockard) in a burning building...with much drama waiting for them on the outside when they escape. (We're using "when," not "if!" Never "if!")
Meanwhile, Dr. Choi (Brian Tee) had a proper burial for his father, who Choi recently learned was in love with a man. Elsewhere, Maggie (Marlyne Barrett)  reunited Vanessa (Asjha Cooper) with her biological father, but we'll have to wait until Season 8 to see what comes of that. 
All of this is happening under the watchful eye of Dr. Archer (Steven Weber), the domineering (and often rude) ED of Chicago Med—a job that Choi was up for and turned down. We don't know much about Archer's character outside of the hospital, and Weber is hoping that changes. However, he's certainly not hoping Weber softens. In fact, read on to see why both he and Tee think it's a good thing fans hate Archer. (We also chatted with the actors about some other post-finale bits, too.) 
NBC Insider: How has Dr. Choi changed in light of his experiences and his father's death? 
Brian Tee: What's great about Ethan is he's really taking this concerned path that's different. I think he's really trying to focus on what his true values are. I think he's really trying to focus on what his history was. And he's trying to get within himself. That you haven't necessarily seen Ethan do.
I think Ethan's getting much more introspective, trying and searching for things that will help him move forward...In this seventh season, he's gone through so much trauma: nearly dying, losing the love of his life and his father. I think he's really trying to look within himself. I think this situation, especially with his father, has really allowed him to not take that in and bury it, but to move forward and experience it.
Why do you think he passed on the ED role?
Tee: I think his true self is something that he's trying to find, and being the Chief doesn't necessarily allow him to do that. Archer is there, and Ethan feels he's doing the job with the sensibilities better than he ever could. 
Steven, does Archer feel that way, too?
Steven Weber: Yeah, I actually do. I think it's clear that Archer has technical abilities that are really great, that are necessary to keep that ED running. He's a gifted surgeon. I also think that Ethan has an awareness about this guy, and in a sense he's giving Archer a gift of this job because he knows that, in some way, it might complete this guy.
Tee: [Ethan] realizes that this is something that's intrinsic to Archer. That Archer really functions best when he's in a kind of  command role. In an authority role.
What would you like to see more of from Archer?
Weber: I think what I hope we see more of—and probably every character on this show would love, I'm not saying something that is unique to me—is more of who this person is outside of the hospital. As interesting as those stories are, and as interesting as their interactions with each other are, I think people also want to see what Archer's like at home. I find that particularly interesting. And I think the writers are starting to scratch the surface of that. They've indicated that he has a son with whom he hasn't been in contact with for maybe 15 years.
The fans don't necessarily have the best opinion of Archer. How does that feel?
Weber: It doesn't make me feel great. On the other hand, I guess I'm doing my job. 
Tee: Steven's doing an incredible job. Archer's a person you love to hate—and is absolutely necessary within the given circumstances of the cast and characters in this ED. I think you have to have someone at that level, of that personality...to butt heads with certain characters to create this wonderful television show. So adding Steve into it was this incredible gift for all of us, to be completely honest. And the more the fans dislike the character, the more I smile. Because he is the person you love to hate, which just means how incredible of a job Steven is doing with him.
Weber: The joke is that every time I meet medical professionals who watch the show, they invariably say that my character is closest to the reality of what these types of surgeons are. They can be pains in the asses. They can have God complexes. But look at all the jobs in the world! That's the kind of job where it would be impossible to be in a good mood 24 hours a day. How could you not snap at people?
Chicago Med will return this fall to NBC. 
Reporting by McKenzie Jean-Philippe