NBC Insider Exclusive
Create a free profile to get unlimited access to exclusive show news, updates, and more!
Sign Up For Free to View
Everything to Know About Chicago Med Season 8
Gaffney Chicago Medical Center went through so much this year.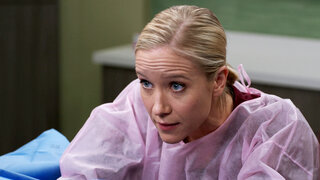 Chicago Med is the third installment of the One Chicago franchise, and it follows the doctors and nurses working in the E.R. of Gaffney Chicago Medical Center. One Chicago fans have become enamored with the personal lives of these characters over the years, and Season 8 only added to the fascination. 
Life is never predictable for the Chicago Med doctors, with every episode bringing a unique set of challenges. For a city that's never short of emergencies, fans have been on the edge of their seats watching the latest season. Between heart-wrenching goodbyes to shocking protocol changes, Chi-Hards were glued to their screens each episode. 
Here some of the highlights from Season 8: 
Chi-Hards said goodbye to several beloved doctors
Season 8 kicked off with Maggie Lockwood (Marlyne Barrett) saying goodbye to her daughter, Dr. Vanessa Taylor (Asjha Cooper), after she landed a once-in-a-lifetime gig at a clinic in the Philippines. 
The next gut punch of the season came when beloved Season 1 O.G. Dr. Ethan Choi (Brian Tee) decided to turn in his resignation to Sharon Goodwin (S. Epatha Merkerson). Alongside his new wife April Sexton (Yaya DaCosta), the newlyweds decided to launch a mobile clinic to treat underserved areas of the city. 
Administration changes have spelled big trouble for Med's future
The undeniable opposing force throughout Season 8 of Chicago Med is the nefarious Jack Dayton (Sasha Roiz). Dayton is a millionaire entrepreneur within the tech world who sets his sights on Chicago Med as his latest investment, giving the hospital a new operating suite called O.R. 2.0. Dr. Crockett Marcel (Dominic Rains) has been the face of the new development, but operations quickly turned south after Dayton decided to purchase a majority stake in Gaffney Medical Group and transform Chicago Med into a for-profit hospital.
Dayton prioritizes money first and medical care second, leading him to butt heads with Goodwin and Dr. Will Halstead (Nick Gehlfuss) numerous times this season. ED Charge nurse Maggie is downright fed up with Dayton's antics, to the point of exploring job opportunities outside Chicago Med. Now that the doctors know O.R. 2.0. isn't as cutting-edge as they were told it is, all eyes are on Dayton to see what corrupt plan he organizes next. 
Some romances flourished while others fizzled out
One of the most delightful developments of Chicago Med Season 8 has been watching Dr. Charles (Oliver Platt) fall in love with a fellow employee, Liliana Wapniarski (Alet Taylor). Liliana is the overnight cleaner for Dr. Charles' office, and after the pair quickly connected over a few cups of coffee, their chemistry bloomed into swoon-worthy romance. It hasn't always been easy, especially with their workplace differences, but it's been great seeing Dr. Charles find someone again. 
Another shocking romantic development to come from Chicago Med is between Dr. Will Halstead and Season 8 newcomer Dr. Grace Song (T.V. Carpio). Dr. Song and Halstead's flirty relationship, sure enough, escalated into a few dates, further proving Halstead is a hopeless romantic (and probably a Will & Grace fan). But at the end of the work day, Halstead and Dr. Song often found themselves on opposing ends of many arguments. As one of Dayton's prized recruits, Dr. Song often defends Dayton, while Halstead struggles to see any positivity in their current for-profit situation. Halstead and Song quickly called it quits, but it was fun while it lasted. 
Dr. Dean Archer's relationships became stronger while his health declined
Dr. Archer's (Steven Weber) icy exterior experienced some much-needed melting this season, in part due to his reforged relationship with his son, Sean Archer (Luigi Sottile). The Archer men were estranged for years due to Sean's history of addiction, but they have been making massive strides in their relationship. The connection is partially thanks to the encouragement of Dr. Hannah Asher (Jessy Schram). 
Archer is very sick; he's on dialysis for end-stage renal disease, and his condition is only getting worse. With Hannah's encouragement, Archer finally came clean about his grim diagnosis to Sean, who has volunteered to donate a kidney to his ill-fated father. Delightfully, Archer learned Sean is a viable match. But just as the cogs begin turning towards the transplant, Sean has gone M.I.A. and Archer has no idea what is wrong. 
This article was originally published on May 13, 2022. It was updated on May 22, 2023.