NBC Insider Exclusive
Create a free profile to get unlimited access to exclusive show news, updates, and more!
Sign Up For Free to View
Why Sean Archer's New Crush on Chicago Med Has His Father Worried
Is this a budding romance or a boiling disaster? Only time will tell.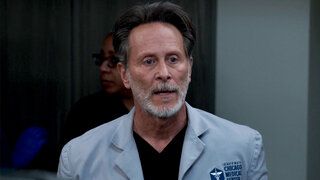 It's been a hectic time of change on Chicago Med. Between perilous administration calls and grueling medical diagnoses, things haven't been easy for our favorite doctors and nurses.
One of the more delightful developments amid the chaos is the father-son relationship forged between Dr. Dean Archer (Steven Weber) and his son, Sean (Luigi Sottile). The Archer men were estranged for years in part due to Sean's previous drug addiction and imprisonment and Archer's subsequent negligence. But Sean is now drug-free and making the most of life outside of prison.
And he's been reconnecting with his father at just the right time. Archer's ongoing health struggles this season have been heinous, but Sean may be the kidney match that could solve everything. 
Archer and Sean's relationship was at the forefront of Season 8, Episode 20, ("The Winds of Change Are Starting to Blow"). Another happy connection made this season has been between Sean and Dr. Hannah Asher (Jessy Schram). Hannah has been a saving grace for Sean, helping him land a valet gig and providing guidance with his recovery. The pair have a lot in common, and fans have enjoyed watching them grow closer over time. But is something simmering beneath the surface?
Based on Hannah and Sean's candor at the top of the episode, it seems so. While Sean visits Gaffney to get tested to see if he's a match for Archer's kidney transplant, he was keen to catch up with Hannah. While chatting with Hannah, a barista gives Sean the flirty eyes, but he seems disinterested. When Hannah asks if anything is going on between the two, Sean tells her they're just friends. 
"Oh, because smart, kind, and super cute are just not your type?" Hannah quips. 
"No, that's my type," Sean clarifies while giving Hannah some flirty eyes himself. "They're just somewhere else right now."
Archer is tasked with treating a man named Tim who visits the ED with his wife, Pam. Tim is experiencing abdominal pain after he and Pam decided to go on a weight loss regime. Tim is the only one seeing results, losing substantial weight in recent months, but Pam has experienced no success. But as Archer begins surgery on Tim, he discovers the culprit for the disparities: a heinous tapeworm living inside Tim's intestines. 
After Sean completes some tests for the kidney transplant, he meets up with Hannah to grab lunch in the courtyard. While there, they run in to a very distressed Pam who is experiencing horrible cramps while on a walk. Or rather, contractions? After Pam's water breaks, Hannah realizes she is pregnant. Pam had no clue about the pregnancy after previously being told she couldn't have children. With her husband in surgery and a baby suddenly on the way, Pam understandably panics.
Luckily, Sean is there to provide some support during the hectic experience. Sean kindly offers to hold Pam's hand during the process, teaming up with Hannah for the delivery. Sean helps Pam through the breathing while Hannah shot-calls the impromptu delivery. Together, they manage to deliver Pam's baby seamlessly. Meanwhile, Archer successfully removes the husband's tapeworm.
It was smiles all around for the happy couple and the One Chicago doctors after a surprising yet successful day. The experience all but cemented the chemistry between Hannah and Sean, who later mentioned his crush to Archer. 
"I know that look," Archer probed. 
"Yeah, I've been feeling it for a while," Sean admits. "I mean Hannah's smart, kind, and super cute. And seeing her in action today?"
"Yeah, she's a catch, no question," Archer shrugs. "But you just got back on your feet."
"I know, I know, a lot of cons," Sean muses. "But the pros? I feel good with her, trust her."
"You're still in recovery," Archer struggles out before adding, "So is Hannah, for that matter."
Many parents worry about their children's dating lives, but for Sean, it's even more complicated. Plus, Archer has seen Hannah make massive strides in her own recovery, so he is worried any issues between the two could cause issues for both of them. 
As if Sean and Hannah's recovery wasn't complicated enough, it became even more chaotic in the episode's closing moments after Hannah plays a prank on Archer. While enjoying his coffee and chatting with Hannah in the break room, Archer opens his locker to find a jump scare prank, causing him to spill coffee all over himself. Hannah cracks up over the practical joke while apologetically helping Archer clean up.
But as Sean rounds the corner to check in on his dad, he peers into the break room to find Hannah and Archer in close quarters as she cleans his shirt while giggling. Nothing romantic is going on here, but naturally, Sean looks devastated by the misinterpreted scene. 
What we have here is a classic Chicago Med miscommunication, but it could spell danger to Archer's evolving relationship with his son. Will the Archer men be able to navigate this misunderstanding, or will they be back at square one?