NBC Insider Exclusive
Create a free profile to get unlimited access to exclusive show news, updates, and more!
Sign Up For Free to View
See Jessy Schram's Touching Message for Brian Tee After His Directorial Debut
Because when Tee is back on set of Chicago Med, Chi-Hards everywhere celebrate.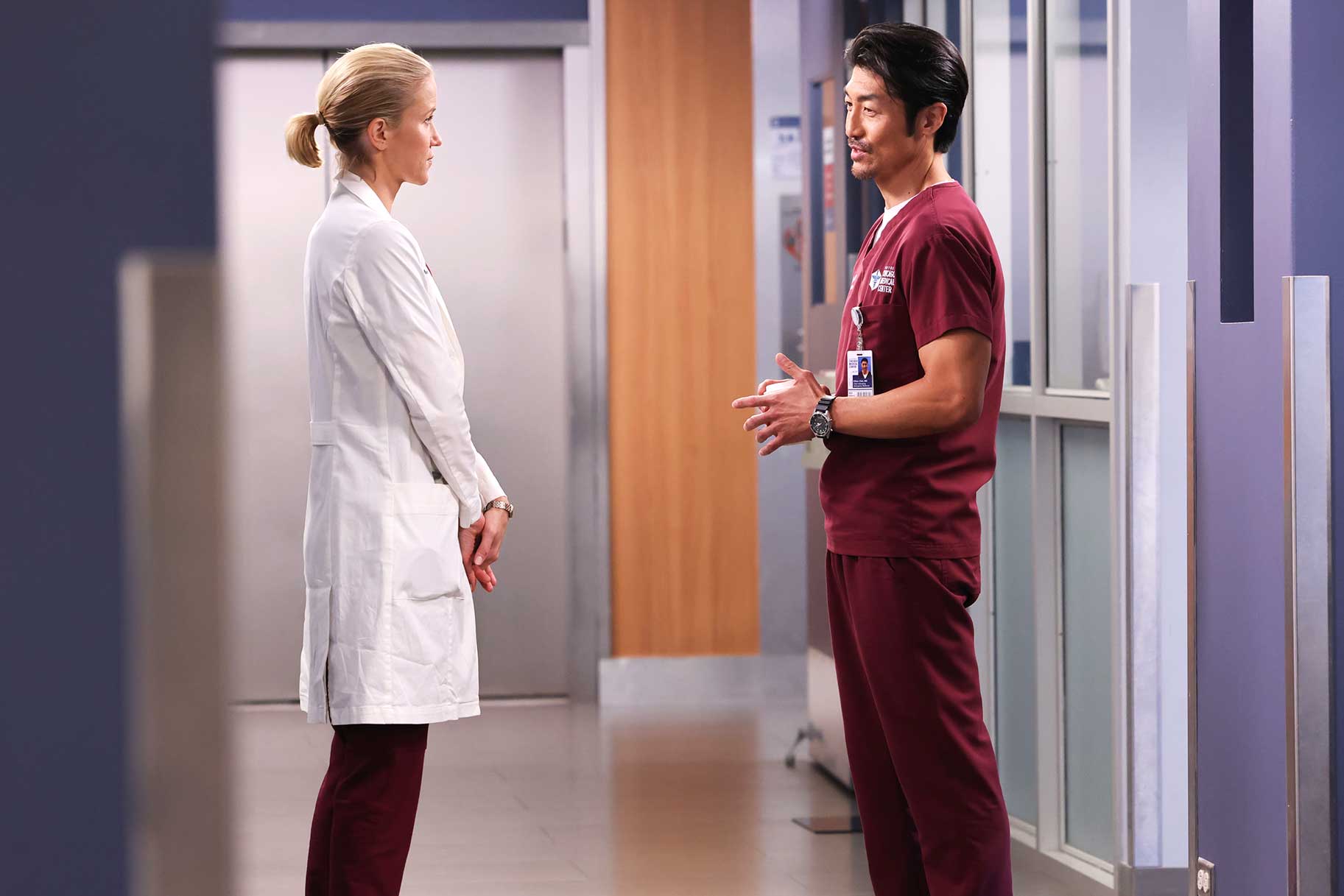 The Chicago Med cast is a tight-knit crew, and while many beloved doctors come and go, the One Chicago family will always remain strong. Case in point: Jessy Schram's heartfelt message for Brian Tee in honor of his Chicago Med return. 
Schram plays Dr. Hannah Asher on the NBC nail-biter, who recently bid farewell to Tee's Dr. Ethan Choi in the Season 8 midseason finale. Choi may have exited Med screens for the time being, but he made an off-camera return to direct Episode 17 ("Know When to Hold and When to Fold"). 
Schram was delighted for the chance to reunite with her One Chicago co-star, and on March 29, took to Instagram to show some love for Tee's episode. 
Posting an adorable slideshow of BTS pictures, Schram captioned the post: "I knew I adored working with @brian_tee as an actor/human. I didn't know just how much I'd appreciate and admire him in the director's chair. His thoughtfulness, experience, respect and choice of approach, shone through and I'm so excited for his directorial debut TONIGHT and to have been a piece in it 🎬💉🩸".
We love the One Chicago camaraderie! NBC Insider chatted with Tee about making his directorial debut, which was made all the more special by Tee starring in the series for so long. While many new directors might be burdened by uncertainty, Tee viewed the exciting opportunity as the chance to "play with my friends again."
"I think you create a family environment being on the show for so long, and you know, I think it was great to come home if that makes sense. It was really nice to see the cast and crew, all the wonderful faces that you've lived with and grew up with for the last eight seasons," Tee explained. "So in that context, it was a lot of fun just to get back on the horse, albeit in a different role, but again just be able to play with all my friends and family again."
Tee continued, "There was a little bit of nerves in not wanting to let anybody down, you know? I just wanted to make sure that I was going to deliver them what obviously they needed, but also try to elevate certain things. And so for myself, it was just a ton of preparation. Just to make sure that I was ready to fill these particular shoes."
Tee's "exhilarating" directing experience is a dream come true for the Chicago Med alum, who has wanted to direct since the start of the One Chicago series.
"So given that, I think it's both this little bit of nerves, but then also the exhilaration to be able to fulfill certain aspects that you've been striving to do for such a long time."
"But it's a little more special, especially when you've been with this particular group of people for so long," Tee touchingly concluded. "It makes certain moments, and I'll even say as small as certain takes, that much more fulfilling because you're doing it with your friends. You're doing it with the people that you love."
Watch Chicago Med on NBC Wednesdays at 8/7c and the next day on Peacock.