NBC Insider Exclusive
Create a free profile to get unlimited access to exclusive show news, updates, and more!
Sign Up For Free to View
This Polarizing Character Could Be Will Halstead's New Love Interest on Chicago Med
Fans may be worried because Dr. Halstead has quite a few failed workplace flings indicated in his chart.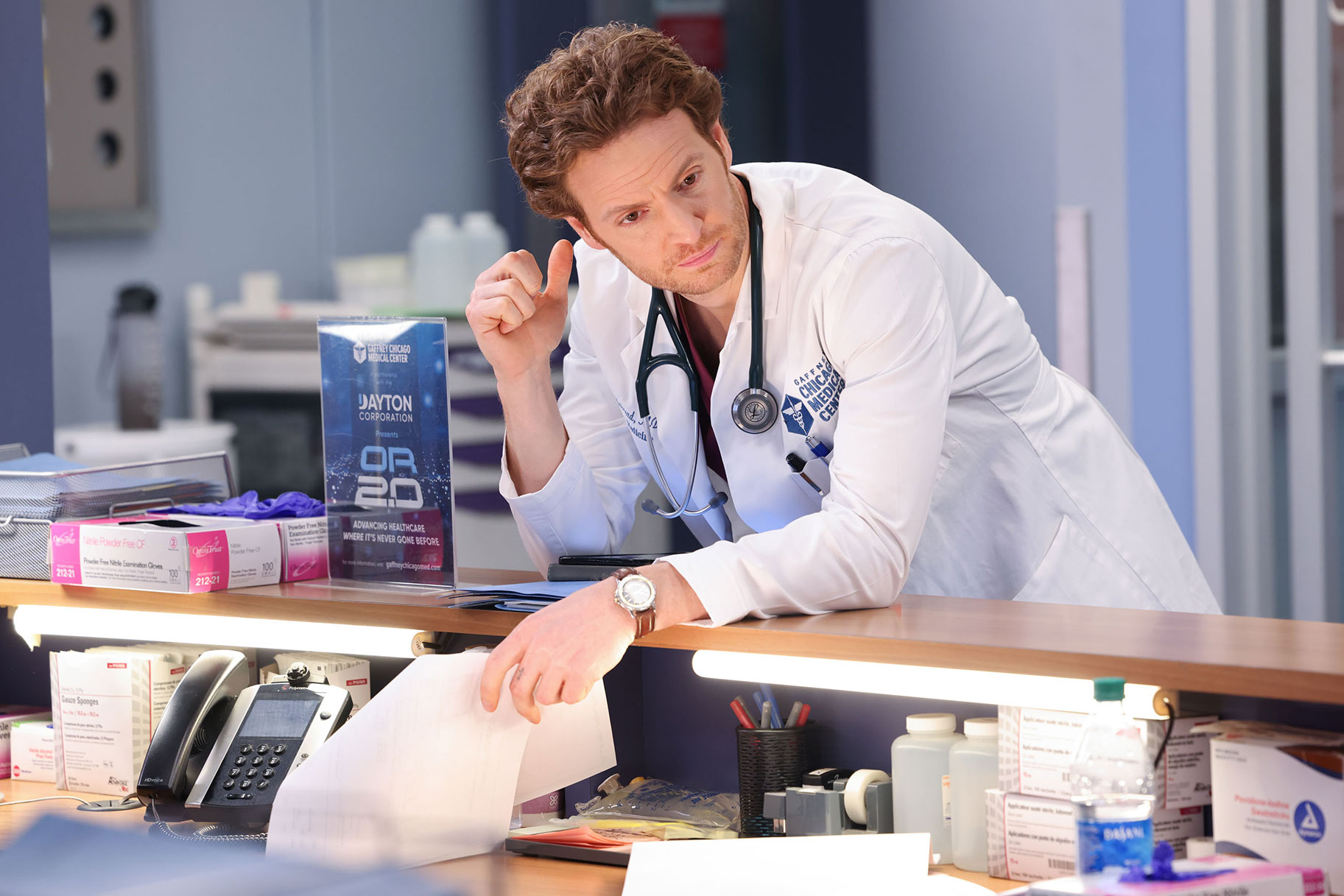 When the doctors aren't saving lives or scrubbing up to help patients on Chicago Med, you can bet they are pulling our heartstrings. Romance has a special place in the Windy City hospital, and the latest fling is between Dr. Will Halstead (Nick Gehlfuss) and Season 8 newcomer Dr. Grace Song (T.V. Carpio).
The two have been butting heads since Grace's introduction in Episode 12 when she was hired by Jack Dayton (Sasha Roiz) to optimize Chicago Med's Emergency Department. Will was initially hesitant about Grace's ideas but has grown to rely on her reputable skills. The two doctors have gotten closer over time, and in Episode 17, directed by Chicago Med alum Brian Tee, Will and Grace finally collided romantically. 
Here's what happened: Will met up with Maggie (Marlyne Barrett) at the bowling alley for a friendly game with coworkers, but one of their teammates bailed at the last minute. No worries, though, because Maggie found a replacement: Grace Song! Maggie gives Will the old wink-wink-nudge-nudge as Will realizes he's being set up with Grace. Save the Will & Grace jokes (because they will happen later).
The bowling outing seemed to go well, with Grace and Will acting quite smitten the next day at work. But Will's latest romance didn't go undetected by his former workplace flame, Dr. Hannah Asher (Jessy Schram). Hannah made a snide comment about their sitcom-inspired couple names, and Will seemingly shut down, giving Grace the cold shoulder shortly after.
Later, Hannah attempts to have the "sorry for making it weird" conversation with Will, explaining that they are friends, and she shouldn't joke about him seeing someone new. But Will remains flustered and told Hannah that his fling with Grace would likely be fruitless regardless. Grace is a "nomad," frequently required to move around the country based on where Dayton wants her, so it's likely a dead-end. 
But this isn't Hannah's first emotional rodeo with Will, and she later calls him out for his sudden walls. Will finally admits he's afraid to pursue Grace because he doesn't have the best track record of workplace relationships. (This is fair: The man has two failed relationships and a failed engagement from that hospital.) 
But Hannah is keen to point out that while Will might be unlucky in love, she feels it all traces back to one person: Will's ex-fianćee and the One That Got Away, Natalie Manning. For context: Natalie left Chicago Med after Season 6, and that relationship was a whirlwind romance that never managed to find its footing. 
Hannah theorized that Will's apprehension to start something real stems from lingering feelings for Natalie. Frankly, the diagnosis is one of the best of the episode and proves Hannah chose the right career path. 
By the end of Episode 17, Will has started to open his heart to Grace, and it seems like it's going great at the start of Episode 18 ("I Could See the Writing on the Wall"). Grace and Will arrive at the hospital together while chatting about a competitive Scrabble game from their recent date.
Grace is positively beaming anytime Will looks her way and is finally starting to show her vulnerable side that's been hidden due to her high-tech position. After Will comforts Grace's anxiety over her launch day, she kisses him. Will seems less enthused about the smooch, and Grace apologetically tells him she "couldn't help it." Will assures Grace it's all good, but the moment seems to confirm Will's previous hesitance toward a new fling.
But back to Grace. Since she arrived at Chicago Med, Grace's main priority has been optimizing the ED to identify any areas of improvement. Will was previously one of Grace's biggest obstacles, frequently disagreeing with the demand for large-scale changes and system upgrades. Grace has been trying to help the Med team understand that the technology is there to elevate their patient care, not hinder it, but it's been an uphill battle. And in Episode 18, Grace is finally launching the many changes she planned for the ED. 
Now that Grace and Will are dating, their workplace disagreements are cast in a new light. Will might disagree with Grace about her fancy new optimizations, but with the jitters of a new relationship, he doesn't feel as comfortable voicing his concerns with her new system. Grace and Will are both dominant personalities, so the tension becomes palpable as soon as an issue arises. And quite a few problems arise. 
A hypochondriac with a headache insists on going into surgery after using Grace's AI tool that provides a complete list of possible diagnostics. A mentally ill patient suffers a psychotic break after seeing the flashing red lights of Grace's new noise-management system. And when Will asks Grace for a possible suggestion box for concerns, Grace seems confused. Many optimizations are well-intended and based on patient care studies, but there are many challenges to the new system that has most doctors on edge.
Feeling undermined and frustrated by the fallout, Maggie finds Grace's actions to be a waste of time and resources. Maggie tells Will she plans on bringing the issue to Goodwin (S. Epatha Merkerson). Will is concerned because he knows this sort of backlash is exactly what Grace is afraid of happening. But before Maggie can update Goodwin, she is brushed off because Goodwin is too busy addressing Dayton's efforts to turn Chicago Med into a for-profit hospital. 
After some harmless flirtation throughout Season 8 of Chicago Med, Will and Grace are officially exploring new romantic horizons. Grace's position at the hospital provides some concern for the workplace fling, especially since Will seems to prefer old-school operations. But an even more pressing question lingers: is Will actually ready for a new relationship?
Find out by watching Chicago Med on NBC Wednesdays at 8/7c and the next day on Peacock.