NBC Insider Exclusive
Create a free profile to get unlimited access to exclusive show news, updates, and more!
Sign Up For Free to View
The Reason Behind Dr. Vanessa Taylor's Surprising Chicago Med Exit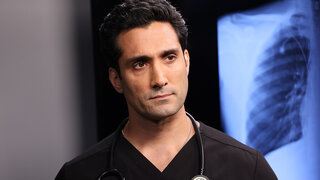 Many Chicago Med fans know it's not unusual for beloved characters to come and go in the One Chicago universe. Such is the case with Dr. Vanessa Taylor (Asjha Cooper), who has captured the hearts of Chicago Med fans everywhere. 
In Season 8, Episode 6, Vanessa revealed that she is taking her love for treating patients overseas. But why is Vanessa leaving Gaffney Medical Center? We break down what happened, below. 
Asjha Cooper leaves Chicago Med
Entering Chicago Medical Center in Season 6, Dr. Vanessa Taylor has grown tremendously as a doctor. Her life was also changed dramatically when she was revealed to be Maggie's biological daughter who was put up for adoption. While Maggie initially attempted to keep her distance from her grownup daughter, she and Vanessa grew close quickly.
Season 7 ended with Maggie revealing to Vanessa the identity of her biological father. The three meet, and throughout Chicago Med Season 8, we've watched Vanessa continue to pursue that relationship while coming into her own professionally. We know Vanessa will go the distance for her patients—she'll even source prescription drugs off the street to help them—which is why what happened in Season 8, Episode 6 feels like more than coincidence. 
The episode begins with Vanessa and Maggie arguing over Vanessa's decision to treat patients with externally-sourced drugs. Maggie worries Vanessa is jeopardizing her future, while Vanessa instead focuses on the patients' well-being. 
The mother-daughter duo then meet a patient named Samir Baqri, a businessman with an unknown diagnosis who is also renowned in the medical community for setting up clinics around the world. While Vanessa and Samir hit it off, treating him proves difficult because every test she runs comes back inconclusive. All the while, Samir's condition worsens. The man is worried because he has a flight in a few days, but they are concerned he may not be flying ever again.
But Vanessa is persistent and notably calm the entire time. Eventually, she deduces from Samir's comments about life on the road (just coffee and protein bars!) that Samir is suffering from scurvy. (Yup, the pirate kind.) Samir should recover in a couple days, just in time for his trip to the Philippines to open up a new clinic. Samir took note of Vanessa's excellent care and asked to speak with her again. 
In the episode's closing moments, Vanessa visits Maggie in the lounge and asks her for help arranging recommended travel vaccinations. When Maggie says she didn't know Vanessa was going on vacation, Vanessa drops the news: Samir has offered her a job in the new clinic in the Philippines. Vanessa explains she's deferring finishing her residency for the time being. Maggie is blindsided by the news until Vanessa reveals the reason behind the decision. 
"You were upset, and rightly so, when I bought those drugs off the street," Vanessa explained. "But what I didn't say to you earlier that I should have is that I was actually inspired. Despite the risk, I helped my patient. I was resourceful. I was a good doctor. That's the kind of person I want to be."
"You can't be that person here?" a heartbroken Maggie asked. 
"Maybe," Vanessa said. "But I know this opportunity will allow me to be the doctor I want to be. Doing the work that I love. This is my calling." 
Maggie is gutted by the sudden news and encourages Vanessa to think about it before jumping into something so abruptly. It's a tender moment where you can tell all of Maggie's motherly instincts are kicking in. But alas, Vanessa has made up her mind and doesn't wish to wait. 
"I just want to close my eyes and take the leap," Vanessa concludes.
Vanessa is a proven go-getter, and it looks like the next place she's going is a lot warmer than the Windy City. While the future is cloudy, one thing is undeniable: Chicago Med fans will miss seeing Vanessa around the ER. 
Watch Chicago Med Wednesdays at 8/7c on NBC and the next day on Peacock