NBC Insider Exclusive
Create a free profile to get unlimited access to exclusive show news, updates, and more!
Sign Up For Free to View
Yaya DaCosta's April Sexton Makes a Surprise Return in Chicago Med's Season 8 Premiere
April and former fiancee Dr. Ethan Choi reunited, but is she back in town for good?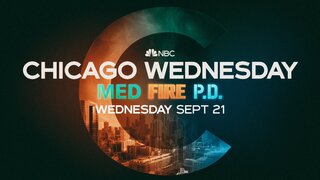 It's not unusual for Chicago Med characters to come and go, as is natural for any workplace staff. But sometimes those familiar faces make a happy return, as seen in Chicago Med's Season 8 premiere when April Sexton (Yaya DaCosta) came back into the picture. 
April was first introduced as an Emergency Department nurse in Season 1, who worked closely with Maggie (Marlyne Barrett) and Dr. Ethan Choi (Brian Tee) while treating an endless rotation of patients. April and Ethan quickly developed feelings for each other, eventually moving in together and getting engaged. The engagement ended after their relationship suffered due to failed IVF treatments and infidelity. 
April went through a lot during the first six seasons of Chicago Med as both a powerhouse nurse and empathetic force to be reckoned with in the ED. After making such a lasting impression, many fans were sad to see April go after Season 6. But after a long-awaited Chicago Med Season 8 premiere, it looks like fans didn't say goodbye for long because April is back in Chicago. 
In an interview with Chicago Med showrunners Diane Frolov and Andy Schneider, NBC Insider asked if viewers can expect any returning characters in Season 8. 
"There is definitely a character returning, "Frolov reveals, adding that there will also be new characters entering Chicago Medical Center, as well. But as for April?
"There will be a full return of a beloved character," Schneider confirms. 
Why did April Sexton leave Chicago Med?
Viewers bid farewell to April in the Chicago Med Season 6 finale after she was accepted into a Nurse Practitioners program. The acceptance led April to leave Chicago Medical Center to pursue her degree elsewhere. While April's exit was natural based on her career trajectory, her exit did leave a few open ends — especially regarding her relationship with her ex-fiancee, Ethan.
After Ethan is shot in the Season 6 finale, he woke up from surgery to find April watching over him. April confessed that she attempted to move on from their relationship but the sight of Ethan on a gurney reminded her of how much she loves him. While her acceptance into the nursing program was great news for April's career, the potential impact on her relationship with Ethan left viewers with concerns.
Will Yaya DaCosta return as April Sexton on Chicago Med?
While we didn't see April in Season 7 of Chicago Med, the Season 8 premiere ended with Ethan running into April at his father's grave. "I saw your dad's obituary," April explained, referencing Ethan's dad's death in Season 7. "I would have come to the service. I wasn't sure... I didn't want it to be awkward." Ethan seemed elated at the sight of April, asking if she has returned to Chicago. April confirmed she is back in Chicago after finishing her NP program, working with a medical group in the city. Ethan explained he has recovered from the shooting, and they have a pleasant chat about Ethan's family. 
"You didn't get married, did you?" April asked. Ethan quickly clarified he didn't, then asks her the same question.
"No," she said simply, before telling Ethan she will see him around, leaving Ethan awestruck by the conversation.
That loaded interaction, and the fact that April is back in town, raises questions about what the future could bring for April and Ethan. If absence makes the heart grow fonder, does that mean Ethan and April are heading for a reunion? Chi-hards will have to wait to see. 
Chicago Med airs Wednesday nights at 8/7c on NBC and the next day on Peacock.