NBC Insider Exclusive
Create a free profile to get unlimited access to exclusive show news, updates, and more!
Sign Up For Free to View
A Breakdown of the Current Chicago Med Cast
Here's who's on staff at Gaffney Chicago Medical Center.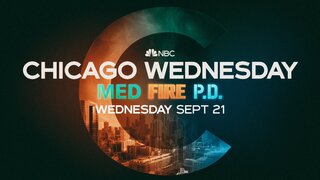 ​Chicago Med is Dick Wolf's nail-biting medical drama in the One Chicago universe, alongside Chicago Fire and Chicago P.D. Needless to say, it's never a dull day in the Windy City. Chicago Med focuses on the doctors and nurses of the emergency department of Gaffney Chicago Medical Center, and fans never know what patient will be entering the ER next.
 The Chicago Med cast is a star-studded lineup of powerhouse performers that know the exact way to pull on the heartstrings of all One Chicago fans. Below, see the current list of actors on Chicago Med.
Nick Gehlfuss as Dr. Will Halstead
Gehlfuss plays Dr. Will Halstead, a One Chicago fan favorite who was first introduced as the brother of Detective Jay Halstead (Jesse Lee Soffer) in Chicago P.D. and later became the focal character of Chicago Med. Will is the Supervising Attending Emergency Physician of Gaffney Medical Center and is always willing to do everything in his power to help his patients.
Oliver Platt as Dr. Daniel Charles
While many medical dramas focus solely on the surgical side of hospital operations, Chicago Med also explores the mental health side of hospital life. Platt plays Dr. Daniel Charles, the Chief of Psychiatry at Gaffney Medical, and his performance never disappoints. Dr. Charles consistently challenges those who call themselves or other patients "crazy," instead compelling others to understand that with enough understanding, a solution is always possible, regardless of the mental health issue.
Brian Tee as Dr. Ethan Choi
Dr. Ethan Choi is played by Brian Tee. Ethan never backs down from a challenge; he's known for asserting his expertise and practicing compassion during every interaction with his patients. From being shot in Season 6 to handling his father's death in Season 7, Ethan has been through it. Those challenges led Ethan to dramatically change throughout Season 8, and he will eventually leave Chicago Medical Center in Episode 9, "Could Be the Start of Something New."
Marlyne Barrett as Maggie Campbell, RN
Barrett plays Maggie Campbell, the loving yet no-nonsense ED Charge Nurse of Gaffney Medical. She is the eyes, ears, and heart of Gaffney's ED. Maggie is endlessly dedicated to her position and loyal to all the physicians around her. Even when the situation becomes chaotic, which they have a tendency to do, you can trust Maggie will hold down the fort.
S. Epatha Merkerson as Sharon Goodwin
Merkerson plays Sharon Goodwin, a tough-as-nails Chief of Patient and Medical Services at Gaffney Medical. Like Maggie, Sharon was the former ED Charge Nurse but now mainly handles the grueling business and media side of medical procedures. Her position often forces her to reconcile between what is legally correct and what is the right way to approach patient diagnoses. Because of her previous experience, Sharon can be very empathetic and protective of her fellow physicians.
Dominic Rains as Dr. Crockett Marcel
Every medical drama needs at least one chaotic physician to shake things up, and Rains fits the bill with his role as Dr. Crockett Marcel, a transplant surgeon at Chicago Med. Crockett is a skilled physician, but his hard-partying tendencies and lack of foresight can sometimes get him into trouble.
Guy Lockard as Dr. Dylan Scott
Lockard was introduced in Chicago Med during Season 7 as a resident in the Emergency Medicine and Pediatrics Department. Scott has shown his skill as an empathetic physician who's great at handling younger patients and characters. In the Season 8 premiere, Dr. Lockard left Chicago Medical Center because he struggled to separate his past as a cop from his new role as a physician
Kristen Hager as Dr. Stevie Hammer
Hager is another new addition to the Chicago Med cast, joining Gaffney Medical as the Emergency Attending Physician with a mysterious history. Hager went to medical school with Will, where the two previously had a relationship, and she earned the nickname "The Hammer." She works closely with Will at Chicago Med, indicating the pair are now friends. Many fans fell in love with her tenacious personality instantly.
Jessy Schram as Dr. Hannah Asher
Schram plays Dr. Hannah Asher, a complex but lovable obstetrician-gynecologist and recovering addict at Gaffney Medical. Hannah and Will dated throughout the series, but after Will discovered she relapsed and had become more manipulative, he made an anonymous tip that placed Hannah in rehab. Hannah's maintained sobriety for two years and returned in Season 7.
Steven Weber as Dr. Dean Archer
Weber plays Dr. Dean Archer, the Interim Chief of the ED and general antagonist throughout Seasons 6 and 7 of Chicago Med. If you're looking for the foil to Dr. Charles, you'll find it in Dean. Lately, Dr. Archer has been exploring a relationship with his estranged son.  
Sarah Rafferty as Dr. Pamela Blake
Rafferty plays Dr. Pamela Blake, a transplant surgeon who has a romance with Dr. Crockett Marcel. In the Season 7 finale, Dr. Blake had to undergo hand surgery and provided Crockett with the power of attorney. Complications occurred during the surgery, jeopardizing her career and causing Dr. Blake to break up with Dr. Marcel. We last saw her during the Season 8 premiere and watched Dr. Marcel learn she moved to Boston in Episode 4, "The Apple Doesn't Fall Far From the Teacher."
Asjha Cooper as Vanessa Taylor
Dr. Vanessa Taylor, played by the talented Asjha Cooper, is a budding young nurse at Chicago Medical Center. Vanessa is revealed to be the daughter of Maggie Lockwood. In Season 8 of Chicago Med, Vanessa and Dr. Halstead have struggled with ongoing supply shortages caused by COVID-19.
Devin Kawaoka as Dr. Kai Tanaka-Reed
Kai Tanaka-Reed is a first-year surgical resident that immediately set his sight on establishing himself at Chicago Medical Center in the Season 8 premiere. Dr. Tanaka-Reed is abrasive and opinionated but ultimately ignorant, causing him to butt heads with his supervisor, Dr. Marcel. Many Chicago Med fans suspect Dr.Tanaka-Reed will cause some headaches for the Gaffney Medical team. 
Lilah Richcreek Estrada as Nellie Cuevas

 
Dr. Charles met his new assistant in the Season 8 premiere with the introduction of Dr. Nellie Cuevas (Lilah Richcreek Estrada). While Dr. Charles is old school, Dr. Cuevas represents the new wave in mental health treatment. While Dr. Charles and Dr. Cuevas often disagree about how to treat patients, Nellie truly wants to improve as a physician with each lesson learned. 
​Watch Chicago Med Wednesdays at 8/7c on NBC and the next day on Peacock