NBC Insider Exclusive
Create a free profile to get unlimited access to exclusive show news, updates, and more!
Sign Up For Free to View
The Biggest Questions We Have Going Into Chicago Med Season 8
After that cliffhanger finale, we need answers!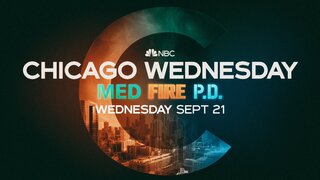 Chicago Med Season 7 left fans with many questions, and thankfully, they'll get answered when Season 8 premieres Wednesday, September 21 at 8/7c on NBC. Ahead of the premiere, let's look at some of the biggest mysteries viewers are curious to get solved. 
Will Dylan and Will survive the fire from the Season 7 finale? 
After Dylan (Guy Lockard) allows an undercover cop to hide at Dr. Will Halstead's (Nick Gehlfuss) apartment building, things go south quickly when the cop crosses paths with a criminal. The altercation leads to a massive fire, with Dylan and Will trapped in the building that is quickly becoming consumed by flames. Season 8 will likely pick up where we left off, and based on social media posts with Lockard in scrubs, viewers can hope that the doctors escape. But will their escape be a safe one? We'll have to wait to see. 
Will Hannah and Will get back together in Chicago Med Season 8?
The relationship between Will and Hannah (Jessy Schram) is complicated. They dated throughout Season 6, but Hannah leaves Chicago to go to rehab, later returning to Gaffney Medical towards the end of Season 7. Now that Will is not only a doctor but a landlord, he offers Hannah an apartment in his building. The catch? Hannah and Will will be living across the hall from each other. Neighbors! 
Will pitches to Hannah that they start over as neighbors, which means they could start over as...romantic partners? Maybe! Considering that Hannah and Will loved each other and only separated to encourage long-term sobriety for Hannah, it would appear a potential reunion could be on the horizon. Hannah is prioritizing her sobriety, which means she may be in a good place for a healthy relationship. 
How will Dr. Blake and Dr. Crockett's relationship change after Blake's failed surgery?
Speaking of complicated relationships, Chicago Med fans are perched to see how the relationship between Dr. Pamela Blake (Sarah Rafferty) and Dr. Crockett Marcel (Dominic Rains) will change after the devastating events of Season 7's finale. Blake has been dealing with numbness in her hands and hesitantly decides to go into surgery to address the issue. Blake gives Crockett the power of attorney in case of an emergency during the procedure, trusting Dr. Marcel to do whatever is best. The decision is tricky because Dr. Blake takes that power of attorney away from her daughter, Avery (Johanna Braddy), who is understandably frustrated by losing this right to someone she was romantically involved with earlier in the season.
And, of course, there are complications during the surgery, sparking Crockett to prioritize Blake's life over the feeling in her hands. Blake awakes from surgery to discover that her sense of touch is even worse than before the surgery. She is understandably devastated by this realization. While Blake and Crockett had been getting closer and closer romantically, his decision will likely lead to Blake being unable to do her job, which could drive a wedge in their relationship throughout Season 8. 
How will Dr. Ethan Choi continue to process his father's death?
Season 7 explored the estranged relationship between Dr. Ethan Choi (Brian Tee) and his father, Patrick, a serviceman in the military. Choi learns that his father has a terminal brain tumor that he's kept hidden for many months. Despite Choi's efforts to get his father medical assistance, he dies shortly after telling Choi about his condition. Later, Choi discovers that his father was in love with a man named Gerald, who he met in the military, causing him to question how much he knew his father. 
Choi is initially angry by the discovery, but after talking with Gerald, he realizes his father was only trying to protect him. Choi's relationship with his father was tumultuous, but by Patrick's funeral, it appears Choi has started to accept the reasons for his father's secrecy. We see a hint of this acceptance in the finale while Choi talks with a young patient frustrated with his parents, at which point Choi offers some personal advice. Fans are hoping Choi can continue this path of acceptance and hopefully move past the tragic death of his father. 
How will Maggie and Vanessa's relationship change now that Vanessa has met her biological father?
One of the biggest jaw-dropping moments of Chicago Med was when fans learned that Dr. Vanessa Taylor (Asjha Cooper) is Maggie's (Marlyne Barrett) biological daughter. And after many episodes, Vanessa has finally met her biological father. (The happily-married Maggie was hesitant to contact the man in question, Grant Young.) 
She's right to be concerned, because Grant seems to be smitten with Maggie immediately, and Maggie doesn't exactly clarify her relationship status. The moment Vanessa meets her biological father is heartwarmingly sweet, so Season 8 will likely explore how this reunion impacts her relationship with Maggie and how Maggie and Grant handle their newfound connection after so many years.