NBC Insider Exclusive
Create a free profile to get unlimited access to exclusive show news, updates, and more!
Sign Up For Free to View
Everything to Know About LA Fire & Rescue on NBC
If you can't get enough of the fire-fighting action that takes place at 51, you're in luck.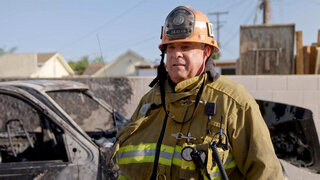 One Chicago and Law & Order fans tend to get a little bummed during the summer months because all their favorite shows are on hiatus. But what if we told you a new series is coming to NBC in June from the minds of those beloved universes? A show about firefighters, which should get Chicago Fire fans extra excited? 
Well, get ready, because it's happening: LA Fire & Rescue is coming to NBC. And it will certainly fill the void left when the One Chicago and Law & Order teams pack up for summer vacation. 
LA Fire & Rescue is a docuseries, and it will take views to the frontlines of the Los Angeles County Fire Department. You'll get a chance to see the mechanisms behind one of the country's most elite firefighting entities. Consider this a VIP-access pass to all the action you watch on Chicago Fire, except this time it's real — and happening in California. Watch the trailer, below: 
What is LA Fire & Rescue about?
As NBC describes in a press release, this new docuseries offers "unprecedented access to the inner workings of the Los Angeles County Fire Department.
Responsible for protecting the lives and property of four million residents living in 59 cities across Los Angeles County, the LACoFD's 2,300 square miles of service is unlike any other in the United States. From helicopter mountain rescues and lifeguard beach SOS, to fireboats, hazmat units and California's raging wildfires, the department does it all.
Is LA Fire & Rescue real?
Yes, The series documents real calls and real drama while giving faces to the passionate firefighters who risk their lives in the name of service. These real-life heroes and their compelling stories are told alongside the unpredictable dangers they face on the front lines of life and death." 
Here's a little bit more info about the places and people LA Fire & Rescue will highlight. The firehouses featured this season are:     
Station 8 (West Hollywood): Located off the famous Sunset Strip, this station regularly deals with the intricacies of putting out fires in large apartment complexes and high-rise buildings. Captains Mike Carolan and Roy Ortiz, both born into firefighter families, lead with the guiding principles of service and brotherhood at the forefront. Personal and professional lives blend in their firehouse as the squad rallies together to support fellow firefighter and cancer survivor, Dave Castellanos.  
Station 16 (Watts): This squad is nicknamed "The Island of Misfit Toys" for its quirky crew, but is one of the most sought after and well-respected stations. They take deep pride in serving their community. Longtime Capt. Dan Olivas leads with heart and is a father figure to his squad. His loyalty to his crew is unmatched, so it comes as no surprise that his own son Jeff Olivas (Firefighter/Paramedic) is a rookie at LACoFD who hopes to follow in his father's footsteps to someday climb the ranks to captain. Grade school friends Tony Huynh (Engineer) and Paco Lomeli (Firefighter/Paramedic) go above and beyond the call of duty for their community. Firefighter Erik Gunn is a South L.A. native who knows the ins and outs of the community he serves.  
Station 37 (Palmdale): As one of the oldest and most beloved stations in the county, downtown Palmdale's firefighters motto is "Every Day's a Holiday" because each day is filled with unpredictable, nonstop calls. Despite their different experiences as they rose through the ranks, Captains Stan Maloof and Eric Tumbarelloare both faced with juggling family life with their responsibilities at the firehouse. The son of a LACoFD fire captain who left a steady career in finance, Stan has a lot to prove. Eric has finally made peace with his turbulent past and is happier than ever with his blended family.   
Station 41 (Compton): This engine runs the most calls in the county and has always been too demanding of a place for a probationary firefighter, but this year they have their first Boot. The area can be rough and dangerous, but the community is resilient and filled with love and respect for their firefighters. A welcome presence for the community at any scene, Capt. Scott Woods has his hands full working at one of the busiest stations in Los Angeles. He is an inspiration and mentor to the younger firefighters, including Erin Scuoler (Boot) and Alex Castorena (Firefighter/Paramedic).   
Station 101 (Claremont): After being told she wouldn't make it as a female firefighter, Siene Freeman (Firefighter/Paramedic) never gave up on her lifelong dream. Always wanting to help those around her, she's continued to prove that she belongs in this field. A wife and mother to two young kids, Siene's biggest challenge has been finding a balance between her demanding job as a firefighter and spending quality time at home with her family.    
Station 125 (Calabasas): Over the hills near Malibu, this station is housed in one of the most luxurious and stunning parts of Los Angeles. With a dynamically diverse team, nothing can stop their skill, determination, and progress. As the 15th female ever hired by LACoFD, Capt. Sheila Kelliher is a trailblazer with a passion for teaching new recruits to be their best in the field.   
Station 172 (Inglewood): This group of firefighters brings the best energy to the town. They pride themselves on being one of the most diverse stations as they serve as role models to their community. Captains Chris Davis and Kevin Grayson are proud veterans who fell in love with firefighting after serving in the Marines and Army, respectively.   
Air Operations:  Also known as the "Angels in the Sky," this high-flying crew is accustomed to high-stakes distress calls, only responding to the most urgent patients and hard-to-reach locations. Captains Johnny Gray III and Dave Baumann share an unbridled passion for their jobs.   
Lifeguards: The L.A. County Fire Department Lifeguard Division is the largest professional lifeguard service in the world. It's also home to a tight-knit group determined to uphold its reputation while also enjoying the scenic benefits of the job. Captains John Zimpelman and Kyle Powers turned their passion for water sports into a lifeguarding career. Proud of the reputations they have built, both strive to be role models for those on their team and children at home. 
Where to watch LA Fire & Rescue
LA Fire & Rescue premieres Wednesday, June 21 at 8/7c on NBC and next day on Peacock. 
LA Fire & Rescue Season 1 will air on USA Network starting on Sunday, October 2 at 11 p.m. ET.
This story was originally published on March 30, 2023. It was updated on June 22, 2023.
Originally published Jun 22, 2023.