NBC Insider Exclusive
Create a free profile to get unlimited access to exclusive show news, updates, and more!
Sign Up For Free to View
Will Halstead's Entire Relationship History on Chicago Med
Romance isn't Dr. Halstead's specialty, but the fan favorite character keeps trying!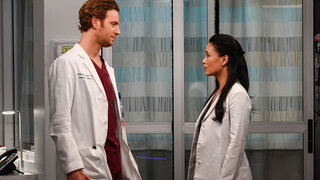 Chicago Med's Will Halstead (Nick Gehlfuss) has been a fan-favorite character for years. He's incredibly empathetic and committed to providing the best care to every patient who walks through the hospital's doors.
But when the work day is over, Will is a hopeless romantic—despite being a tad unlucky in love throughout his Chicago Med tenure. Sure, he's had many workplace romances at Gaffney, but none have stuck. Below, we revisit his relationship history, from the start of Chicago Med to now. 
Dr. Natalie Manning
Seasons 1-4, Season 8
Dr. Natalie Manning (Torrey DeVitto) was the apple of Halstead's eye for the majority of Chicago Med's early seasons. They kissed for the first time in Season 1, but Natalie wasn't ready for a relationship, so their connection was briefly tabled. 
That said, their mutual feelings for each other erupt in Season 2 when it became clear the whole "just friends" plan wasn't working out. Natalie and Will got their anticipated reconnection in the Season 3 Chicago Med premiere after Natalie revealed she wanted to be with Will, and they kissed again. Will and Natalie became a Med power couple, leading Will to ask Chicago P.D.'s Jay Halstead (Jesse Lee Soffer) for their mother's engagement ring. We had a wedding in the works! 
Season 4 of Chicago Med kicked off with an engaged Natalie and Will, but they found rocky terrain quickly. Not only did wedding planning cause tension in their relationship, but on the day of their wedding, essentially everything that could fall apart did. Seriously, everything.
After getting entangled in a P.D. plot line involving Ray Burke, Will was kidnapped and held at gunpoint. Jay was able to save Will, whisking him to the wedding altar. But Will wasn't getting hitched after a hard day; he was tragically forced into witness protection, leaving a devastated and confused Natalie sobbing on the church steps. Woof. 
The PTSD of the horrific ordeal leaves Will pretty shaken, and the lingering trauma eventually creates a division between him and Natalie. Natalie breaks up with Will, and they return to being "just friends" despite being so close to a happily-ever-after.  
That said, the flame that was Will and Natalie never truly extinguished, especially since they didn't end on horrible speaking terms. Natalie is revealed to be one of Will's penpals in Season 8 of Chicago Med, so they're still friends. After Will made the heartbreaking decision to resign from Chicago Med in the Season 8 finale, the Windy City doctor found himself drifting toward Seattle to stay with Natalie for a while. Upon seeing each other again, it was obvious Will and Natalie's fire never really died. Especially as she complained about how little luggage he packed for the trip. 
"I'm never going to let you go," Natalie told him while going in for a heartfelt embrace. 
Will's Chicago Med story ends with him exploring new horizons with Natalie, and based on his trajectory, it feels like the hopeless romantic has finally returned to his One That Got Away for a mutual happily-ever-after, after all. 
Dr. Nina Shore 
Season 2
Dr. Nina Shore (Patti Murin) was a pathologist at Gaffney Medical in Seasons 2 through 4 of Chicago Med; she who worked closely with Will on numerous occasions. Nina and Will's relationship never took off due to Will's lingering feelings for Natalie. That said, she was a fun addition to the hospital.
Season 5-6
Will meets Hannah while treating her for her addiction, later shockingly learning she's also a doctor. Slowly but surely, the physicians were unable to deny their attraction for each other, and they hooked up. They moved in together after Season 6.
But Hannah's addiction reared its ugly head, and she unfortunately relapsed. Will told Hannah he loved her, but the slip was enough for Hannah to decide to leave Chicago to admit herself into rehab. She invited Will to go with her, but he refused due to not wanting her sobriety to be tied to their relationship. 
Hannah returned in Season 7 of Chicago Med, sober for nearly two years and spearheading a new chapter. Sharon Goodwin (S. Epatha Merkerson) welcomed Hannah back with open arms, and despite the occasional flirtatious back-and-forth with Will, the former flames have seemingly snuffed their romance.
Dr. Sabeena Virani
Season 6
Another brief but delightful romance on Chicago Med was between Will and Dr. Sabeena Virani (Tehmina Sunny), a cardiologist who starred in Season 6. Will and Sabeena worked closely together on a clinical drug trial for a heart medication, leading the pair to grow close fairly fast. The former head of the ED, Ethan Choi (Brian Tee), and Will both had their heart set on the cardiologist, but Will is the one who ended up on a date with Sabeena. The romance was a short-lived fling, but it was entertaining to see Will and Ethan go toe-to-toe over a workplace love connection. 
Dr. Grace Song
Season 8 
Another woman to catch Will's attention is Season 8 newcomer Dr. Grace Song (T.V. Carpio), who caused quite a stir at Gaffney Hospital. Dr. Song introduced a new wave of technology to the old-school Chicago ED, leading her to butt heads with Will on numerous occasions. But those tiffs led to flirtatious banter, which culminated in the two doctors going on a few dates. 
Fans were apprehensive about Will and Grace's Chicago Med romance, mainly due to their immense differences. Hannah was keen to point out that many of Will's relationships (herself included) seem to trail back to the turmoil he harbors for everything that happened with Natalie (i.e. The One That Got Away). The workplace tension becomes too much for Will and Grace to take, so they end their situationship before it truly even heats up. Which makes sense, considering Will reconnects with Natalie in the Season 8 finale. 
This article was first published on April 19, 2023. It was updated on May 25, 2023.