NBC Insider Exclusive
Create a free profile to get unlimited access to exclusive show news, updates, and more!
Sign Up For Free to View
Why Halstead Left Chicago Med for Good After the Season 8 Finale
This character exit is a tough one for fans to accept.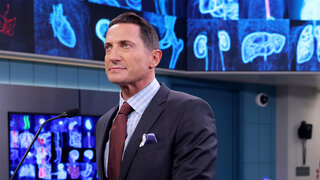 Emotions were high for many reasons during the Chicago Med Season 8. finale. One of them was because fans bid farewell to Dr. Will Halstead (Nick Gehlfuss), who's been saving lives on the show since Season 1. He'll be sorely missed — but how did we get here? Read on to learn everything that happened in the Chicago Med Season 8 finale, titled "Does One Door Close and Another One Open." 
It's been a nerve-wracking era of administrative changes at Chicago Med, all thanks to the corrupt new owner of the hospital, Jack Dayton (Sasha Roiz). Dayton's proudest investment, the O.R. 2.0., has taken a higher priority over patient lives, and it all came to a head in the Season 8 finale when Dayton decided to go under the knife himself to showcase O.R. 2.0.'s success.
What happened in the Chicago Med Season 8 finale?
After transforming Gaffney Medical Center into a for-profit hospital, Dayton quickly set his sights on going public with the O.R. 2.0. suite. In Season 8, Episode 21 ("Might Feel Like It's Time for a Change"), his ambition vamped into obsession after he suddenly announced he would become O.R. 2.0.'s next patient in a live-streamed surgery for interested investors. As the face of the fancy new operating room, Dr. Crockett Marcel (Dominic Rains) is on deck for the surgery, placing a massive responsibility on his shoulders. 
Dayton's announcement comes at the worst time, as O.R. 2.0. recently experienced its first patient fatality. Even worse, when Halstead and Marcel attempted to review the surgery data, they learned the patient's death was erased from O.R. 2.0.'s system completely. Marcel went to Dayton with his concerns, and Dayton revealed he was responsible for wiping the data and only did that to protect Marcel. Dayton claimed the patient only died because Marcel made a surgical error. 
Despite this, Dayton assures Marcel he still wants him to perform his surgery for the IPO demonstration. Seem suspicious? That's certainly the song Dr. Halstead was singing after Marcel gave him that update. Halstead can recognize that Dayton isn't trying to protect Marcel. He's trying to protect his million-dollar investment. 
While working with medical tech mastermind Grace Song (T.V. Carpio), Halstead learns that Marcel's surgery only went south because O.R. 2.0. displayed a lesion that wasn't actually present; a phantom tumor caused the AI to give Marcel the false directive that led to the patient's death. 
At the start of the Season 8 finale, Halstead tells Marcel that Dayton is trying to cover up a massive setback in O.R. 2.0.'s functioning just so he can push the IPO. Marcel is relieved to learn he didn't make a perilous mistake, but now they have an even bigger problem. The doctors unanimously agree O.R. 2.0. should be shut down until they can figure out a safe way to establish guardrails for the operating suite.
But who is at the top of the totem pole? Dayton, who's not only the owner of the hospital but also now its patient. How are they expected to get Dayton to stop the surgery when he owns every facet of the process? Marcel questions Jack about why he booked O.R. 2.0. for the surgery despite being aware of the recent malfunction.
As expected, Dayton doesn't care about the fact that his invention technically killed someone. Instead, he focuses on the importance of the IPO, telling Marcel that dozens of surgeons would eagerly replace him. But Dayton prefers Marcel to do it to uphold the brand, which is something he cares about deeply. To sell his pitch even further, Dayton promises Marcel that if he goes through with the procedure, he will sideline O.R. 2.0. when the presentation has concluded to guarantee any bugs or glitches are fixed. But Halstead is having none of Dayton's false promises and becomes furious with Marcel once he realizes he is still going through with the operation. 
Halstead becomes dead set on stopping Dayton's corrupt plan. He visits Sharon Goodwin (S. Epatha Merkerson) to disclose everything that has transpired, but even she admits Dayton has their hands tied. Unless Dayton's life is in danger, Goodwin has no authority to stop the surgery, especially under the parameters of Dayton's new for-profit system. Halstead is rightfully furious about the standstill.
"I can't stand what this place has become," Halstead snaps. 
Dayton's publicized surgery begins, and at first, everything goes smoothly. Goodwin, Halstead, and the dozens of investors watch as O.R. 2.0. directs Marcel through the routine procedure. Just as he is about to remove the hernia, 2.0. claims Marcel has cut into Dayton's intestine, loudly announcing Dayton has a 100% chance of going septic and dying if Marcel doesn't act soon. Naturally, the crowd is abuzz with panic as Marcel frantically demonstrates that nothing is actually wrong. Marcel assures them that Dayton's life is not at risk while shutting down 2.0. to complete the surgery.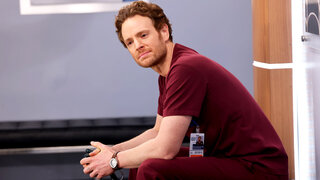 Halstead has never been one to sit back and watch injustice rear its head. As expected, he had a massive hand in Dayton's failed demonstration. Halstead and Dr. Song collaborated to sabotage Dayton's surgery. Inspired by O.R. 2.0.'s first recorded mortality, Halstead tampered with Dayton's procedure to depict a false incision, loudly displaying the system's known flaw. 
Later, Halstead stops by Goodwin's office, and instantly, she knows that he had something to do with Dayton's chaotic IPO demonstration. This is far from Halstead's first wrestle with hospital protocol; he's a known renegade with a track record of working around the system. 
Why did Will Halstead leave Chicago Med?
Halstead tells Goodwin he couldn't watch O.R. 2.0. kill another patient and admits he was responsible for the system glitching. Halstead claims he acted alone, despite Goodwin knowing full-well Dr. Song had a hand in the act. Halstead shuts those concerns up quickly by solemnly handing Goodwin an envelope. In the Chicago Med world, we all know that means one devastating thing.
"My letter of resignation," Halstead explains. "If Dayton comes looking for a culprit, you have one."
"So your plan is to take the blame," Goodwin realizes. 
"Let's just say I hope it ends the matter," Halstead confirms. 
"You realize I have no choice but to accept your resignation?" Goodwin asks. "And I hope you also realize that I don't want to." 
Halstead understands the weight of what he's doing, but at this point, he and Goodwin know there's no turning back. 
"It's not going to be easy for you out there, Dr. Halstead," Goodwin warned. "I can't give you a reference, and Jack Dayton has been known to be vindictive."
Halstead promises that he can handle it; he's developed a thick skin throughout his many years at Chicago Med. 
"Will Halstead, what are we gonna do without you?" Goodwin asks lovingly. "You have been a constant source of irritation and a constant source of inspiration. Your leaving will be a great loss to us."
Goodwin tearfully adds, "A great loss to me."
Halstead gathers his things from his locker for the last time and shares a heartbreaking goodbye to Maggie (Marlyne Barrett), who has also considered starting a new chapter this season. All the  Med doctors  then gather in the ED to give Halstead his official send-off. 
"I'm sorry I have to say goodbye," Halstead struggles to say. "This is not easy. You've been my family for so many years, and I'll never forget you. You'll always be a part of me, and I'll always be grateful for the time we had together."
In the final moment of Season 8, we see Halstead arrive at the Seattle airport. Med fans may remember that Seattle is where Halstead's former fiancée, Dr. Natalie Manning (Torrey DeVitto), moved after she left Chicago Med in Season 7. Halstead is greeted by Natalie and her cheerful son at the airport, sharing a meaningful glance with his former flame. Halstead and Manning were a whirlwind romance that lost its footing along the way. But Seattle may prove to be a more stable ground this couple. 
"Hey!" Natalie greeted.
"Hey," Halstead smiled.
"Is that all you brought?" she asks him, looking at his limited luggage. 
"I didn't know how long you'd want me to stay," Halstead admits.
"I'm never going to let you go," Natalie told him while going in for a heartfelt embrace. 
Halstead will be sorely missed, but we're happy to see he's charting new horizons with the woman who never left his rearview mirror. Get ready, Seattle: You just gained one talented doctor! 
Why did Nick Gehlfuss leave Chicago Med?
Gehlfuss opened up about his heartbreaking Chicago Med departure in a May 2023 interview with Variety, where he detailed the "full circle" nature of Halstead and Manning's reunion. Gehlfuss admitted that the decision to hang up Halstead's lab coat didn't come lightly.
"It was a difficult decision, but ultimately, I felt I'd taken Dr. Halstead as far as I can go with him," Gehlfuss told Variety following the Season 8 finale. "I think that comes down to a creative part of you, or the energy or spirit you have that you're either built for a very long time with one person or not. I am attracted to the profession for the variety in it, and eight years is a long time. It's two college degrees! I'm joking now that I basically have a doctorate in television."
Gehlfuss continued, "It's overwhelming, because of all the emotions. It wouldn't be that way if it didn't mean so much. It's like with love, if you truly love somebody then you're going to have very high moments and very low moments, because it's just so important to you."
As for a potential Chicago Med return on the horizon, Gehlfuss says there's always a chance Chi-Hards will see Halstead jumping back into the action one day. 
"We were all in agreement on that, thankfully, as I talked with Dick [Wolf] and the writers," Gehlfuss confirmed. "Whenever it makes sense again for important moments, I'd love to don the white lab coat once again."
For One Chicago fans that are grieving Halstead's departure, Gehlfuss has a message for Chi-Hards (since he isn't keen to posting on social media).
"It's no secret, without you, we would not have jobs. One of the most important things we can give to one another as our time. So thank you all for your time and your support," Gelfuss tells fans. "I have been so flattered by the amount of people that have come up to me to say something positive about One Chicago and my work. That is the best confirmation of the contract between audience and storyteller. While Will Halstead is leaving, One Chicago is not. Enjoy the seasons to come!"