NBC Insider Exclusive
Create a free profile to get unlimited access to exclusive show news, updates, and more!
Sign Up For Free to View
Devin Kawaoka Explains Why Dr. Tanaka-Reed Is So Arrogant on Chicago Med
Kawaoka spoke with NBC Insider about what makes Dr. Tanaka-Reed tick. Watch Chicago Med Wednesdays on NBC.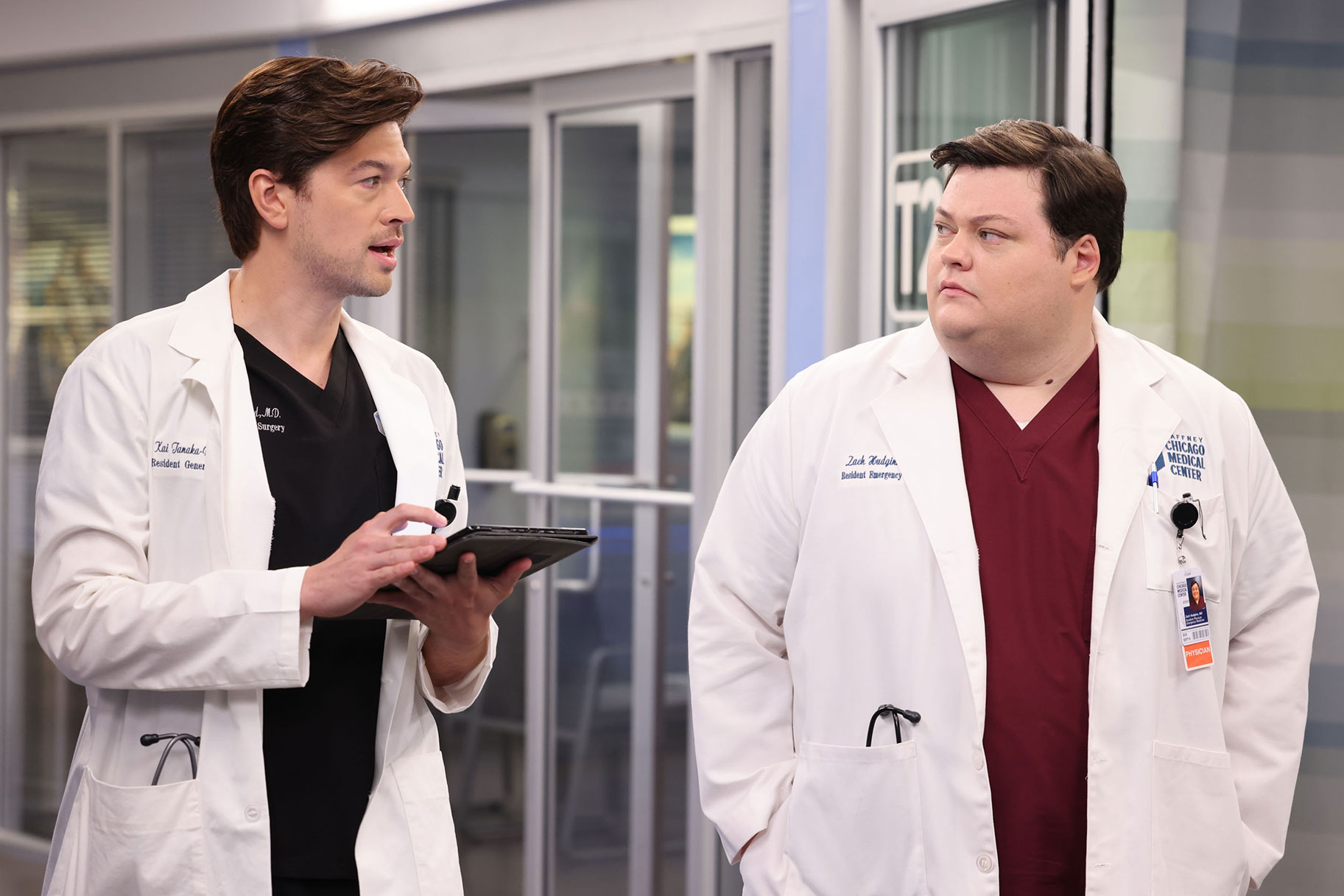 Season 8 of Chicago Med has been one of immense change. And while some changes have been dramatic, the introduction of new residents and doctors to Gaffney Medical Center has been an exciting refresh for fans. 
In the Season 8 Med premiere, Chi-Hards met the captivating newcomer Dr. Kai Tanaka-Reed, played by Devin Kawaoka. Kai has been a thrilling addition to the hospital due to his humorously aggravating ability to stir the pot of whatever room he's in. Kai is intelligent, tenacious, and dedicated to being at the forefront of cutting-edge medical technology. But with Kai's zeal comes an arrogant demeanor that thwarts his ability to truly connect with patients and colleagues.
Kai's holier-than-thou attitude seems to be a point of interest in the upcoming Episode 16, "What You See Isn't Always What You Get" (airing March 22 at 8/7c on NBC). The episode synopsis teases that Dr. Tanaka-Reed will get an ego check, and at this point, it's safe to say it's been a long time coming. 
Kawaoka spoke with NBC Insider about what Kai is up to in the upcoming episode. "Dr. Tanaka-Reed, he's been going about his business in the hospital and doing the best that he can every single day. He wants to be the best surgeon that he can possibly be... He is up on the new technology, so he's loving the introduction of O.R. 2.0," he says. 
Kawaoka is referring to Chicago Med's coolest new gadget, the O.R. 2.0., an AI-driven operating room implemented by the new owner of Gaffney Medical group, Jack Dayton (Sasha Roiz). Kawaoka says Kai is eager to get in on the new-wave action and "be a part of the new generation of doctor and surgeon who is at the forefront of technology in medicine."
Dr. Crockett Marcel (Dominic Rains) is the lead surgeon of O.R. 2.0., and as Crockett's resident, Kai has been center stage of some of the most nail-biting procedures this season. 
"He's excited to see and witness and learn as Dr. Marcel keeps learning and exploring with O.R. 2.0.," Kawaoka tells NBC Insider. "And so every case that comes into the hospital, he wants to take into O.R. 2.0... He then starts to have opinions about what kinds of surgeries are worthy of such beautiful technology."
Kawaoka continues, "He's trying to get the best surgeries and try to sit in and assist in every surgery that he possibly can because he wants to learn from the best."
Speaking of the best, Gaffney veteran Dr. Marcel has been tasked with not only leading O.R 2.0. but also managing Kai's ego. While Marcel could easily slap Kai with verbal judo, he's been handling Kai's entry to the team with care. When we asked what working closely with Rains has been like, Kawaoka spoke fondly of the Chicago Med O.G. 
"I love acting with Dominic Rains; he's a tremendous actor," Kawaoka says. "That was one of the greatest gifts on the first episode, that I got to spend building Kai with him. Partly because he really takes the surgery part so seriously. He really wanted to learn how to become a doctor."
"...He's a consummate professional, and then on top of that, he really loves to listen and connect and build story," Kawaoka adds. "He really mentored me, not just in the capacity of being a doctor and being Kai, but also in ways of being like, 'Oh yeah, let's keep playing with this because that's a really great moment.'"
Fans have been in no shortage of great moments between Kai and Dr. Marcel, mainly because the fresh-faced resident's arrogance keeps the Chicago Med team on their toes. It's been a while since we've had a cocky personality in the hospital, and Kawaoka reveals there are explanations for Kai's arrogance. 
"I think one of the things that's so fun about this show is sort of the slow reveal of who a character is, you know? He [Kai] clearly has something to prove," Kawaoka explains. "There are many reasons why Kai's arrogance is a cover for his insecurities. I don't want to get in the way of the writer's room, but as an actor, I've imagined many possibilities. He may have grown up without means and needed to succeed at a very high level in order to earn his place in medical school. I also imagine he's an introvert at heart and suffers from some social anxiety from not fitting in."
Kawaoka adds, "He may have needed to compensate for having felt different and on the outside of his peer groups with his wit and intelligence. Or he may have had a difficult upbringing without parental support. Whatever it may be, up until this, he has believed that the only person he can count on is himself and that has brought him this far."
Kai's survival skills may have gotten him this far, but where is he heading? Kawaoka tells NBC Insider that regardless of his inflated ego, Kai is slowly accepting that he isn't the hospital's center of gravity. 
"One of the things that he is learning as a first-year surgical resident is how to interact with other doctors, with patients, with protocols, with hierarchy," Kawaoka concludes. "All these things are super important in a hospital. Chicago Med is a team, and I think Kai is learning to be a part of a team."
Watch Chicago Med on NBC Wednesdays at 8/7c and the next day on Peacock.
Speaking of Chicago Med, co-showrunner Diane Frolov has released her first-ever musical, Come Get Maggie! Fans can buy tickets to see the show until March 26.