NBC Insider Exclusive
Create a free profile to get unlimited access to exclusive show news, updates, and more!
Sign Up For Free to View
Dr. Charles Got an Exciting Love Life Update in the Latest Chicago Med
Watch Chicago Med Wednesdays at 8/7c on NBC and next day on Peacock.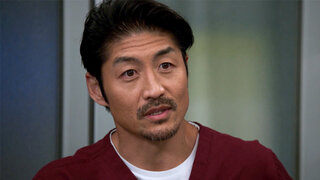 Tensions have been high on Season 8 of Chicago Med, and Sharon Goodwin (S. Epatha Merkerson) has her hands full with the many challenges plaguing Gaffney Medical Center. Administration changes and staffing shortages have created an omnipresent anxiety amongst the doctors, and the supply shortages have done nothing to help. In Season 8, Episode 15 ("Those Times You Have to Cross the Line"), it all came to a head after the doctors suspected a literal plague had entered the hospital.
The episode began with the custodial staff striking outside the hospital as part of their union's ongoing contract negotiations. Dr. Charles (Oliver Platt) stands alongside his current, Liliana, one of the custodians at the hospital. Once Sharon realizes Charles is one of the protestors, she questions him, and he reminds her that it is his day off and he can stand in solidarity. Dr. Charles has always supported Liliana's cause, but it seems like he is taking extra steps to guarantee she knows this, even if it puts him at odds with Sharon.
With the custodians on strike, the hospital isn't operating at its finest, with Jack Dayton (Sasha Roiz) bringing in scabs to replace the staff during said strike. Dr. Will Halstead (Nick Gehlfuss) chats with a patient, Walter, who visits the hospital with a nasty cut on his leg that Halstead suspects might be infected. Walter mentions he always goes to Chicago Med because he appreciates their diligence.
But when Halstead goes to throw his gloves away, the trash is overflowing. Maggie (Marlyne Barrett) realizes that the low-paid replacement janitors are not thoroughly cleaning the patient rooms after use, so she and nurse Doris start picking up where the replacement crew has fallen short.
Once Halstead brings the situation to Sharon's attention, it becomes her responsibility to get operations back in shape. Luckily, she recently had a very successful (and flirtatious) lunch with George Thomas, the hospital's newest board member and a friend of Dayton's. Sharon brings Halstead's concerns to George and mentions that patient care has been compromised due to the prolonged negotiations with the union. George tells her that negotiations should end soon and that she'll be the first to know once there are updates. 
Slowly but surely, the hospital falls into disarray due to the custodial absence. Halstead realizes Walter, has developed a rash on his back since his admission and becomes suspicious, as this throws off his entire diagnosis. Luckily, Dr. Song is there to run Walter's labs to help expedite the troubleshooting. And what do they find as one of Walter's possible ailments? Plague.
Yup, the bubonic plague. Halstead and Song think the rash might be from flea bites, the main way the virus spreads. And while that might seem wild, they realize the last case of bubonic plague was reported in San Fransisco just a few weeks prior, and Walter hurt his leg during a trip to Yosemite. Chicago Med has a potential outbreak on its hands, and Sharon's job just got a whole lot harder. 
Halstead communicates his contagion concerns to Doris so that she can alert the nurses and notices that she can't stop scratching her neck. When he asks to check it out, he finds the same rash as the one on Walter's back. Halstead asks Doris if she interacted with Walter, but she says she hasn't. She's been too busy handling housekeeping tasks for patient turnover due to the strike. Dr. Song points out that it can't be the bubonic plague because the incubation period is two days. So what's causing the rash?
Halstead has an epiphany as he looks at the overflowing cart of hospital gowns and sheets. He rummages through the laundry until he finds what he is looking for and takes a quick picture on his phone. 
"Unbelievable," Halstead says astonished. "I know exactly what this is."
Cut to an incredibly irate Sharon, who is booking it toward George. And while George seems delighted to see her again, Sharon is no-nonsense as she brings the latest development to his attention.
"Hey, Sharon! How great is this? Twice in one day," he says. 
"I'm sorry, George, we have a serious problem," Sharon says while pulling out her phone. "Take a look."
After analyzing the photo, George gives up. "I'm not understanding what I'm looking at."
"Eggs!" Sharon exclaims. "Eggs, George, from bedbugs. One of my doctors just took this picture in our ED. It seems that the replacement janitors have not been properly changing sheets or sanitizing the rooms. A patient has developed a rash from a bug bite, so has a nurse, and it remains to be seen who's next."
Sharon tells George that the strike needs to end, and as one of the negotiators, she is pleading for him to understand where she's coming from. But when it comes to Jack Dayton, it's all about the money, and no one knows that better than George.
"Jack's not going to give in unless he gets more concessions from the union," George admits. "He says we can't afford to."
"But what about liability lawsuits from patients?" Sharon challenges. "Can we afford those?"
"Yeah, I hear you," George promises. "I'll make sure Jack understands what's at stake."
Cut back to a dejected Walter, who has learned that his trusted hospital's lack of cleanliness led to a bed bug infestation and a rash. Walter tells Halstead how disappointed he is with the hospital, and Halstead can't blame him. The hospital has changed, and the patients are ultimately the ones suffering the most. On the bright side, Sharon's conversation with George was fruitful: the board and union reached an agreement for a new contract, and the regular custodial staff will return.
Sharon may have turned down George's pitch for a date, but they have already shown they make an amazing team. Sharon is always prone to keep it professional, but it seems like George is willing to go out of his way to show her that he is on her side.
Meanwhile, Dr. Charles meets up with Liliana to wish her congratulations on the union's victory and finds her leaving the hospital with a group of coworkers. He apologizes for getting wrapped up at work, but she assures him she understands he was with a patient. The smitten sweethearts are communicating, and with the union's success in their corner, Dr. Charles and Liliana's fling is smooth sailing.
"I'm going with my friends to celebrate," Liliana tells Dr. Charles. "Come!"
"Oh no," Dr. Charles says. "Your victory, your party. Have a good time!"
"No, Daniel, you have to come," Liliana says, before saying the magic words Dr. Charles has been waiting to hear since first setting sights on her. "You're my boyfriend!" 
Dr. Charles smiles, taken aback by the casual comment. "I am?" he says. 
"Yeah," Liliana confirms while taking his arm.
"Oh," Dr. Charles beams. "When you put it that way..."
So exciting! To see what happens next, watch Chicago Med Wednesdays at 8/7c on NBC and the next day on Peacock.