NBC Insider Exclusive
Create a free profile to get unlimited access to exclusive show news, updates, and more!
Sign Up For Free to View
Dr. Charles' New Relationship Just Hit a Major Roadblock on Chicago Med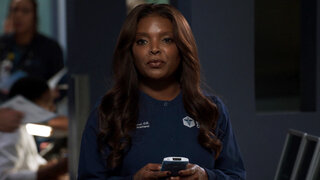 Anytime Chicago Med shines a light on Gaffney Medical's Head of Psychiatry, Dr. Daniel Charles (Oliver Platt), fans are in for a treat. And such was the case for Season 8, Episode 14, titled  "On Days Like Today... Silver Linings Become Lifelines."
While Charles and Sharon Goodwin (S. Epatha Merkerson) are usually the best of buds, the two friends were at odds by the end of this episode, and there may be trouble ahead in his relationship with Liliana (Alet Taylor).
For context: In Season 8 of Chicago Med, Dr. Charles has been dating Liliana, a singer by night and custodian by day at Gaffney Medical Center. While Dr. Charles doesn't have the best romantic track record, things have been going beautifully between the smitten new couple. But workplace romances come with their fair share of challenges, which came to a head in the latest episode. 
The episode begins with Sharon and Jack Dayton (Sasha Roiz) beginning their search for a new board member for the hospital amidst ongoing renegotiations with the custodian workers union. While getting tea with Dr. Charles, Liliana admits she's nervous that she and her coworkers would be out of work soon due to the negotiations. Dr. Charles reassures her that all would play out fine and the hospital would likely reach a deal. Spoiler alert: it's not that simple!
Dr. Charles tells Sharon that Liliana thinks negotiations are getting tense with the union and a strike could be on the horizon. But Sharon doesn't think a strike will occur, leading Dr. Charles to speak up for the custodians.
"I gotta say, though, it does make me wonder why we can't give our lowest paid employees, I mean, even a 6% raise?" Dr. Charles asks before Sharon quickly shuts the conversation down.
"It would be setting a precedent that we can't afford to make with the other unions, Daniel. And once we finish with these negotiations, we go into talks with the nurses union, and then it's the plumbers union, I mean..." Sharon trails off. "You get the picture, right?"
While Dr. Charles' position at the hospital and his role as boyfriend begin to clash, Sharon has a surprisingly successful lunch with George Thomas, a candidate for the board. So successful that George asks Sharon out on a date! She politely declines, but the chemistry is clear between the two. And while Sharon is smitten, Dr. Charles and Liliana's relationship hits a roadblock. 
Liliana visits Dr. Charles for help managing her anxiety surrounding the union negotiations. She tells him that she is speaking to the press about the situation, which makes Dr. Charles nervous because he knows it won't look good to Sharon. 
"I wonder if that's really the best tactic for the union to take right now," Dr. Charles tells her. "To talk to the press while negotiations are still ongoing." He explains that doing so could be seen as a bad-faith move and result in personal repercussions.
And that may have been a good point, but Liliana reveals the hospital has hired workers from all over the country to replace the custodians, effectively undercutting their efforts to negotiate a raise. That development led Liliana to decide to go on the record. 
Dr. Charles takes his concerns directly to Sharon and voices his frustration that she didn't reveal how bad the situation was earlier, accusing her of adopting scare tactics by hiring scabs.
"I don't like it, either," Sharon tells him. "But it's also a necessary precaution."
"Did you know about this when we were talking this morning?" he asks. "I thought you told me that the negotiations are going well."
"No, what I said was that I didn't foresee a strike, but look, we still have to be prepared for the possibility of a work stoppage, Daniel. Anything less is negligence," she says. 
Dr. Charles and Sharon argue, and she reminds him to not tell her how to do her job. While Sharon is focusing on averting a strike, Dr. Charles is more concerned about Liliana's side of the picket fence. If viewers were worried that Dr. Charles' position at the hospital could become a conflict of interest in his relationship with Liliana, it is safe to say the other shoe has started to fall. 
The episode ends with Dr. Charles visiting Liliana before her interview with the newspaper. Liliana reveals that the reporter would like to also speak to a doctor at the hospital that supports the union and asks Dr. Charles if he would be willing. 
"That would be a violation of my employment contract," Dr. Charles explains. "I'm not allowed to speak to the media without talking to the hospital first."
Liliana says he wouldn't have to go on record; he would only need to state his department, but Dr. Charles remains nervous.
"Liliana, I would love to help, but I mean, I just think that people would, you know, they'd connect the dots pretty quickly," Dr. Charles says. "Don't you think?" 
Defeated by their discussion, Liliana realizes Dr. Charles' position has hindered his ability to truly support her. He reminds her that he supports their cause, but she shrugs him away. This is the first tension the pair has faced together, and it's no secret that Liliana stands to lose much more in this complex power dynamic. Will Dr. Charles find a balance between his relationship and his role at the hospital, or is the relationship destined for turmoil?
Find out by watching Chicago Med Wednesdays at 8/7c on NBC and the next day on Peacock.