NBC Insider Exclusive
Create a free profile to get unlimited access to exclusive show news, updates, and more!
Sign Up For Free to View
There Was a Little Crossover Action in Chicago Med's Latest Episode
The whole One Chicago family is here.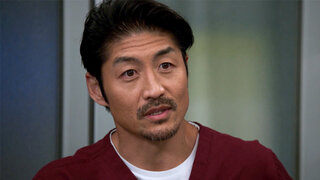 Chicago Med Season 8 has been full of non-stop action and nail-biting medical scenarios, so it's no surprise we've had quite a few One Chicago crossover moments this season. The latest of these fun, "Look who it is!" moments came in Chicago Med Season 8, Episode 8, titled "Everyone's Fighting a Battle You Know Nothing About," when both Chicago Fire and Chicago P.D. characters visited Gaffney Medical Center. Chi-Hards live for these crossover scenes, so let's recap this great One Chicago episode. 
Episode 8 begins with Goodwin (S. Epatha Merkerson) introducing the Chicago Med doctors and nurses to the "newest member of emergency medicine," Dr. Justin Leo. Justin is a first-year resident who has spent the last decade working as a search and rescue specialist.
We get our first crossover moment when Justin receives a surprise visit from Chicago Fire's Blake Gallo (Alberto Rosende). Gallo tells Justin that he was in the neighborhood and wanted to pop in to say hello on his first day. "What's up, Gallo!" Dr. Will Halstead (Nick Gehlfuss) says to the firefighter. "Clearly, you two know each other." Blake and Justin fist-bump like total pals, indicating that the Chicago Med newcomer is no stranger to saving lives. The best buds are broken up by a patient arriving, but it's clear that Justin will be a prominent new character in future episodes. 
Meanwhile, Dr. Hannah Asher (Jessy Schram) and Dr. Nellie Cuevas (Lilah Richcreek Estrada) are dealing with a much darker case when a young woman named Gloria arrives at Gaffney Medical after being drugged at a warehouse party. She strongly suspects she has been sexually assaulted, so Hannah and Nellie work together to complete a rape kit. Gloria is very skittish and becomes especially concerned about the procedure being recorded and potential medical costs. Nellie and Hannah do their best to ease Gloria's worries, but there seems to be something left unsaid.  
The rape kit's results reveal Gloria sustained injuries from a sexual assault, with a possible fingerprint pattern found. Nellie brings up mental health services, but Gloria insists she wants to go home. Hannah encourages Gloria to report the assault to the police, but Gloria says she wouldn't be able to "press charges anyway" because "no one else can know." Hannah continues to try to convince Gloria to report the assault until Nellie cuts her off. Nellie tells Gloria they'll prepare her discharge paperwork.
Hannah pulls Nellie to the side and tells her that she feels they should have a deeper conversation about reporting the assault, but Nellie disagrees. Nellie notes Gloria's unwillingness to show ID, lack of insurance, and fear of the police, revealing that she strongly suspects Gloria is undocumented. While Hannah tries to assure Nellie there are protections for undocumented immigrants reporting crimes like sexual assault, Nellie explains that based on current events, she understands why Gloria doesn't want to report the incident.
Gaffney Medical later gets a visit from Chicago P.D.'s Hailey Upton (Tracy Spiridakos), who is there with a patient named Chelsea. Upton flags down Hannah, telling her she's there to investigate a potential rape. Chelsea walked into the precinct after blacking out at a warehouse party in Pilsen, meaning Gloria's assault was likely not an isolated incident. 
After hearing about these developments, Hannah and Nellie argue the ethics of convincing Gloria to report the assault. Nellie insists that the system can't be trusted to protect Gloria, and while the report would strengthen a case, she gets why Gloria wouldn't jeopardize her and her family's life to report the assault. On the flip side, Hannah argues that Gloria would benefit from pressing charges to help address the lingering trauma that the assault has created. Sweeping the incident under the rug could be dangerous for Gloria's mental health. No one is wrong in this debate. In the end, it's Gloria's call. 
Hannah visits Gloria for her discharge, encouraging her to take up their offer of therapy sessions. Before Gloria leaves, Nellie arrives and reveals to Gloria and Hannah that she is undocumented. Due to her career path, Nellie can legally work and live in Chicago, but she still keeps her undocumented status hidden. Nellie tells Gloria that she's telling her this because she trusts her, and if she ever wants to report the assault, Nellie and Hannah will have her back. 
Pass the tissues! Nellie's kind words end up being the push Gloria needs to press charges. Later, Hannah introduces Gloria to Upton to file the police report. Chicago P.D. fans are well aware of Upton's graceful nature with victims, but it especially comes in clutch for this emotional moment. 
"We can talk here if you want," Upton tells Gloria. "Go outside for a walk and get some air. It's up to you."
Episode 8 of Chicago Med was an emotional ride, with fans finally learning more about the Season 8 newcomer Nellie Cuevas and meeting a fresh face in the ER, Justin Leo. To see what happens next, watch Chicago Med Wednesdays at 8/7c on NBC and the next day on Peacock.