NBC Insider Exclusive
Create a free profile to get unlimited access to exclusive show news, updates, and more!
Sign Up For Free to View
A Breakdown of the Current Chicago Fire Cast
The Windy City is a safer place with these firefighters on call.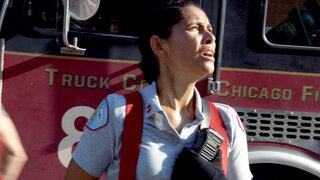 Throughout Chicago Fire's 11 action-packed seasons, we've seen many faces come and go, but the core members of Firehouse 51 have remained. 
Here's a look at the current Chicago Fire cast:
The focal character of Chicago Fire is Kelly Severide. A huge reason why Kinney shines as Severide is his ability to create a complex, nuanced, imperfect yet avidly beloved character. Season 10 ended with Severide and Stella Kidd tying the knot, and in Season 11, they're adjusting to married life. 
"This is home." Kinney said on Today regarding the city of Chicago. "Times have changed, and the city has changed, and people have grown."
Despite showing up in Season 4 of Chicago Fire, Mayo has become a fan favorite with her stellar performance as Stella Kidd. Stella is tenacious, compassionate, and never afraid to fight for what she wants. Whether that's becoming a lieutenant or managing to steal the heart of Severide, Mayo has a way of elevating every scene that she's in. 
On her favorite scene from the show, Mayo told NBC, "I loved the scene with Boden and me, where he's telling Stella that he believes in her and that he thinks she can be a leader. I had said, like, I wanted to be in more stuff with Eamonn [Walker], and then it happened."
Every hard-working firehouse needs a steadfast Deputy, and Chief Wallace Boden, played by Walker, has never wavered in his dedication. Walker is the perfect leader of Firehouse 51, always willing to throw himself into the line of fire (literally) to save Chicago residents. While many Deputies might hide in their offices, Boden puts just as much work into understanding and caring for Firehouse 51 as he does in taking action on the front lines. 
Firehouse 51's sweetheart yet devoted paramedic Sylvie Brett is played by Killmer. Killmer has an effortless ability to add charm to any scene that she's in. In Season 11, she's dealing with the aftermath of her breakup with Casey (Jesse Spencer). 
Chicago Fire wouldn't be accurate to its Midwest setting without seeing the firefighters head to a local bar at the end of a hard shift. Molly's is that bar for Firehouse 51, owned and operated by fellow firefighter Chris Herrmann, played by Eigenberg. 
Joe Minoso as Firefighter Joe Cruz, Squad Company 3
Firehouse 51 firefighter Joe Minoso is played by Cruz, a long-time favorite among Chicago Fire fans. Joe takes his life experience and becomes a caring, empathetic, and integral part of Firehouse 51's success. 
Christian Stolte as Firefighter Randy "Mouch" McHolland, Truck Company 81
Every Dick Wolf drama needs comic relief, and for Chicago Fire, it's undeniably Randy "Mouch" McHolland, played by the hilarious Stolte. Despite being a seasoned firefighter who always knows when to get serious, he's a jovial guy who enjoys his time on the couch ("half-man, half-couch" is how he earned his nickname). Mouch is also half of the One Chicago power couple "Plouch" alongside Trudy Platt (Amy Morton) from Chicago P.D. 
On the most romantic thing Mouch has done for Platt, Stolte told NBC Insider, "I think it's a combination of all the square-dancing, scrapbooking classes, and all the things like that that you know damn well Mouch would not want to do but does it for her." 
Alberto Rosende as Blake Gallo, Truck Company 81
Blake Gallo, played by Rosende, is a new-ish addition to the Chicago Fire cast, and one of the good friends of Severide, Herrmann, and Casey after they notice his relentless energy. Despite being the token young jokester among the group, you can always rely on Gallo to jump in and help when the fires start burning. 
Ritter began as a timid firefighter candidate but soon gained his footing. 
Hanako Greensmith as Paramedic Violet Mikami, Ambulance 61
Violet Mikami, played by Greensmith, is another addition to the late seasons of Chicago Fire alongside Gallo, a friend since their time at the Fire Academy. She's in constant competition with Gallo, which leads to a flirty relationship that escalates into something more. Violet is the paramedic you hope shows up if you're ever in need. Straightforward and tenacious while also occasionally sentimental, Chicago Fire has become even better with Greensmith in the cast. In Season 11, she's coping with the aftermath of her boyfriend Hawkins' (Jimmy Nicholas) sudden death. 
"I think Violet is 'gonna do what anybody would ,which is the best they can," Nicholas told NBC Insider about how Violet will process life without Hawkins. "That's grief. I'm sure there'll be episodes where she's OK, or at least the world thinks she's OK, and there'll be episodes where the world can see she's not OK. It's not a linear line through grief, and I think Violet will be the same...We all deal with grief every single day, and I think Violet will do her best to get through it. I know there'll be certain moments where she is strong and pushes through and does amazing things, and maybe even uses his memory to do great things. And there will be other moments where she's vulnerable and not OK, and I hope that her journey on the show shows both sides of that coin." 
Jake Lockett as Sam Carver 
A.K.A, Firehouse 51's newest recruit who we still don't know that much about, just that  he has a mysterious scar, a tense relationship with his Academy classmate Stella (Miranda Rae Mayo), and a knack for getting into bar fights after hours⁠—and having Stella, of all people, bail him out. 
"I think for Sam, trusting people is not always the easiest thing," Lockett tells NBC Insider. "When you're dealing with this new family [at the firehouse] and you're trying to get your ground, some things are just harder to open up about. We can all relate to that, people wanting to know more about you, but the things you're keeping close to the vest have a lot of pain attached. 
Chicago Fire can be streamed in full on Peacock.