NBC Insider Exclusive
Create a free profile to get unlimited access to exclusive show news, updates, and more!
Sign Up For Free to View
All About Sam Carver, the Cocky New Recruit on Chicago Fire
How did he get that scar?!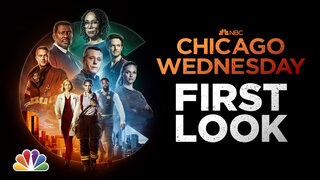 The Chicago Fire Season 11 premiere saw the arrival of a new, cocky firefighter: Sam Carver, played by Jake Lockett. It's clear just from Episode 1 that he's going to make a splash at Firehouse 51—especially because he has a past with Stella (Miranda Rae Mayo), who initially isn't thrilled about his arrival. Here's what we know about this new character—and what the Chicago Fire showrunners are saying about him. 
Who is Sam Carver on Chicago Fire?
After not being happy with Mason Locke's original replacement on Truck 81, Chief Boden (Eamonn Walker) brings on Sam Carver, who we find out went to the Academy with Stella. There's weird energy between the characters from the jump. Stella tells Chief Boden Carver is trouble and that they didn't get along in training because he's arrogant. "With all due respect, he's not 51 material," Stella says, point-blank. But Boden disagrees, telling Stella maybe her leadership is just what's needed to work out Carver's flaws.
Related: Here's Why Severide Just Put Himself—And Maybe Stella—in Danger on Chicago Fire
Stella clears the air with Carver before he starts at Firehouse 51, noting how they weren't exactly best friends at the Academy. Carver shrugs this off by saying they were just two competitive people, but Stella sees it differently: His cocky attitude is what turned her off. Now that Carver is the newbie, though, he wants to show Stella the kind of firefighter he is.
Unfortunately, he doesn't get off to a good start. Carver reacts strangely when Stella tells him she's now a Lieutenant. He says he "could see" DC Hill (J. Nicole Brooks) liking her, and Stella takes this to mean he thinks she was only promoted because she's a woman of color. Severide (Taylor Kinney) says Carver's just trying to psych Stella out, but regardless, he's already put a bad taste in her mouth.
Still, he's introduced with effusive praise by Chief Boden. However, on his first job, Stella gives him a less-intense responsibility. When asked about this by Boden, Stella says Carver still has to prove himself to her. Stay tuned to see if that actually happens. 
In Season 11, Episode 4, Carver gets involved in a drunken brawl and is sent to jail. The only person he has to bail him out is Stella, who is mystified by the behavior—only making his past more mysterious. However, Carver tells Stella not to worry about who he is outside of 51. All that matters is who he is when he punches in. 
How did Sam Carver get his scar on Chicago Fire?
In the first episode, the camera pans to a scar on Sam Carver's arm. It looks intense but no explanation is given. On whether or not we'll get the full story behind the scar, Chicago Fire co-showrunner Andrea Newman tells NBC Insider, "We know what it is. We're 'gonna get into that." 
In Season 11, Episode 2, Carver is asked about his scar and explains that he got it in a house fire. But Stella sees right through this lie and calls him out on it at Molly's. She tells Carver that she also has things from her past that she'd like to revise the story on; however, that doesn't constitute him lying. She warns him that there isn't a place for him on Truck 81 if he lies again, and to this Carver says, "Then I'll just have to keep quiet about the scar." 
He keeps quiet until Season 11, Episode 10. After reeling from the explosion that put both their lives in danger, Carver opens up to Stella about how he got his scar: His brother pushed him into a fire when he was nine years old. 
How will Sam Carver impact Firehouse 51?
Newman tells NBC Insider, "Stella and Carver were rivals in school. There's friction from the moment he arrives, and Boden has a reason for bringing him in over Kidd's objections. We love this actor, Jake. He brings a lot to the character of Carver, who's a mystery. We keep calling him a man of mystery with a lot of layers to peel back." 
Co-showrunner Derek Haas adds, "What's not a mystery is he's a great firefighter, which is valuable to any rig in our group. But it's all the stuff that goes beyond that. How you behave out of the firehouse, off-shift. Who you hang out with. Some of the darker places you end up in. All of this will be affecting Stella."  
By Season 11, Episode 10, it seems Stella has learned to embrace Carver's cocky attitude, but stay tuned to see what happens next. 
Watch Chicago Fire on NBC Wednesdays at 9/8c and next day on Peacock.