NBC Insider Exclusive
Create a free profile to get unlimited access to exclusive show news, updates, and more!
Sign Up For Free to View
There's a Reason Sam Doesn't Trust Stella on Chicago Fire
The actor who plays Sam, Jake Lockett, opens up to NBC Insider about the characters' rocky relationship.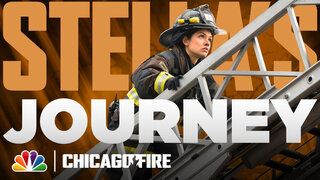 We still don't know much about Sam Carver (Jake Lockett), Firehouse 51's newest recruit on Chicago Fire. So far, fans have learned the following things: he has a mysterious scar, a fraught relationship with his Academy classmate Stella (Miranda Rae Mayo), and a penchant for getting into bar fights after hours⁠—and having Stella, of all people, bail him out of jail. All that to say, the man is very mysterious—and it doesn't look like we're getting answers any time soon. NBC Insider sat down with Lockett to get some answers, and he couldn't reveal much, just that Sam's past—including his connection and beef with Stella—will be revealed in time. 
Of course, though, it's not all drama. In Season 11, Episode 5, we see Carver forge a friendship with Gallo (Alberto Rosende), and it's clear he's coming into his own at 51. Below, read more from our conversation with Lockett, the firefighter fans can't stop talking about. 
NBC Insider: What can you tell us about the sides of Sam that he's keeping hidden?
Jake Lockett: There are certain things I can't say.  But I think for Sam, trusting people is not always the easiest thing. When you're dealing with this new family [at the firehouse] and you're trying to get your ground, some things are just harder to open up about. We can all relate to that, people wanting to know more about you, but the things you're keeping close to the vest have a lot of pain attached. 
Sam and Stella got off on really bad footing at the start of the season. What can you tell us about the trajectory of their friendship?  
The nature of their relationship, I think, is one where the trust is gone, you know?  So not only is this someone you don't know at this point, but in the past, there was some scar tissue that hasn't really healed. It's going to take a little bit more than just her being earnest [towards him]. We're going to have to go a little deeper than that, I think, before he really opens up on everything.  
Related: What's Next For Stella Kidd on Chicago Fire?
Will we see Sam forge any surprising friendships in 51? 
Yes! There are going to be some fun excursions. You guys are going to really see the people he ends up creating connections with. There are people on the crew and those people are reaching out, trying to get to know him. And all that good stuff is not lost on him. I think those people reaching out will end up breaking down some of Sam's protective exterior. 
Might we see a love interest down the line, as well? 
I don't know currently. It makes sense that there would be, and I hope there is. I think that's always a fun piece to have with a character and explore.  So, I hope so.
What's been your favorite part about working on Chicago Fire so far?
The family element [of the cast and city]. I went and did a ride-along at one of the firehouses here in Chicago. And [the family element is] not just the show.  It's something that is in the Chicago Fire Department as a whole.  The scene, the family nature, the ribbing, the good times, but also the support. These people really and honestly care about each other like family.  And that was not lost in the transition to making this a television show. It's honestly been my favorite part of being here.
Watch Chicago Fire on NBC Wednesdays at 9/8c and next day on Peacock.