NBC Insider Exclusive
Create a free profile to get unlimited access to exclusive show news, updates, and more!
Sign Up For Free to View
Here's Exactly How Stella Kidd's Journey on Chicago Fire Has Unfolded
From rising the ranks at Firehouse 51 to giving back and marrying her true love, this woman has achieved *so much.*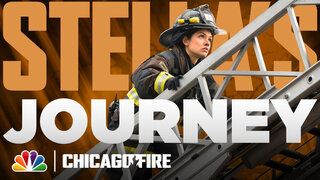 Chicago Fire has kept audiences on the edge of their seats for 10 heart-pounding seasons, and Stella Kidd (played by Miranda Rae Mayo) has been a fan favorite since her Season 4 debut. Since then, she's become a series regular, a lieutenant, and most recently, a wife to Kelly Severide (played by Taylor Kinney). 
Stella has undergone many internal and external shifts that have greatly expanded her character. Here's a recap of the milestones in her journey. Check out the video above which highlights these memorable moments.  
Stella joins the Firehouse 51 team 
Fans have been rooting for Stella since her time at Firehouse 51 as a firefighter on Truck 81 began. According to Mayo, there were many parallels between her experience joining the cast and Stella joining the team. 
 "From the jump, there was the support of [Gabriela] Dawson's character," Mayo previously told Looper. "Since Dawson was supportive, everybody else hopped on board and was very quick to embrace [Stella]. That's very much how my experience [with the cast] was off-camera."
Things heat up between Stella and Severide
It wasn't long before Severide's character started to fall for her too. In Season 4 Episode 15 "Bad For The Soul" we learn that Severide and Stella have known each other since their time at the training academy. Although moving on from her first marriage to Grant Smith wasn't easy, it soon became clear that she and Severide couldn't ignore their connection any longer. 
Stella gets back on track after a life-threatening house fire 
During Season 7, Stella got trapped in a house fire which landed her in the hospital, about to get a lung-removal surgery that could end her career. Fortunately, the doctor found another solution, and Stella made a full recovery. 
Stella starts making career moves
As Stella began to settle into her job, it became clear that she is destined for greatness. Stella began her ascent up the ranks after Chief Boden (Eamonn Walker) pointed out her leadership skills, and even asked her to represent the entire district at the IAFF event to showcase future fire service leaders.
Stella Starts the Girls on Fire initiative
During Season 8, Stella launched the Girls On Fire initiative to empower at-risk girls. "She saw that something could be better and was [like], 'OK I can do that.' It wasn't anything as grandiose as, 'I want to make sure that there are more women in the CFD," Mayo told Monsters & Critics. 
Stella gets promoted to Lieutenant 
Chief Boden's encouragement continued, and Kidd proved time and time again that she has what it takes to become a lieutenant. Although it's no easy feat, her perseverance was rewarded in Season 10 Episode 14 "An Officer With Grit" with the news that she made the cut.
"I'm just seeing her develop into this leader by way of encouragement," Mayo told Looper. "It has really been a lot of fun to play with and to act out."
Stella and Severide tie the knot 
Season 10 also marked a huge personal milestone for Stella—her wedding to Severide! These two have been going strong for a while and watching them make things official at the end of the season was definitely a full-circle moment. And it felt so right, that she asked Chief Wallace to walk her down the aisle. 
Ultimately, Stella has come so far; we can't wait to see how she continues to grow. 
Chicago Fire Season 11 premieres Wednesday, September 21 at 9/8c on NBC and next day on Peacock.