NBC Insider Exclusive
Create a free profile to get unlimited access to exclusive show news, updates, and more!
Sign Up For Free to View
Chicago Med Showrunners Reveal What's Next for Chexton After Their Wedding
What's on the horizon for the two honeymooners?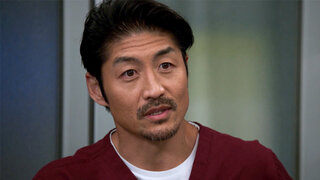 While many romantic moments on Chicago Med are rushed due to the chaotic nature of the hospital, fans are finally getting what they've been waiting for: a proper wedding between Ethan Choi (Brian Tee) and April Sexton (Yaya DaCosta).
Since April and Ethan reconnected toward the beginning of Season 8, fans have had their fingers crossed for the former flames to rekindle their romance. Slowly but surely, Chexton became a reality again when Ethan revealed the two were engaged (again). Season 8, Episode 9, titled "This Could Be the Start of Something New," will mark the Chexton wedding and the exit of the beloved ER doctors as they explore married life together outside the hospital. But what's in store for the two lovebirds after Gaffney Medical Center?
Chicago Med co-showrunners Diane Frolov and Andrew Schneider reveal that a Chexton wedding was in the works from the beginning of Season 8. "Both have evolved professionally and emotionally in ways that allow them finally to join their lives together," Frolov says to People. "When they reconnected earlier this season, April saw that Ethan was now more open, less rigid; and Ethan realized he could now be the man she needed. This allowed the feelings both still felt for one another to blossom."
As for what's planned for the couple after the wedding, Schneider reveals that the newlyweds will remain in the Windy City. "They're starting a mobile clinic so that together they can take first-rate medical care to underserved neighborhoods in Chicago," Schneider reveals. "They'll remain in town!" Could this mean Ethan or April may stop by the ER for an occasional cameo? In the One Chicago universe, anything is possible.
"We felt [the wedding] gave closure and a happy ending to the Ethan-April love story," Frolov explains. "It also felt like a compelling next chapter in his life as a doctor." 
As a Chicago Med OG and a dedicated doctor at Gaffney Medical Center, it's bittersweet to say goodbye to Tee as Dr. Choi. Luckily, we're at least bidding farewell alongside wedding celebrations and the promise of a fulfilling medical journey on the horizon for the pair. As one of the most iconic couples in One Chicago history, the Chexton wedding couldn't come fast enough. 
Watch Chicago Med Wednesdays at 8/7c on NBC and the next day on Peacock.