NBC Insider Exclusive
Create a free profile to get unlimited access to exclusive show news, updates, and more!
Sign Up For Free to View
A Play-by-Play of Ethan and April's Wedding Journey on Chicago Med
The wedding that's been in the works since the Season 8 premiere.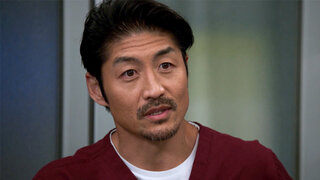 If you're a big fan of happy endings, you'll love the midseason finale of Chicago Med Season 8. While romance is often placed on the show's back burner due to the chaotic nature of the hospital, One Chicago fans finally got the wedding of their dreams between Dr. Ethan Choi (Brian Tee) and April Sexton (Yaya DaCosta). 
Episode 9, titled "This Could Be the Start of Something New," centered around the day before Ethan and April's wedding, with Ethan giving Sharon Goodwin (S. Epatha Merkerson) his notice from the hospital. Ethan reveals that he and April have plans to launch a mobile clinic to provide healthcare to underserved communities in the city—hopefully so that fewer people need to go to the emergency room for primary care. The moment is bittersweet between the ED doctor and his longtime supervisor, with Sharon making jokes about Ethan putting her ED out of business with his plans. 
"Good for you," Sharon tells him, and it's clear from the look on her face that she feels nothing but pride for Ethan and the next step he's taking with April. 
Ethan's last day in the ED proves to be an eventful shift when he learns April has admitted her father, who is complaining of severe chest pain. Remember, this man is expected to walk April down the aisle in the next 24 hours, so you could argue the stakes are high. Understandably, April becomes anxious about their circumstances and asks Ethan if they should postpone the wedding. 
Ethan says they should move forward as planned, but it's clear April is struggling with some pre-wedding jitters that are certainly not being helped by her father's condition. April and Ethan attempted the whole marriage thing before, and it didn't work out, so anxiety is expected. At one point, Ethan suggests her father's pain might be stress-related, which sparks a deeper conversation for the soon-to-be newlyweds when April asks Ethan if it's normal to feel so anxious before a wedding. 
"Are you feeling anxious, April?" Ethan asks.
"No," April explains. "Well...not more than anyone else would be. It's a big step. Marriage."
"You're not having doubts, are you?" Ethan asks her.  
"No," April admits. "Not doubts. I'm just- Ethan, you've never been married before. I've never been married before."
"Look, when you asked if we should postpone the wedding," Ethan recalls. "Do you want to postpone the wedding?"
"Of course not," April brushes him off. "I'm so good," but it's clear something is left unsaid between the pair. 
While April's father's condition mystifies Ethan and April for the majority of the episode, Ethan finally discovers that it's treatable with minor surgery, which can be scheduled for after the wedding. As soon as his condition finally clicks for Ethan and April, a huge weight is lifted off their shoulders, which seems to help clear their heads about their pre-wedding anxieties. 
Ethan pulls April to the side and comes clean about his own side of the story. "Look. I'm nervous too," Ethan admits. 
"You are?" she asks.
"Yeah. Here I am asking you to change your life, leave your practice," Ethan explains. "And I worry one day you'll say, 'What have I done? This whole thing is crazy!'"
"I couldn't sleep last night," April explains. "I was just thinking, like, 'What if, I don't know, Ethan realizes I'm not the person he thinks I am? What if in a couple of years he's sorry he married me?'"
"I don't want to let you down," April admits.
"I don't want to let you down, either," Ethan echoes.
"Well, maybe, that's a good place to start?" April asks with a smile. They both go in for a warm embrace, now firmly on the same page ahead of their big day.
The episode ends with April and Ethan's long-awaited ceremony, where the happy couple looked glamorous in front of their Chicago Med loved ones and family. The wedding guests cheered as Ethan and April made their sweet exit, complete with rice-throwing and a bouquet toss. A subtle nod to Hannah's (Jessy Schram) love life was literally thrown in when she catches April's bouquet.
Alas, this was Tee's final appearance as Dr. Ethan Choi. It's safe to say he got his happily ever after, not only with April but as a doctor who wishes to make healthcare more accessible. Of course, though, Chicago Med fans will miss Chexton dearly! 
Watch Chicago Med Wednesdays at 8/7c on NBC and the next day on Peacock.