NBC Insider Exclusive
Create a free profile to get unlimited access to exclusive show news, updates, and more!
Sign Up For Free to View
Torrey DeVitto Reveals Why She Really Returned for Chicago Med's Surprising Finale
"It was really short and sweet and beautiful, exactly what it needed to be," DeVitto said of the Season 8 finale.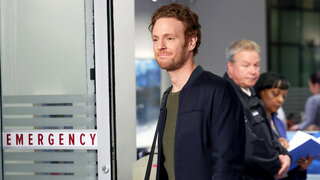 The Chicago Med Season 8 finale was bittersweet; we bid farewell to the beloved Dr. Will Halstead (Nick Gehlfuss), a certified One Chicago O.G. since the series debut, after he made the heartbreaking decision to resign to save the hospital. 
The departure was disheartening until we saw Will exit Seattle airport to reunite with his former fiancée, Dr. Natalie Manning (Torrey DeVitto). Fans haven't seen Natalie in years on Chicago Med (she left in Season 6), so it was a befitting return as Halstead charted new horizons outside the Windy City. Natalie and Will are getting their second chance at figuring out their romance, and it seems like Seattle just might be where they finally come together for good.
"It was really short and sweet and beautiful — exactly what it needed to be," DeVitto told The Hollywood Reporter after her surprising cameo in the Season 8 finale. "[Will's] made the move to come be with her in Seattle, where she's living now, and they kind of walk off into the sunset and you can assume they live happily ever after."
DeVitto explained that when she decided to leave Chicago Med at the end of Season 6, she never closed any doors behind her. The One Chicago family is a strong force, so the idea of coming back was exciting, especially to romantically reunite two iconic characters. 
"I feel like I left the show on such a good note — it was just time to move on and time to go and time to grow, really," DeVitto explained. "But it was always one of those things where I knew that if they asked me back, I would enjoy going back. Because, I mean, I love my cast so much. And especially, you know, Nick Gehlfuss and I had such an intense storyline together for six years."
DeVitto added, "I wasn't expecting this call at all, but when they did call me and told me what the premise of the storyline was going to be, and that I would be coming back to support Nick and his journey on his way out, it was just a no-brainer for me."
Chicago Med fans were rooting for Natalie and Will to end up together for years, so it was devastating once Natalie made her way to Seattle, and that became a bit of a One Chicago pipe dream. But after the latest finale, we learned miracles can always happen.
"I do feel like the fans never got what they wanted with Natalie and Will, and to be honest with you, Nick and I never even got the ending that we felt we deserved for our two characters," DeVitto said. "To be able to come back and give that to not just the viewers that love the show so much and really rooted for these characters, but also to give it to me and Nick, who really wanted this ending for our characters, was really so beautiful."
When asked what it felt like to step back into Natalie Manning's shoes for the final heartwarming scene of the season, DeVitto revealed that playing the Chicago Med character again is like riding a bike due to how much she relates to Natalie. 
"She's a character that is more like me than any other character I've ever played," DeVitto said. "And because Nick and I have such great chemistry as actors together, and we have such a friendship, it honestly felt like stepping into a pair of shoes that still fit perfectly."
DeVitto also added that it was amazing to see Chicago Med production once again.
"It was so great seeing the crew," DeVitto gushed. "When I got out of the van [after arriving on set], everybody started clapping, which I got a little flushed about, but it felt like coming home. It felt like coming home to somewhere I lived for so long. And it was really beautiful."