NBC Insider Exclusive
Create a free profile to get unlimited access to exclusive show news, updates, and more!
Sign Up For Free to View
There's a Brand-New "Playoff Pass" on The Voice — Here's How It Works
The "Playoff Pass" gives one Artist on each team a major advantage, but the Coaches must use it carefully.
The Voice has always been a unique take on a singing competition: There are all kinds of rules and additions to the show that keeps it fresh and unexpected. On Season 23, there's an intriguing new twist to the rules: the "Playoff Pass." Coach Kelly Clarkson calls it a "game-changer" in an upcoming episode of "The Voice" — but what exactly is it? We'll let the longest-running Coach, Blake Shelton, explain.
"This year for the first time ever, we have the Playoff Pass," Shelton says in the episode. "It gives the Artist a chance to skip the knockout round and puts them straight into the playoffs."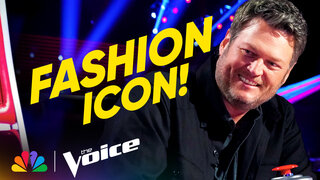 What is the "Playoff Pass?"
Currently in the Battle rounds, each Coach — Clarkson, Shelton, Niall Horan, and Chance The Rapper — has one "Playoff Pass" as well as one "Steal." According to Clarkson, the "Playoff Pass" overrides the "Steal," which gives it even more importance.
The pass allows BOTH Artists in a Battle to advance, but the Artist with the pass skips the Knockout rounds and automatically advances to the Playoff rounds — putting them even closer to the Live Performance Shows. Seven artists per team advance, with six competing in the Knockouts and one "Playoff Pass" artist.
You can read more on how the Knockouts, Playoffs, and Live Performance shows work here.
Why is the "Playoff Pass" important?
"It's amazing to be able to award someone for a breakout performance," Horan says in the episode while speaking more on the importance of the "Playoff Pass."
But which artist will get the Playoff Pass? There are so many options to choose from on each team.
Here's who's on Team Blake:
RELATED: Blake Shelton Is "Most Comfortable" Here: See Where He Lives
Team Kelly has these artists to choose from:
Team Niall consists of:
These are the Artists on Team Chance:
Watch to see on which artists Clarkson, Shelton and Horan use their "Playoff Pass" during The Voice Mondays at 8/7c and Tuesdays at 9/8c.