NBC Insider Exclusive
Create a free profile to get unlimited access to exclusive show news, updates, and more!
Sign Up For Free to View
Hear Holly Brand's Whistle Note That Nearly 'Took Out' The Voice Coaches
In the premiere episode of Season 23, a 22-year-old impressed the coaches with her rendition of Faith Hill's song "Mississippi Girl."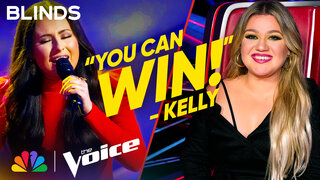 Holly Brand is giving Mariah Carey a run for her money!
The 22-year-old pageant queen from Meridian, Mississippi had The Voice coaches well and truly shook when she began singing the first notes to Faith Hill's "Mississippi Girl" in Season 23's premiere episode. Like, so shook, Kelly Clarkson hit her button within the first 30 seconds.
It didn't take long for fellow coaches Niall Horan and Chance the Rapper to turn their chairs too, eliciting tears from Brand's mom and sister as they stood backstage with host Carson Daly. The three coaches watched in awe as the 22-year-old hit an impressive whistle tone, which made it all the more surprising when Blake Shelton refrained from hitting his button as the performance drew to a close.
In fact, Clarkson got up to jokingly check Shelton's chair, asking, "Is this thing on?!"
Of course, Shelton's decision to keep his back turned to the artist was probably for the best, a fact that was not lost on Clarkson, who practically skipped back to her chair with glee. 
But Clarkson had her work made out for her, too. Horan tried to his best to entice Brand to join his team, comparing her to his "good friend" Maren Morris and promising "big things" are in their future — if she picked him, of course. 
"Your voice, the control was just unbelievable," Horan implored. "I'm telling you, we're going to do big things together if you come with me. Please!"
Chance, who said the whistle note "took [me] out," acknowledged that Horan's argument was a hard one to beat. Nonetheless, he tried his best, simply saying that he could take Brand to the end of the competition.
"If you get down with me," Chance said, "you're obviously going to win."
When it was Clarkson's turn, she emphasized her experience in the country music realm, saying, "I grew up on it and I definitely know a helluva lot more than these two."
Ultimately, Brand chose to join Team Kelly, telling host Carson Daly that it was Clarkson's impressive track record that motivated her to make the decision.
"I've been watching Kelly for years and she does a lot of great work with a lot of country artists," Brand explained.
Shelton might kick himself further down the line though, as there was a good chance that Brand would've chosen him had he turned around. Because, as it turns out, Brand and the country singer go way back, with the contestant sharing that she opened for him at a concert when she was 12 years old. 
RELATED: Blake Shelton's Coach Rivals on The Voice Through the Years
"That concert was the moment that I realized I wanted to be an artist," Brand shared before revealing a photo of herself posing with Shelton. 
Will Shelton rue the day he neglected to turn around? See what happens when The Voice airs on NBC Mondays at 8/7c and Tuesdays at 9/8c and next day on Peacock.