NBC Insider Exclusive
Create a free profile to get unlimited access to exclusive show news, updates, and more!
Sign Up For Free to View
Everything to Know About Barmageddon, Blake Shelton and Carson Daly's New Game Show
Prepare yourself for a great time.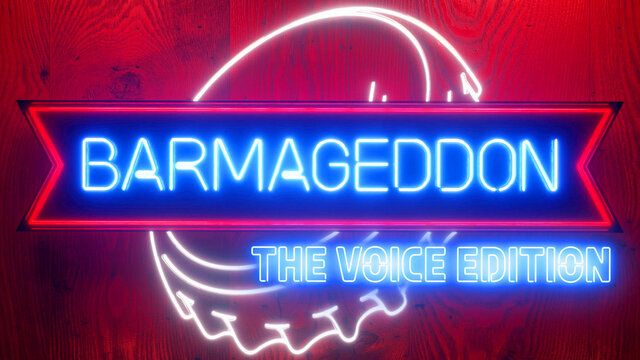 If you can't get enough of The Voice Coach Blake Shelton and Host Carson Daly, you're in for a wild ride: The duo will take Nashville by storm in a new show for USA Network titled Barmageddon, USA Insider announced today.
Executive produced by Daly and Shelton and hosted by AGT: Extreme Judge Nikki Bella, this unique show turns a night on the town into a competition show like you've never seen before. 
Watch some of your favorite celebrities compete against each other in a series of classic bar-themed games with over-the-top twists—like Air Cannon Cornhole, Keg Curling, Drunken Axe Hole, and more. 
What is Barmageddon?
Chock-full of plot twists, hilarious moments, and live-music sing-alongs, Barmageddon is a celebrity competition show like no other, set in one of the most famous party cities in the world. According to the show's official press release: "In each episode, two celebrities will play a unique set of five games in the bar to win a much-needed prize for a viral Internet sensation each has chosen to support. Plucked from obscurity following their epic misadventures on the Internet, these now-infamous stars find themselves at Ole Red hoping to be redeemed. The competition heats up when the losing rival of each round has a chance to even the score by spinning the Wheel of Redemption, a risky move with hilarious consequences. Shelton and Daly will offer words of encouragement–and heckling, of course–to their celebrity friends. On occasion, they might even step in to show off their skills and play a game or two. Ultimately, the winning team takes home a prize while the losing celebrity must accept the shame of defeat. But this is Barmageddon–even if they did not win, at least they had a ton of fun trying."
"Nashville is known for great music and hospitality, which makes it the perfect setting," said Shelton. "I'm excited about Barmageddon and can't wait for friends, old and new, to join my buddy Carson and me for some drinks, music, and high-spirited fun at Ole Red."
 See more details, below: 
Monday, December 5 at 11/10c on USA Network. 
How to watch episodes of Barmageddon
Episodes air Mondays at 11/10c on USA Network and are available on USANetwork.com and the USA Network app. 
RELATED: Rule Changes And A Shocking Upset: The Highlights From The 'Barmageddon' Premiere
Where does Barmageddon take place?
Shelton's Ole Red bar and restaurant in Nashville, Tennessee. 
Which celebrities will compete head to head on Barmageddon?
See the full lineup, below: 
Gwen Stefani vs. Sheryl Crow

 

Elle King vs. Chris Young

 

Clint Bowyer vs. Jimmie Johnson

Sasha Banks vs. Brie Bella

Jay Pharoah vs. Martin Kove 

 

Trace Adkins vs. Coach Mike Vrabel

Blake Shelton vs. Kane Brown

Lil Rel Howery vs. Malin Akerman
What is the theme song to Barmageddon? 
According to USA Insider, host and Executive Producer Shelton performs a sing-along song with his band in each episode, but far from the only musical moment. The show's theme song is performed by Shelton and was written by Jimmy Buffett and Mac McAnally.
RELATED: Yes, The 'Barmageddon' Theme Song Is Insanely Catchy: Here Are The Lyrics
What are the Barmageddon signature cocktails? 
Since the game show takes place in Shelton's Nashville bar Ole Red, it's fitting there are drinks in honor of its hosts. Shelton, Daly, and Bella all have been commemorated in cocktail form, specifically the Blake-A-Rita, the Daly Double, and the Bella Pepper. 
RELATED: 'Barmageddon' Hosts Nikki Bella, Carson Daly Break Down The Show's Signature Cocktails
NBC Insider is your all-access pass to some of your favorite NBC shows. Go behind-the-scenes, stay on top of breaking news, hang with the stars, and much more.