NBC Insider Exclusive
Create a free profile to get unlimited access to exclusive show news, updates, and more!
Sign Up For Free to View
Blake Shelton's Coach Rivals on The Voice Through the Years
Shelton always has to have one Coach to playfully jab at every season!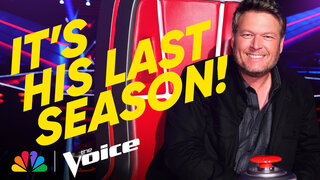 When it comes to sass, one thing's for certain: The Voice Coach Blake Shelton can dish it just as much as he can take it!
During the competition show's 23-season run, Blake Shelton has never shied away from a playful rivalry with his fellow Coaches—and considering the panel is going after a limited amount of talent, it's easy to see why they often butt heads.
Since it's all in good fun, we can't say we mind! Blake Shelton's coaching rivals through the years have gifted us some pretty juicy moments; here's a look at who he's good-naturedly bickered with the most. 
Adam Levine: Season 1 to Season 14 rival
Shelton and Maroon 5 frontman Adam Levine spent over a dozen seasons swapping playful jabs at one another while coaching rising musical talent. Sometimes their adversarial banter was sweet, and other times it was very salty (always with a wink of humor). Viewers certainly enjoyed the duo's special brand of snark, and even after Levine announced he was leaving The Voice, Shelton made it clear he would miss his "frenemy" while filming Season 17. 
"I can't imagine, honestly, what the show is gonna feel like at first without Adam there," Shelton told Entertainment Tonight. "I mean, we're about to start filming the 17th season of the show, and Adam has been my frenemy from day one, you know, down there on the end."
In addition to his sentimental remarks, the country music star went on to throw a little shade. 
"I want [Adam] to know that he can still kiss my a** wherever he is right now," he joked. 
Kelly Clarkson: Season 14 to Season 21 rival 
Although Levine was still on the coaching panel when Clarkson joined the lineup for Season 14, Clarkson's big personality, spunk, and affinity for country music meant her and Shelton frequently went head-to-head for the same talent.  
"I'm not gonna sit out here and talk about the fact that I've won the show six times," Shelton told a Contestant during the Season 15 Blind Auditions, hoping to be their final choice. However, Clarkson was quick to clap back. 
"Not last year when I arrived. I won!" she quipped.
The talkshow Host and three-time Grammy Award winner admitted in a behind-the-scenes interview that her rivalry with Shelton was reminiscent of a sibling relationship. 
"He knows how upset I get," said Clarkson. "He's like that big brother that gives you noogies—he's so annoying. I'm really glad I'm not sitting by him."
Camila Cabello: Season 22 rival 
Pop star  Camila Cabello may have been new to the Season 22 coaching panel, but that didn't stop her from coming out swinging anytime Shelton said something out of line. Let's just say these two took every opportunity to poke fun at each other both on and off The Voice stage. 
In a behind-the-scenes clip, Shelton called out Cabello for her coaching outfit, but Cabello came back with the perfect response—playfully knocking his blazer and denim pairing. "It feels like you tried really hard on the top half, then you were like, 'Eh whatever' on the bottom half by the time you got there," she said. 
As you can see, Shelton has certainly gotten under the skin of several of his fellow Coaches, and at this point, it's become an entertaining element of the show fans have come to love. 
Watch The Voice on NBC Mondays at 8/7c and Tuesdays at 9/8c and next day on Peacock.