NBC Insider Exclusive
Create a free profile to get unlimited access to exclusive show news, updates, and more!
Sign Up For Free to View
Blake Shelton Agreed With the Shade Camila Cabello Threw About His Outfit
Now we know what a "wardrobe mullet" is.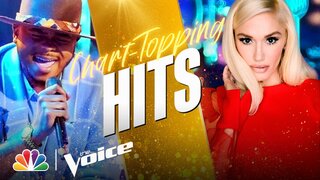 On The Voice, we've seen many instances of Coaches Blake Shelton and Camila Cabello's playful rivalry, as they continue to tease each other both on and off stage. And it turns out, poking fun at each other's fashion choices clearly isn't off limits for these two.
In a new short clip from the show, cameras saw the Coaches chatting together backstage, with Gwen Stefani expressing her excitement about the new teams this season. Deciding to change the subject, Shelton then teased Stefani and Cabello for their outfits. (Stefani was wearing a long, intricate pink number with a bedazzled black mesh cutout top, and Cabello had on a flow-y red floral piece.) "I have a question. Are you guys underdressed, or overdressed?" he said.
However, the "Never Be the Same" singer immediately clapped back with some playful shade about Shelton's get-up. "It feels like you tried really hard on the top half, then you were like, 'Eh whatever' on the bottom half by the time you got there," she said, referencing Shelton's formal navy blazer and casual blue jeans 'fit. 
Related: Blake Shelton's Most Emotional Moments on The Voice Will Melt Your Heart
Then, Coach John Legend made a clever metaphor about the outfit.  It's "a wardrobe mullet," he said, and Shelton agreed, responding with, "I like that."  Business on the top, party on the bottom! Blake Shelton is the king of the wardrobe mullet! 
To see more hilarious banter between the Coaches, be sure to tune in to The Voice on NBC Mondays and Tuesdays at 8/7c and the next day on Peacock.