NBC Insider Exclusive
Create a free profile to get unlimited access to exclusive show news, updates, and more!
Sign Up For Free to View
Blake Shelton's Most Emotional Moments on The Voice Will Melt Your Heart
We're definitely *not* crying.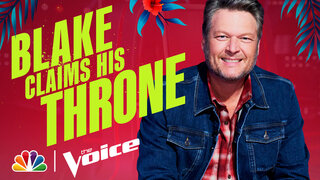 The Voice Coach Blake Shelton is known for his funny personality and competitive nature, frequently getting into playful quarrels with his fellow Coaches. Because of his joking energy, it's always pleasantly surprising for fans when Shelton shares his vulnerable side.Here are just a few examples of times he did that on The Voice.
Zach Bridges' Blind Audition
Mississippi native Zach Bridges had Shelton feeling touched after singing one of Shelton's favorite songs, "Ol' Red" by James "Bo" Bohon, during The Voice Season 17. (Shelton covered the song himself in 2001.) 
"I never would have dreamed how important that song would be in my life. I moved to Nashville when I was 17," Shelton said to Bridges. "The only thing I knew in the world was that I wanted to be a country singer. I had just graduated high school and two weeks later I was sitting in Nashville. My first job was painting a house for Mae Boren Axton, whose son was Hoyt Axton. [He was] living in her driveway on his tour bus and he invited me onto his bus one day and he sang me that song. And little did I know—I was a 17-year-old kid from Ada, Oklahoma, came there, didn't know what I was gonna do—within no time I had found what would go on to be possibly my signature song. And now here, all these years later, that's the song that you chose to sing. And that song is timeless." 
Jessie Lawrence and Rose Short's Battle Round 
The Voice Season 17 brought audiences another vulnerable moment from Shelton, after Jessie Lawrence and Rose Short's electric Battle Round performance. The Team-Gwen competitors brought their A-game with a memorable rendition of The Weeknd's "Can't Feel My Face," and the panel struggled to send either Contestant home. In a shocking twist, Shelton stepped in to steal Lawrence for the sake of keeping him in the competition. 
"Let me say my piece," Shelton said to Lawrence. "I'm not going to make a pitch to you, because [Gwen] is the Coach for you. But I wanted to show you how much respect I have for you and how much you deserve to be on this show, dude."
As you can imagine, there wasn't a dry eye in sight. 
Jonathan Mouton and Wendy Moten's Knockout Round 
During The Voice Season 21 Knockout Round, Wendy Moten sang an incredible rendition of Aretha Franklin's "Ain't No Way," and Jonathan Mouton sang a stunning version of Johnny Nash's "I Can See Clearly Now." 
"When I paired you with Wendy, part of it was, let's see what this guy's made of," said Shelton. "You stepped out here, and that was incredible."
However, in the end, Shelton couldn't get past Moten's transcendent range and musicality and chose to keep her in the competition. As the Coaches prepped for the following performer to take the stage, Shelton was in his feelings. 
"I'm telling you, man, something's going on with me," Shelton said with a chuckle as he wiped away a tear.
Shelton's duet with 6-year-old Wyatt McKee
Shelton's big heart was also on full display during a concert in Oklahoma when the country star shared a spontaneous duet with a very special fan. Six-year-old Wyatt McKee was waiting on a heart transplant when he took to the stage to sing "God's Country" with Shelton. 
Watch The Voice on NBC Mondays and Tuesdays at 8/7c and next day on Peacock.