NBC Insider Exclusive
Create a free profile to get unlimited access to exclusive show news, updates, and more!
Sign Up For Free to View
Where Are Kelly Clarkson's The Voice Winners Now?
Team Kelly talent has gone on to do some truly amazing things!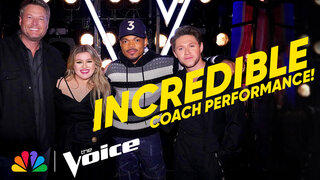 When Kelly Clarkson made her debut as a Coach on The Voice in Season 14, it was clear she wasn't messing around. During her many seasons on the panel, the groundbreaking vocalist and talk show Host was able to spot emerging talent from miles away, leading to an impressive track record of four Team Kelly wins.
But where are Kelly Clarkson's Artists from The Voice now? Let's just say, their career trajectories have been very impressive. Read on for details. 
Where are Kelly Clarkson's The Voice winners now?
Brynn Cartelli (Season 14)
Leave it to Kelly Clarkson to win The Voice during her very first season on the coaching panel! The pop music queen was quick to claim then-16-year-old Brynn Cartelli, who blew audiences away with her stunning rendition of the 2005 Coldplay single "Fix You" during her Season 14 Blind Audition. Although Blake Shelton also turned his chair for the young singer, she ultimately chose to join Team Kelly. 
Cartelli won over America's heart and sailed through the competition, making it all the way to the end. After being crowned the youngest winner in The Voice history, Cartelli went on to perform on the TODAY show, The Kelly Clarkson Show, and even performed at the 2018 Macy's Thanksgiving Day Parade. The Massachusetts native went on to support Kelly Clarkson on her Meaning of Life Tour and opened for Maroon 5. Most recently, the songstress released her debut EP Based on a True Story in May 2021. 
Chevel Shepherd (Season 15)
The Voice Season 15 started off with a bang during Chevel Shepherd's Blind Audition, where she sang Perry Band's "If I Die Young" and stunned America with her mature voice. At just 16, Shepherd's approach to country music got her a Three-Chair Turn, which landed her on Team Kelly. 
Week after week, Shepherd surprised both the coaching panel and viewers at home by choosing to perform country classics as opposed to more contemporary hits, garnering a multi-generational fan base. Shepherd released A Good Ol' Country Christmas, a holiday album, in 2020, and the next year released her debut EP, Everybody's Got a Story.
Texas native Jake Hoot performed Luke Combs' "When It Rains It Pours" during his Blind Audition. As the only Coach on the panel who turned their chair, it was clear that Clarkson saw something in Hoot that was special. It wasn't long before the panel began to see the talent Clarkson saw, as Hoot quickly became a Season 17 favorite. Again, Clarkson found herself gravitating towards a standout country music vocalist with a unique sound, and, again, it paid off with a win. 
Since taking home the title of The Voice Season 17 winner, Hoot's hit some impressive career milestones, like performing at the Grand Ole Opry in February 2020 and signing with Universal Music Group. 
The sibling folk trio, featuring Caleb, Joshua, and Bekah Leichty, made The Voice history during Season 21 by becoming the first group to win the show. Viewers couldn't get enough of the band's angelic harmonies and wholesome feel. 
Whether performing at NASCAR's 2022 Indy 500 or touring, this trio is still grinding! 
Watch The Voice on NBC Mondays at 8/7c and Tuesdays at 9/8c and next day on Peacock.