NBC Insider Exclusive
Create a free profile to get unlimited access to exclusive show news, updates, and more!
Sign Up For Free to View
Girl Named Tom Sang a Truly Stunning Cover of 'Flowers' by Miley Cyrus
Could the Season 21 winners of The Voice possibly have prettier voices? (No, the answer is no!)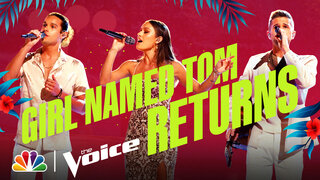 The Voice Season 21 winners Girl Named Tom just posted a cover of Miley Cyrus' hit single ''Flowers,'' and their harmonies sounded more than heavenly.
In the video posted to their official TikTok page, the trio (comprised of siblings Bekah, Joshua, and Caleb Liechty), were all dressed in comfy clothes. Joshua gently strummed on an acoustic guitar while Bekah clapped her hands to the rhythm.
"Can love me better, I can love me better, baby; can love me better, I can love me better, baby," Joshua and Caleb sang the backup vocals while Bekah jumped in with the gorgeous melody.
"I can buy myself flowers, write my name in the sand, talk to myself for hours, say things you don't understand," she crooned gently.
"I can take myself dancing, and I can hold my own hand, yeah; I can love me better than you can," they all then harmonized perfectly together while pulling off some impressive riffs and an ethereal high note. "Can love me better; I can love me better, baby. Can love me better; I can love me better, baby," they repeated with smiles on their faces.
"everybody wants their 🌸s @mileycyrus #cover #acoustic #girlnamedtom," they captioned the post.
This isn't the only time the sibling trio has sounded absolutely angelic. During their appearance on The Voice Season 22 finale, they performed a gorgeous rendition of their song ''One More Christmas'' from the EP of the same name.
Girl Named Tom rose to fame after winning The Voice under Kelly Clarkson's team in 2021. "We weren't sure reality TV was for us," Caleb told ET in 2021. "But we fell in love with it when we got here. And we really were like, 'OK, we wanna win this thing.'"
"It's been so special to be able to celebrate the victories together," Joshua told ET shortly after they learned the news that they came in first place. "We were just holding hands up there, shaking together. I can't imagine being a solo performer on this show and having to go through all that alone."