NBC Insider Exclusive
Create a free profile to get unlimited access to exclusive show news, updates, and more!
Sign Up For Free to View
The Biggest Things That Happened on The Voice Season 22 Finale (UPDATED)
It was a night full of live performances, holiday cheer, and a new winner.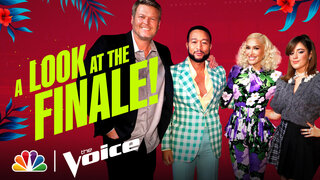 The Voice Season 22 finale in 2022 brought out the best in Artist performances, Coaches' sense of humor, special guests, and some of the biggest names in music today — hi Maluma, Adam Lambert, OneRepublic, Breland, Girl Named Tom, and Kelly Clarkson. 
The night included five Coach-Artist performances, amazing fashions, and the Blake Shelton-John Legend sitcom we didn't know we needed.
The winner of The Voice Season 22 in 2022 has been crowned - spoilers below! - and all five finalists have had their lives forever changed. 
Before we can get to The Voice Season 23 in 2023 — featuring and amazing lineup of Coaches: Blake Shelton, the return of Kelly Clarkson, and newbies Niall Horan and Chance the Rapper — we're dissecting everything that made The Voice Season 22 in 2022 spectacular. That includes looking back at all of the wins Team Blake has had through 22 seasons and every winner from The Voice since Season 1 premiered in 2011. 
Below, we'll recapped all the big things that happened during The Voice Season 22 Live Finale airing December 13 at 9/8c on NBC—from the performances to sweet moments between Stefani and Shelton and, of course, the winner reveal. 
The Voice Season 22 Finale Recap - Live Updates
Below, we'll recapped all the big things that happened during The Voice Season 22 Live Finale airing December 13 at 9/8c on NBC—from the performances to sweet moments between Stefani and Shelton and, of course, the winner reveal. 
11:00PM ET And your winner of The Voice Season 22 is…. [spoilers!]
Bryce Leatherwood! The 22-year-old country artist from Statesboro, Georgia started the Live Rounds as the Instant Save Artist voted on by America to advance to the Top 13. He is the first-ever Instant Save Artist to win The Voice.
That's another win for Team Blake, making it 9 total wins since Season 1.
The runner-up/Artist in Second Place is: bodie.
The Artist in Third Place is: Morgan Myles.
We can't wait for Season 23!  See you in 2023!
10:54PM ET The Artist in Fourth place is: Omar Jose Cardona. Team Legend is out. 
The Artist in Fifth place is: Brayden Lape.
10:50PM ET The five finalists take the stage! Tension is building! 
Carson asks each Artist what they've learned from their Coach and what their support and mentorship has meant. 
10:46PM ET The Oddest Couple returns! Since Shelton forgot to send out invitations to his party with Legend, he attempts to make last minute calls and lure Stefani away from her girls night out (she declines). "I'll call Kelly Clarkson! She never has plans," he says, only to learn that his fellow Coach has blocked him. 
Legend returns and realizes that making sure things are perfect isn't the most important thing. What is is singing Christmas carols in Ugly Christmas Sweaters with your Best Friend Forever and roommate! 
So is there a future for The Oddest Couple? "I just got a call from the network, we've been renewed!" Legend jokes.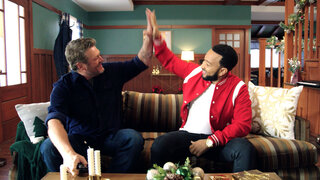 10:45PM ET Queen and returning Coach Kelly Clarkson brings holiday cheer with a performance of her song "Santa, Can't You Hear Me" Draped in dark blue velvet and sparkles, Clarkson carries her holiday hit with serene high notes and glorious runs. Season 23 can't come soon enough! 
For even more Clarkson holiday songs to add to your holiday playlist, check out her performances of "Under the Mistletoe" and "Underneath the Tree." 
10:37PM ET "bodie was in serious demand during the Blind Auditions," Shelton says of his third finalist, who ultimately chose his team.
Guitars in hand, bodie and Shelton perform Shelton's "God's Country." bodie noted that he chose the song while driving in his car. "This song slaps!" When bodie mentioned apprehension at whether America would welcome him singing a country song, his Coach reassured him. "Everything you do, they love," Shelton said of America's reception of bodie this season. 
10:22PM ET Kane Brown and Shelton (again!) perform a fiery version of Kane's latest single featuring Shelton, "Different Man." For more of Brown and Shelton plus bar games, don't miss the country artist on new USA Network series Barmageddon. 
10:19PM ET Legend and Shelton: Best Friends for Life and The Oddest Couple? The Coaches get the sitcom treatment (complete with laugh track) in a sketch that imagines the two as roommates, whose quirks and distinct personal differences cause minor irritation but fail to get in the way of their friendship. Shout out to Legend's Party Planning Spreadsheet! 
"The last time you made dip I ended up in the hospital, Blake," Legend said. Question: what is in Shelton's dip recipe? 
"Wow that Blake Shelton, always getting into sticky situations" Daly added. 
10:15PM ET Breland performs his single "For What It's Worth."
10:11PM ET Morgan Myles — the Aritst whose Blind Audition made Camila Cabello block Stefani on Day 1 — takes the stage with her Coach, Cabello. The finalist and Cabello perform "Never Be the Same" by Camila Cabello after reflecting on the strong bond they've created this season. Myles is in black floor length sequins while Cabello changed into a black mini dress with heart sequins - trend of the night! - details on the chest and those rocker boots. Myles and Cabello trade high notes on the hit from Cabello's debut album, Camila (2018). 
10:02PM ET Shelton takes the stage again with team member and finalist Brayden Lape. Daly described the duo's partnership as a combination of Lape's amazing talent and Shelton's "big bro energy." To that end, Lape revealed that Shelton previously made fun of his high school football team's haircuts, while Shelton teased a key discussion topic for Lape's journey as an Artist has been his "heartthrobness." 
The Coach and Artist perform Alan Jackson's "Chasin' That Neon Rainbow," complete with Shelton on guitar and plenty of neon signs behind them.  
9:45PM ET Season 21 winners and Team Kelly members Girl Named Tom take the stage with "One More Christmas," in memory of their father. We love welcoming back Voice winners and alums! The sibling trio made their Grand Ole Opry debut in October, is currently on tour, and member Caleb Liechty recently announced his engagement. 
9:44PM ET Don't miss these finale looks! Cabello paired a dainty white dress with rocker boots while Stefani wore the most dramatic, gorgeous red dress. 
9:37PM ET Maluma — superstar AND Coach on La Voz kids Colombia and La Voz México — takes the stage for two performances.
9:35PM ET Season 22 has been Camila Cabello's first season, and while she tried her best to incorporate humor and some of her own signature jokes, we now learn that she also sought out help from America's Got Talent's own Howie Mandel. "You know, Camila's not a natural, but I can teach anyone," Mandel explained. The crossover we didn't know we needed!
In a funny sketch, Mandel teaches Camila on the art of standup comedy, including funny props. "His methods do feel a little strange to me... he knows what he's doing, right? Right?!" asked Cabello.
As the camera cuts back to Daly, Camila weighs in on whether things stand. "After seeing that, I don't think I'll ever tell another joke again...I'll stick to my day job," explained Cabello. 
9:29PM ET Adam Lambert performs a powerful rendition of Duran Duran's "Ordinary World," dedicated to the victims of the Colorado Springs shooting and the LGBTQ community. During his performance the stage transforms from black and white to color. 
9:26PM ET Time for Team LEGEND! John Legend and finalist Omar Jose Cardona take the stage performing Stevie Wonder's classic "Signed, Sealed, Delivered." Both are wearing bold suits — Omar in purple sequins! — and are backed by dancers in gold sequins. 
When speaking of his team member ahead of the performance, Legend showered Omar in praise. "I can't hit all the notes that you can hit," he said. "It's just fun for me to envision where we can take a song and then do it better than I imagined." 
As we watch this lively and upbeat performance, along with his powerful rendition of "Somebody to Love" in Monday's finale performance, we're bound to ask ourselves: What can't Omar do? Luckily Coach Legend asked him just that. "I can't cook very well," Omar revealed. "That's it!" Legend said laughing. "Omar can do everything else." 
9:15PM ET OneRepublic takes the stage to perform "I Ain't Worried." No strangers to The Voice finale night, OneRepublic previously performed "Run" on the Season 20 finale. 
9:10PM ET: Finalist Bryce Leatherwood and his Coach Shelton perform Shelton's 2011 song "Hillbilly Bone." Shelton is dressed in a sharp black suit while Bryce is wearing jeans, a flannel, and his signature cowboy hat. The stage has a party atmosphere, with audience members serving as partygoers sitting in folding chairs waving red SOLO cups.
Ahead of taking the stage we see a fun package of Bryce and Shelton's time together on Season 22 and are reminded that the Coach and his team member are truly kindred country spirits. 
9:02PM ET: In a playful opening sketch, Gwen Stefani flexed her cat burglar skills in attempt to steal The Voice trophy to help ensure that Blake Shelton wins. But he doesn't need her help... or does he? As Carson Daly introduces the Coaches from their chairs, Shelton enters last confirming that he did steal the trophy. 
The Voice Season 22 Recap
At last, it's here: The Voice Season 22 Live Finale. After weeks of Blind Auditions, Battles, Knockouts, and Live Shows, we've made it to our Top 5 Artists: bodie (Team Blake), Morgan Myles (Team Camila), Brayden Lape (Team Blake), Omar Jose Cardona (Team Legend), and Bryce Leatherwood (Team Blake). But who's going to fully take home the competition? 
Of course, before we announce the winner, viewers will be treated to some excellent live performances. Artists slated to take the stage on Live Finale night include Kelly Clarkson, Kane Brown & Blake Shelton, Maluma, OneRepublic, Adam Lambert, Breland, and Season 21 winners, the trio Girl Named Tom
Can you believe this season is already coming to a close? It seems like just yesterday the Coaches lineup was announced. Fans were thrilled to find out Blake Shelton and Gwen Stefani would be returning as Coaches for the first time since tying the knot in 2021. (Fun fact: They actually met on The Voice in 2014!) 
"Stepping back on the set of The Voice this time was very surreal," Stefani told NBC Insider ahead of the season premiere. "Being married, it brought back so many memories of all the different seasons that we've been on The Voice together, all the different phases of our friendship, of our relationship."
She continued on the topic of her and Shelton's work dynamic, "[It's] kinda easy and flawless and normal. It just feels like we're anywhere else we'd be together. And I have a lot of fun with him here."
Shelton had fun this season, too.  "The best part about working with my wife is that I never have to be apart from her," he told NBC Insider. "And she also happens to be one of the least competitive people I know. Being on a competition show with your wife, who is also not competitive, is the greatest situation you can be in."
Do you know who was competitive, though? Camila Cabello, this season's first-time Coach who John Legend instantly clocked as a threat to anyone sitting in a red chair. 
"[Camila] was on Team Legend [in Season 21] as my celebrity guest mentor, and I could tell she was really good at it," Legend told NBC Insider. "In fact, I told her, 'If a Coach opening ever comes up, you should do it because you'd be great at it.'"
"I've made it harder for myself by allowing her to be my competition," Legend continued, teasingly. "And now she's coming for the crown. We all should look out."