NBC Insider Exclusive
Create a free profile to get unlimited access to exclusive show news, updates, and more!
Sign Up For Free to View
Brayden Lape's Cover of 'This Town' by New Voice Coach Niall Horan Is Stunning
Get ready to watch Niall Horan in action as a Coach on The Voice come March 6!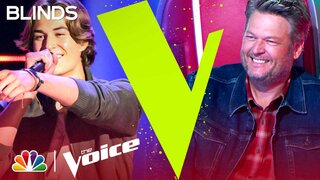 Brayden Lape first warmed the hearts of The Voice Coaches and viewers with his performance of "This Town" by Niall Horan during Season 22. (Fun fact: Horan will actually be a Coach on The Voice Season 23, premiering March 6!) Throughout Lape's Blind Audition, Camila Cabello urged Blake Shelton to push his button, and he did so at the last minute. 
Gwen Stefani expressed immediate remorse for not pressing hers after learning Lape is only 15 years old. "That explains a lot for me, your age," she said. "Now I have super regret for not pressing my button. I'm so excited you're on the show. Blake, thank you for turning."
Related: Blake Shelton Adorably Reacts to Gwen Stefani's 2 Grand Ole Opry Standing Ovations
In reality, Lape may have had Cabello to thank, since she was the one who hyped up Lape to Shelton. "I was like, 'Blake, you need this person on your team,'" she said. "It's kind of singer-songwriter folk but with a pop sensibility. I'm telling you, this guy sounds like he could be on the radio. Blake, I'm telling you, you're 'gonna thank me for this later. This guy is your secret weapon." And, of course, Shelton had to throw a little shade at Cabello for this: "It took me that long to hit because I was having to listen to her say all this stuff. I was like, 'OK, OK, let me hit the button.'" 
"I'm crying and regretful that I didn't turn," Stefani said, telling Shelton, "You're 'gonna blow it, and I'm 'gonna steal him." Even Cabello jumped on this train, saying, "I might steal you, too!"
Lape, the sweet kid he is, told the Coaches, "I'm 'gonna be with him [Shelton] as long as I can." And to this, Stefani told Lape, "You got Blake, but you got me, too. I'm here for you as your mom-ager." It's a sentiment she expressed the second she laid eyes on the young singer: "Your parents are so happy for you. Your new Coach Parents," she said. 
Brayden Lape ended up making to the Top 5 on The Voice Season 22, and he stayed with Coach Blake Shelton the whole way through. 
"I just want to thank Blake for everything that he has taught me," Lape told Local Spins. "He's pushed me to be a better performer and singer, and I can tell it has really helped me."
The Voice Season 23 premieres Monday, March 6 at 8/7c on NBC and next day on Peacock. After that, watch The Voice on NBC Mondays at 8/7c and Tuesdays at 9/8c and next day on Peacock.