NBC Insider Exclusive
Create a free profile to get unlimited access to exclusive show news, updates, and more!
Sign Up For Free to View
The Voice's Brayden Lape Tells Fans New Music Is 'Coming Soon'
The 16-year-old is currently recording with another Season 22 fan favorite...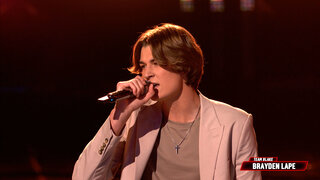 The Voice Season 22's Brayden Lape charmed the Coaches the moment he first stepped foot on stage. He pulled off a Blind Audition that not only landed him on Team Blake throughout the competition but led to both Shelton and Gwen Stefani becoming his "Coach Parents."
From then on, Lape proved that he was one of the strongest musicians in the competition, and at just 16 years old, quickly joined the ranks as one of the show's massively talented teens. The Michigan native avoided being voted into the bottom throughout the Live Shows and ended up as the youngest finalist in the season's finale. 
Now, Lape may not have won the show (that honor goes to Bryce Leatherwood), but the young up-and-coming country-pop singer is just getting started. Read on to see what he's doing now and what's next.
What is Brayden Lape doing now after The Voice Season 22?
After taking fifth place in the Season 22 Finale, Lape took to Instagram to reflect on the season and tease what's next for him.
"What a special experience to have as a 16 year old kid!" he said in a caption. "I've learned so much from Blake, the cast, the other coaches, and the overall experience! If you told me a year ago that I would get the opportunity to sing in every round of the voice I would've said you were crazy! I can't thank everyone who has supported me enough! Now let's keep the ball rolling and release some awesome music!"
So far he's staying true to that last promise, as he recently posted a series of snaps from a new photoshoot with the caption, "Music coming soon!"
But perhaps the most exciting development of all? Lape is collaborating with fellow finalist, Morgan Myles, from #TeamCamila. On December 28, Myles shared a video with her Instagram followers documenting a day-long recording session with Lape that ended in a well-earned meal.
"Brayden sang so much yesterday he worked up quite the appetite… lmao," she said, "still not sure what he actually ordered."
It looks like all the Brayden Lape fans out there definitely have a couple things to look forward to in the new year.