NBC Insider Exclusive
Create a free profile to get unlimited access to exclusive show news, updates, and more!
Sign Up For Free to View
Why Bryce Leatherwood Says He 'Sobbed' After Winning The Voice
"I was just shook," the singer says.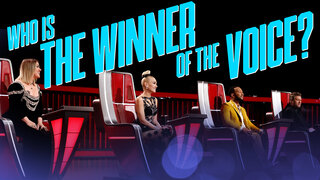 Bryce Leatherwood, the 22-year-old country crooner from Team Blake, was revealed as the winner of The Voice on Tuesday, December 13. Right away Leatherwood established himself as a fan favorite, with Blake Shelton—the king of country music—remarking after the young singer's Blind Audition, "Has there ever been a country-er name than 'Leatherwood?'...What a great country name!" 
Leatherwood proved to be a great country Artist as well—with his signature twang taking him all the way to the finish line. Below, he opens up to NBC Insider about his experience on The Voice, working with Shelton, and what's next. 
NBC Insider: Congratulations on winning The Voice Season 22, Bryce! How are you feeling?
Bryce Leatherwood: Nothing but smiles. I've just been so blessed to be in this season, to get the chance to Blind Audition. To get the chance to sing so many incredible songs in so many incredible atmospheres. What a journey this has been, man. You just got to count your blessings, and I'm very blessed.
What was going through your mind when you reached the Top 3 on Live Results night?
What was in my mind at that moment was I have made it to the point where so few people have made it on the show. I was already content and happy with whatever decision was gonna be read, 'cause at the end of the day, you got five winners on that stage…I said a quick prayer, and I told Morgan [Myles] and bodie, "I'm so proud of you guys. I love you guys. Whatever happens, y'all are all winners in my mind," It's been a once in a lifetime experience.  
And then when you actually won, what were you feeling?
I was just shook. It was like I was living a dream. Then there was the confetti and loud energy. Thank God, because you would've heard me sobbing. I was just so happy to make my family proud and make a lot of people proud. A lot of people have been voting their butts off and doing the best they could to push me through to the next round and next round. It  was just cool to see that hard work pay off. 
What did you learn from your Coach, Blake Shelton, this season? 
Having Blake as a mentor and a friend has been a dream come true. Truly, who he is on camera is who he is off camera. That is Blake Shelton. He is 100 percent who he is in the flesh…We had so many incredible moments together, funny laughs and jokes and stories.  I think the biggest thing I'll take away from Blake is his commitment to his Artists. He loves his team. We had such a great team this year with team Blake. The powerhouse team that was!  
Are him and Gwen Stefani as cute behind the scenes as they are on camera?  
Oh yeah! They're always laughing and they're always cutting up. Blake's the jokester and Gwen's the sweetheart. They're just incredible people. 
Did this experience affirm your ambitions?
Even before The Voice, I was sure this is what I wanted to do. I took a leap of faith when it came to trying to find a way into this crazy, big business. I took a leap of faith, and look where it got me! Any Artist out there who's wanting to do this for the rest of their lives, try out for something like this. Do something like this. Or go to an open mic night and put yourself out there. It's not 'gonna feel comfortable at first. But over time, you'll grow.
What's next for you? 
Definitely releasing a lot of music. Playing shows. That's what I love to do: play shows. But I want to get some original content out there. I want to get an album or two out there in the next couple years. So many people have given so much love to me, It's time to give back to them. So whether that's music or playing shows and festivals, making people happy is my goal.