NBC Insider Exclusive
Create a free profile to get unlimited access to exclusive show news, updates, and more!
Sign Up For Free to View
Why Bryce Leatherwood, the Ultimate Country Artist, Got Blake Shelton 'Thirsty'
"You're thirsty, we get it," Cabello joked about Shelton's reaction to Leatherwood's Blind Audition.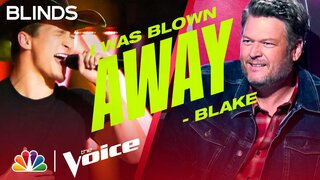 Bryce Leatherwood may be the most ideal country Artist ever to audition for The Voice, which is exactly why he made Blake Shelton "thirsty" during his Blind Audition on Tuesday, September 20. To be clear, those were Camila Cabello's words, not Shelton's, but after Leatherwood's Audition, it was clear he was made to be on Team Blake.
The 22-year-old from Woodstock, Georgia sang "Goodbye Time" by Conway Twitty; however, he raised the stakes by performing Shelton's version of the song, which features a piano base. It's always a gamble to perform a Coach's song in front of them, but Leatherwood rolled the dice—and it paid off. He got chair turns from Shelton (naturally), Gwen Stefani, and John Legend. 
"Welcome to Team Blake," Shelton said shortly after seeing Leatherwood, confident he'd choose his squad to join. "Has there ever been a country-er name than 'Leatherwood?' You have excellent taste in music...I don't feel too ego-y hitting my button for my own record...I was blown away. What a great country name. 'Leather. Wood!'" 
"You're thirsty, we get it," Cabello joked. "The thirst is showing." That being said, she did tell Leatherwood, "You have an incredible voice; there's just, you have better Coaches than me." 
Both Stefani and Legend were hoping Leatherwood would pick them, and they made their cases. "You're a character. We're here for the voices, but we're also here for the personality...Even though I'm not country, I'm really into country," Stefani said—a cute, subtle nod to her marriage to Shelton. "I'm a good Coach, and I could get help from [Shelton, if you picked me]." 
Ultimately, Leatherwood picked Team Blake. "Bryce has an incredible country voice," Shelton said. "I want to continue to learn who he is as an Artist. If Conway Twitty is any indication, then we're 'gonna have a lot of fun working together." 
And we'll have fun watching as it all unfolds. Check out The Voice on NBC Mondays and Tuesdays at 8/7c and next day on Peacock.