NBC Insider Exclusive
Create a free profile to get unlimited access to exclusive show news, updates, and more!
Sign Up For Free to View
The Important Reason Blake Shelton Says Gwen Stefani Is 'Killing It' on The Voice This Season
"She knows she can do it!"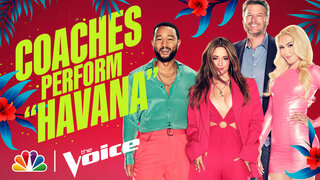 The Voice never fails to deliver top-notch musical talent, and let's face it: The adorable couple antics between Blake Shelton and Gwen Stefani is the icing on the cake.
Few things melt our hearts like watching the iconic husband and wife duo support one another—that is, when they aren't going head-to-head for the win.
In a recent interview, Shelton reflected on what a strong addition Stefani has been to the coaching panel. 
"Gwen's killing it, I'm so happy to have her back here," Shelton says in the video, below. "I think Gwen has some kind of shot in the arm of confidence she hasn't ever had before on the show."
Shelton feels that Stefani came into her own as a Coach after her Season 19 win with Carter Rubin. 
"I think [her confidence boost] is due to the fact that the last time she was here, she won the show, and she knows she can do it," added Shelton. 
According to Stefani, working with fresh talent reminds her why she loves music. 
"I love to be here," Stefani says. "Every time I come, I feel so grateful because I feel so inspired again about music."
Pop star Camila Cabello, the newest addition to the coaching panel, also joined in on the pro-Stefani love fest. 
"I'm on Gwen's team, even if I have my own team," Cabello says.  "She's just a nurturing, kind person, so I totally understand why Artists are drawn to her—I'm drawn to her."
Watch The Voice on NBC Mondays and Tuesdays at 8/7c and next day on Peacock. Season 22 premieres Monday, September 19th.