NBC Insider Exclusive
Create a free profile to get unlimited access to exclusive show news, updates, and more!
Sign Up For Free to View
Recapping Morgan Myles' Electrifying Performances From The Voice
Relive this vocal powerhouse's impressive Season 22 run.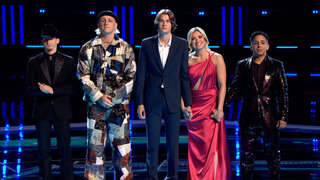 After a thrilling season of talent-packed performances, The Voice Season 22 has ended, with Bryce Leatherwood taking home the win. But that wasn't without some fierce competition, partially from third place winner Morgan Myles, led by her dedicated Coach, Camila Cabello. 
Who came in third on The Voice 2022? 
Morgan Myles! 
It was clear that Myles was a force to be reckoned with the moment she stepped onto The Voice stage, instantly catching all the Coaches' attention with her jaw-dropping Blind Audition. With each step of the competition, Myles upped the ante, giving the audience a lineup of show-stopping performances. Look back at Myles' run on The Voice, below, that proves she's bound to be a powerhouse in the industry. 
Morgan Myles' Blind Audition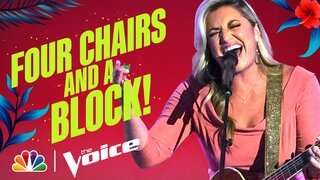 Myles left the Coaches stunned by her performance of Leonard Cohen's "Hallelujah," which earned her a Four-Chair turn. Giving a soulful take to the timeless track, Cabello was compelled to block Stefani while falling in love with Myles' voice. 
Morgan Myles' Battles Performance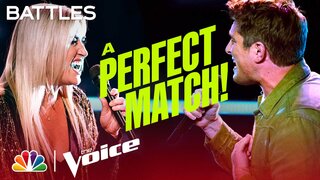 During the nail-biting Battle Rounds, Myles and Steven McMorran gave the crowd a jaw-dropping duet of Miley Cyrus' "Wrecking Ball." Between the insane vocals and seamless harmonies, this performance will wreck you. 
Morgan Myles' Knockouts Performance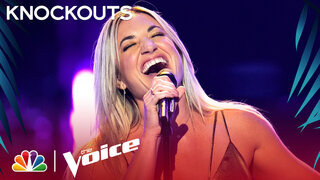 Jackie DeShannon's "What the World Needs Now Is Love" demands some insane vocals, but Myles made it look easy during her captivating Knockouts performance. That high note at the end sounds straight from heaven! 
Morgan Myles' Top 16 Performance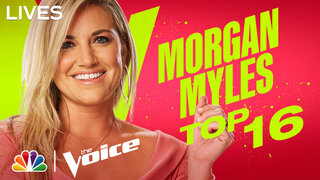 Grabbing her guitar for an intimately dreamy performance of Patty Griffin's "Let Him Fly," Myles was a force to be reckoned with during the Top 16 Live Shows. Myles was destined for the finale, and she demonstrated that stunningly during her first live performance. 
Morgan Myles' Top 13 Performance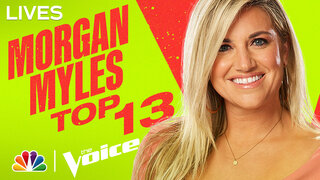 It takes some major star power to tackle Beyoncé's "If I Were a Boy," but Myles left viewers speechless with her soulful performance. Proving she has not only the talent but the electrifying stage presence to make it to the top, Myles shined during the Top 13 show. 
Morgan Myles' Top 10 Performance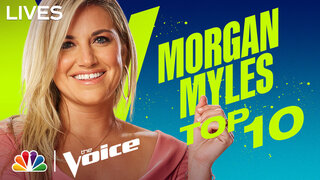 Myles sounded radiant when she performed Chris Stapleton's "Tennessee Whiskey" during the Top 10 performance, never failing to pour her soul into each verse. Myles is never afraid to show the audience her personality, which is why so many people fell in love with her charm, and this rendition is the perfect example. 
Morgan Myles' Top 8 Performance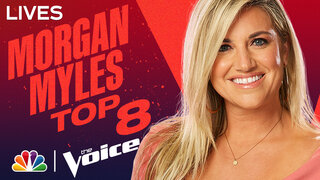 Myles performed Lady Gaga's "Always Remember Us This Way" from the 2018 film A Star Is Born, an apt choice for this powerhouse performer. Slowing things down at first and then building to a powerful crescendo, Myles' rendition of the Gaga track is breathtaking.
Morgan Myles' Top 5 Performance