NBC Insider Exclusive
Create a free profile to get unlimited access to exclusive show news, updates, and more!
Sign Up For Free to View
See the Blind Audition That Made Coach Camila Cabello Block Gwen Stefani
The newest Coach was not afraid to come out swinging when Morgan Myles amazed the group with her version of "Hallelujah."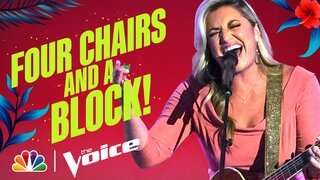 The Voice is back for Season 22, which means we're blessed with even more entertaining Blind Auditions. And with Camila Cabello joining as a first-time Coach, we'll also be able to see her strong opinions and reactions to the Artists vying for a spot on the Coaches' teams. In fact, in Cabello's first ever episode, there was one Blind Audition that was so impressive it prompted her to pull a bold move in the name of competition.
In a leaked audition from the upcoming Season 22 premiere episode, Gwen Stefani and Cabello turned around practically as soon as they heard Artist Morgan Myles begin to sing a rendition of Leonard Cohen's "Hallelujah." As she continued with some heavenly vocal flips and soft twang, Blake Shelton and John Legend then turned their chairs simultaneously, resulting in the highly coveted four-chair turn for the country Artist. 
After the performance, Stefani was so impressed, she stood up and walked towards the stage, only to find out that Cabello had blocked Myles from choosing Stefani as her Coach! Cabello utilized her Coach's Block in the first Blind Audition of the season.
A refresher on how Season 22 of The Voice works: Blocks return, bringing an additional element of competition to the Coaches' dynamic. The Coach chairs each have an extra set of buttons with the other three Coaches' names on them, which prevents a Coach from adding a new Artist to his or her team. The Coaches can only use their Block buttons on one Artist for the entire first round of the competition. The blocked Coach only discovers they are blocked if they press their button, and though their chair will still turn, their lane lights up with "BLOCKED" — hence Stefani's surprise. If the Coach doesn't press their button, the Block is still available for another Audition.
Although Stefani was convinced that Myles wanted to be her mentee the most, the other Coaches weren't so sure. "I turned around, she looked straight into my soul, and she was like: 'There's Gwen Stefani, I wanna be on her team,'" Stefani exclaimed.
"She didn't say that," Cabello contested, shaking her head with a chuckle.
However, Stefani was determined. "In her heart she did! I felt it," she rebutted. "And Camila took that from her," Legend chimed in.
"It was you," an envious Stefani playfully leered at Cabello while inching toward her and wagging her finger.
But did Cabello's strategic choice to block Gwen on the first Blind Audition get her what she wanted? To see who Myles ends up choosing as her Coach, tune into The Voice Season 22 premiere on Monday September 19 at 8/7c on NBC and next day on Peacock.